Top 50 Moments of 2017: No. 32 - Young Devos keeps flourishing
Belgian teenage table tennis sensation defends his European title
30 Nov 2017
Imagen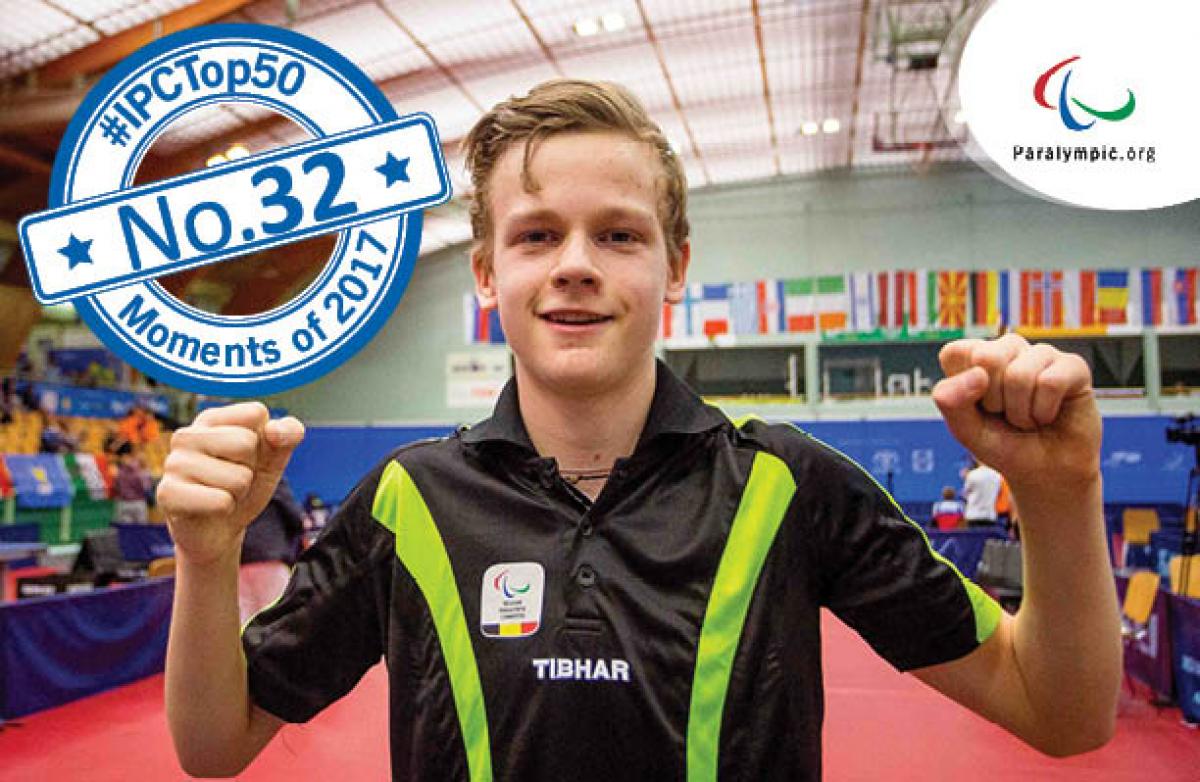 By IPC
"Table tennis is a sport where everything is possible. Some days you can win incredible matches and some days you can lose stupid matches."
It was at the European Championships two years ago where Laurens Devos made his breakthrough in Para table tennis, winning two gold medals.
He was only 15 years old.
Two years later, he has shown he is still the real deal, defending both titles to add to his singles gold medal from the Rio 2016 Paralympic Games. The 17 year old Belgian sensation has not slowed down, and his continuing dominance in 2017 is No. 32 on the International Paralympic Committee's (IPC) Top 50 Moments of 2017.
"I was very happy to win such a tournament for the second time," Devos said. "It's a tournament every two years, so you can't win it every year."
The 2017 European Para Championships were held in September in Lasko, Slovenia. Devos said he did not feel any pressure going in as the No. 1 seed. While at Rio, where he cruised through three sets to win gold on his Paralympic debut, he battled with Sweden's Daniel Gustafsson (11-8, 4-11, 11-9, 9-11, 11-6). He then partnered with Ben Ashok Despineux to retain their team title.
While winning is no longer new news for Devos, the class 9 player said it is harder than it looks, especially considering he has to balance training, travelling and personal life.
"For sure it's not easy to win again," he said. "Table tennis is a sport where everything is possible. Some days you can win incredible matches and some days you can lose stupid matches."
"For me, 2016-2017 was an amazing year," Devos continued. "It was also a very hard year because I still go to school and to combine my sport with school is not that easy. I was often not at school so it was very hard for me because my class had already done so many things that I never saw before so I didn't understand it.
"But all my teachers helped me. They did extra lessons if I needed so this is very good because it is only me and the teacher."
His profile skyrocketed after he won singles gold at Rio 2016. His success at such a young age garnered plenty of attention that included media interviews and attending awards ceremonies. In September, he picked up the 2017 Paralympic Sport Award for Best Male Debut, and flew to Abu Dhabi, UAE, to join other award winners.
"When I came back from the Paralympics, it was mentally so hard for me because I had to give so much interviews and I needed to go to receptions," Devos said. "But I enjoyed it so much. I liked that the people were all enthusiast. But now everything is back normal."