Brazil on target as they top London medal haul
Host nation's athletes have been spurred on by support from Brazilian fans, helping them to achieve huge success in Rio.
14 Sep 2016
Imagen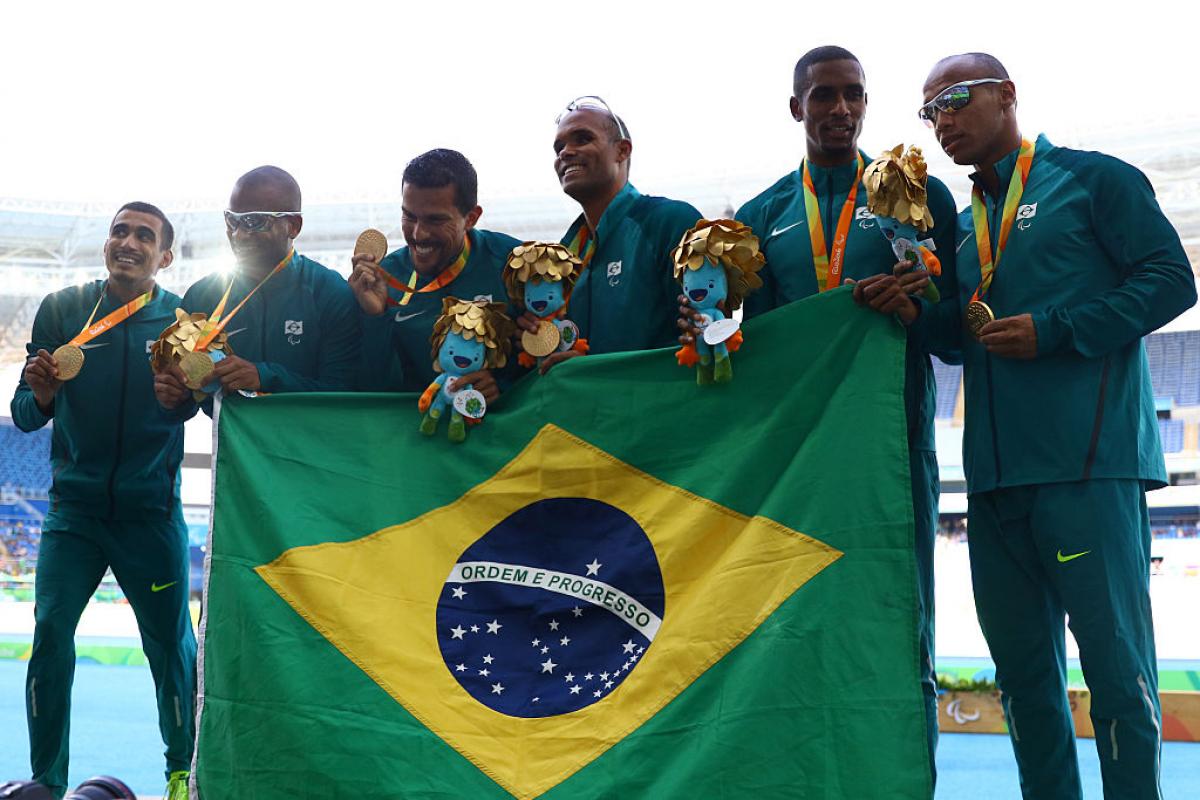 By Silvestre Cirilo
Brazil's Paralympians are on target to achieve their goal of a top-five finish in the medal table, having already surpassed their haul from London 2012.
By the afternoon of Wednesday (14 September), the hosts had won a total of 45 medals – two more than they managed in London – with more than four days of competition still remaining.
Brazil, who sit fifth in the medal table, have now won 10 golds, 21 silvers and 14 bronze medals.
Much of the success of the Brazilian team has come on the track at the Olympic Stadium in Rio where the country's athletics team won their 21st medal of the Games on Tuesday (13 September).
The milestone was achieved thanks to success for the men's 4x100m T11-13 team who won gold; Mateus Evangelista, who won the silver medal in the men's long jump T37; Odair Santoc who secured silver in the men's 1500m T11; and Edson Pinheiro who won bronze in the men's 100m T38.
The relay team of Diogo Ualisson, Gustavo Araújo, Daniel Mendes and Felipe Gomes set a Paralympic record in winning their 4x100m T11-13 final.
And Mendes made it clear that the support of the home fans – who have rallied behind the Paralympics – had spurred them on to victory.
"It could not come in a better way than at home, with the fans coming to the stadium and cheering for us," said Mendes. "We set out to give our best for them, and they are doing their best for us."
Although he ended up taking silver behind China's Guangxu Shang, Evangelista became world record holder for a few minutes – but the home fans hardly had time to celebrate his feat before Shang broke the record again.
After the competition, Mateus said: "A year ago, on 2 September 2015, I broke my femur. I had to have surgery, I suffered a lot of pain and when I was in the hospital I thought my career as an athlete was over. But the physiotherapists did a great job.
"My friends and my family helped me a lot and I returned to training in June. Now I'm here with my silver medal, which is the most golden silver medal that I've seen in my life. I did not want to give up my dreams and I psyched myself up to go back. Today I'm seeing what God has saved for me."
Santos, who came was second in the 1500m T11 final, had led the race until 1200m, when Kenyan Samwel Mushai Kimany took control and claimed a second successive Paralympic gold medal.
Even so, Santos has helped the host country achieve its best performance since the New York and Stoke Mandeville 1984 Games.
"I'm happy to have achieved a Paralympic medal," said Santos. "Gold is always the goal, but I have to thank to God for this achievement."
Brazilians have rallied behind the Paralympics with locals packing into many of the Rio 2016 to cheer on their heroes. In total more than two million tickets have now been sold for the Games, making it the second most successful in terms of ticket sales ever.