Brazil wins six gold and Rivard breaks world record
The 2016 Paralympic Games hosts brought their overall tally to 104 medals, whilst Canada's Rivard broke the world record in the women's 100m freestyle S10.
14 Aug 2015
Imagen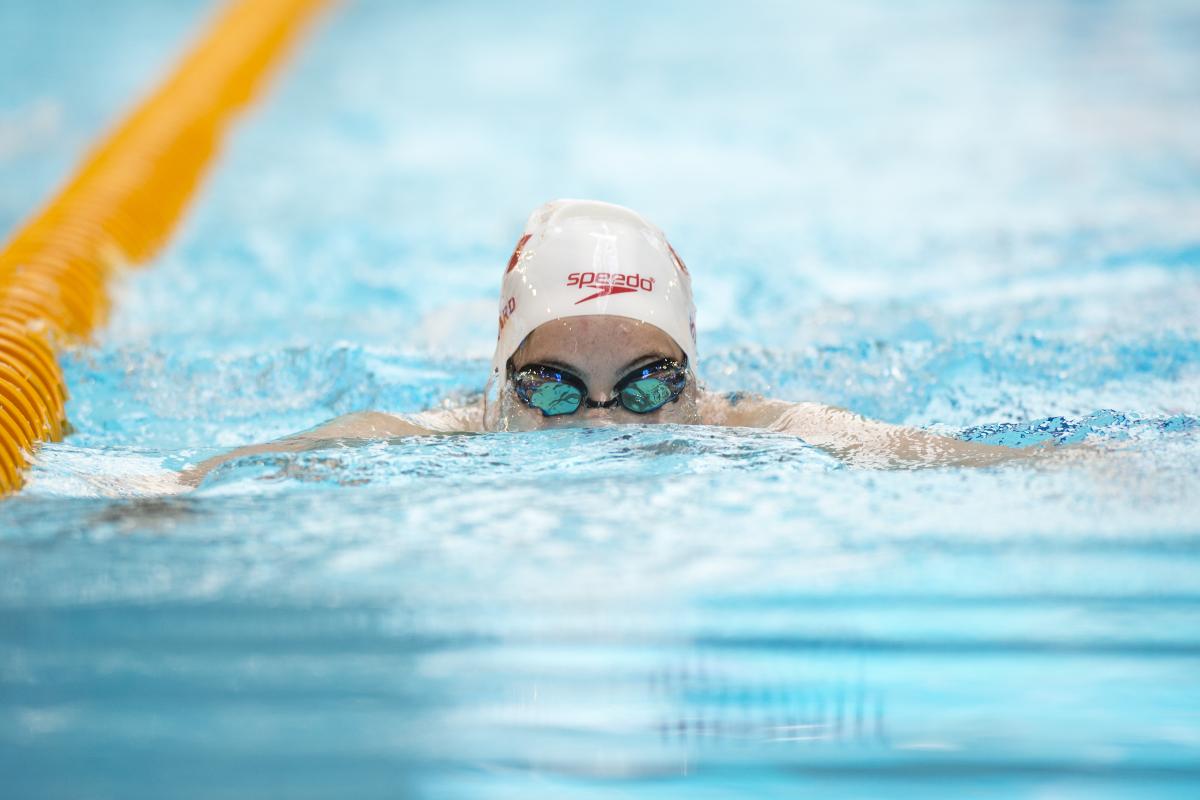 ⒸLuc Percival Photography. All rights reserved.
By Hernan Goldzycher
Brazilian swimmers finished on a high on the final night of swimming at the Toronto 2015 Parapan American Games on Friday (14 August) winning six of the 12 gold medals available. There was also some cheer for the huge home crowd as Aurelie Rivard broke the women's 100m freestyle S10 world record.
The Rio 2016 Paralympic Games hosts performed a clean sweep of the podium in the men's 100m freestyle S9. Vanilton Do Nascimento (57.85) claimed the gold ahead of teammates Ruiter Silva (58.71) and Matheus Da Silva (1:00.63).
Camille Rodrigues (1:06.04) sealed Brazil's second gold medal of the evening in the women's 100m freestyle S9. Argentina's Daniela Gimenez (1:06.56) and Canada's Katarina Roxon (1:07.08) touched in for silver and bronze, respectively.
"Unfortunately, the event was not what I expected, I got the gold medal but it was not what I expected. However, it was a good race, well disputed," said Rodrigues.
The third one was won by Italo Gomes (1:13.97) in the men's 100m backstroke S7. Argentina's Matías De Andrade (1:15.26) and Guillermo Marro (1:18.80) completed the podium.
"I really enjoyed the race. I managed to achieve my best record of the year. It was not my best time ever but I am very satisfied. I swam well, I turned well, now it is time to meet my coach and polish certain aspects for the next competitions," said Gomes.
The first Brazilian one-two came in the men's 100m freestyle S10, with Andre Brasil (51.28) winning his sixth gold medal at Toronto 2015, ahead of teammate Phelipe Melo (52.08) and Canada's Nathan Stein (53.18).
Brasil's compatriot Daniel Dias (2:37.07) climbed onto the top of the podium in the men's 200m freestyle S5 (S1-5). His teammate Clodoaldo Da Silva (2:56.87) grabbed silver and Mexico's Diego Lopez (2:59.52) bronze.
Team Brazil (4:21.61) was the fastest in the men's 4x100m medley relay 34pts with an Americas record time, well ahead of Canada (4:30.14) and Argentina (4:35.81).
Canada's Aurelie Rivard (59.17) lowered Sophie Pascoe of New Zealand's world record by 0.6 seconds in the women's 100m freestyle S10 and claimed her sixth gold medal at Toronto 2015. Mexico's Rubi Cristino (1:03.71) and Brazil's Mariana Gesteira (1:04.71) finished second and third, respectively.
Rivard's teammate Nicolas Turbide (1:02.65) made it onto the top of the podium in the men's 100m butterfly S13 (S11-13). Brazil's Carlos Farrenberg (1:03.78) and Colombia's Diego Cuesta (1:06.57) completed the top three.
Justine Morrier (2:44.12) claimed Canada's third gold medal in the evening, in the women's 200m medley SM14. Her compatriot Kirstie Kasko (2:45.00) secured silver, whilst the USA's Leslie Cichocki (2:46.36) collected bronze.
"I said 'Okay Justine, you go fast for the gold'. In the last 50 metres I said to myself 'You can do it," Morrier assured.
Mexico's Vianney Trejo (1:34.98) won the title in the women's 100m backstroke S6, ahead of teammate Doramitzi Hernandez (1:36.19) and the USA's Reilly Boyt (1:38.96).
"I'm so happy to finish the competition reaching the gold medal. It was a difficult competition for me because I just came back from a world championship and I was feeling very tired. However, I'm leaving this event feeling very satisfied," said Trejo.
Trejo's compatriot Nely Miranda (3:14.61) registered a new Americas record in the women's 200m freestyle S4 (S1-4). Canada's Tammy Cunnington (4:14.59) was second and Brazil's Claudia Da Silva (4:43.01) third.
Venezuela's Alberto Jesus Vera (2:19.93) was the fastest in the men's 200m medley SM14, ahead of Canada's Gordie Michie (2:20.00) and Adam Rahier (2:25.39).
Brazil won 38 gold, 29 silver and 37 bronze medals and took hold of the overall medal tally with 104, followed by host Canada with 91 in total, including 24 golds.