Browne predicts breaking Peacock's 100m world record at Lyon 2013
The American Paralympic silver medallist thinks all 100m T44 podium finishers final will have to go sub-11 seconds.
18 Jul 2013
Imagen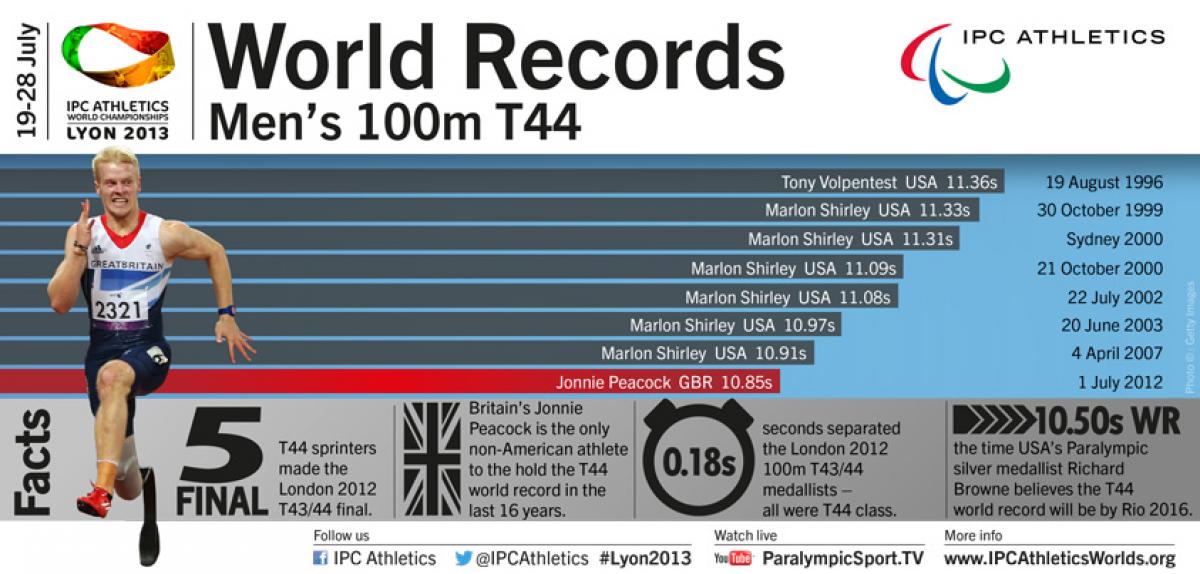 ⒸIPC
By IPC
"I'll go sub-11 seconds most definitely and set a world record. I'm calling it right now."
Paralympic silver medallist Richard Browne of the USA has predicted that not only will he break Jonnie Peacock's 100m T44 world record at the Lyon 2013 IPC Athletics World Championships, but that to win a medal athletes will have to run under 11 seconds.
Browne made a name for himself at London 2012 when he ran 11.03 seconds to finish second behind Great Britain's Peacock who clocked 10.90, a Paralympic record.
Since then Browne has unofficially equalled Peacock's world record of 10.85 and has been very vocal about what he can achieve at Lyon 2013 and in the future.
"I'll go sub-11 seconds most definitely and set a world record. I'm calling it right now," said Browne of Tuesday's (23 July) final.
The 2011 World Championships, where Peacock finished sixth in the 100m final, marked the first time all finishers ran under 12 seconds.
The same happened at last year's Paralympics and 22-year-old Browne is confident that not only will he be faster in Lyon but so will his opponents.
"I think just to make the podium on Tuesday you're going to have to run sub-11 seconds. Arnu Fourie is a great sub-11 seconds runner. I feel he going to go sub 11 if he's 100 per cent fit and Jonnie Peacock is of course a sub-11 second runner. I'm going to do it too.
"I tied the world record earlier this year coming off a hamstring injury and I feel 100 per cent now. I've had a great month of training from the nationals through to now so I've been running really well, so the record is definitely going to fall."
Having competed in the 100m, 200m and high jump at London 2012, Browne is focussing on just one event at the World Championships. To win gold he knows he is going to have to beat his great rival Peacock for the first time and admits winning silver would be a disappointment.
"My start has got a lot better since last year, so has my back 40m. I'm a lot better competitor now because I was only an amputee for two years and running six months before London. Now I've a whole year under my belt and am more confident in my own abilities then I was last year.
"Jonnie Peacock has the best form I've ever seen of an amputee and the best start – that's why I've really focussed on my start with my coach. If you are behind him at 40m the race is over.
"He is the most technically sound runner on the track by far. I have to have the perfect race to beat him and need to be ahead between 50m and 60m. If I'm in front of him at 60m he's not going to catch me and the race is over."
Although much of the media hype around the race has been centred on the rivalry between Peacock and Browne, the American thinks there are other contenders too including defending world champion Jerome Singleton.
"Jerome is running really well here. He ran 11.24 at nationals so he's very strong. I saw him yesterday him at workouts and he's looking good. It could be a four horse race between me, Jonnie, Arnu and Jerome."
The semi-finals for the men's 100m T44 will take place on Monday evening (22 July) whilst the final will be 24 hours later.
The 2013 IPC Athletics World Championships opens this Friday (19 July) and will feature over 1,000 athletes from 96 countries. It is the biggest gathering of international athletes since London 2012 and will be streamed live from Saturday morning via www.ParalympicSport.TV.
Live results can be found at the Lyon IPC Athletics World Championships page whilst updates and behind the scenes pictures can be found at twitter.com/IPCAthletics and facebook.com/IPCAthletics.
Related Images