Bruinsma set for Berlin World Series
Dutch teenager aiming to build on successful Paralympic debut.
04 Jul 2017
Imagen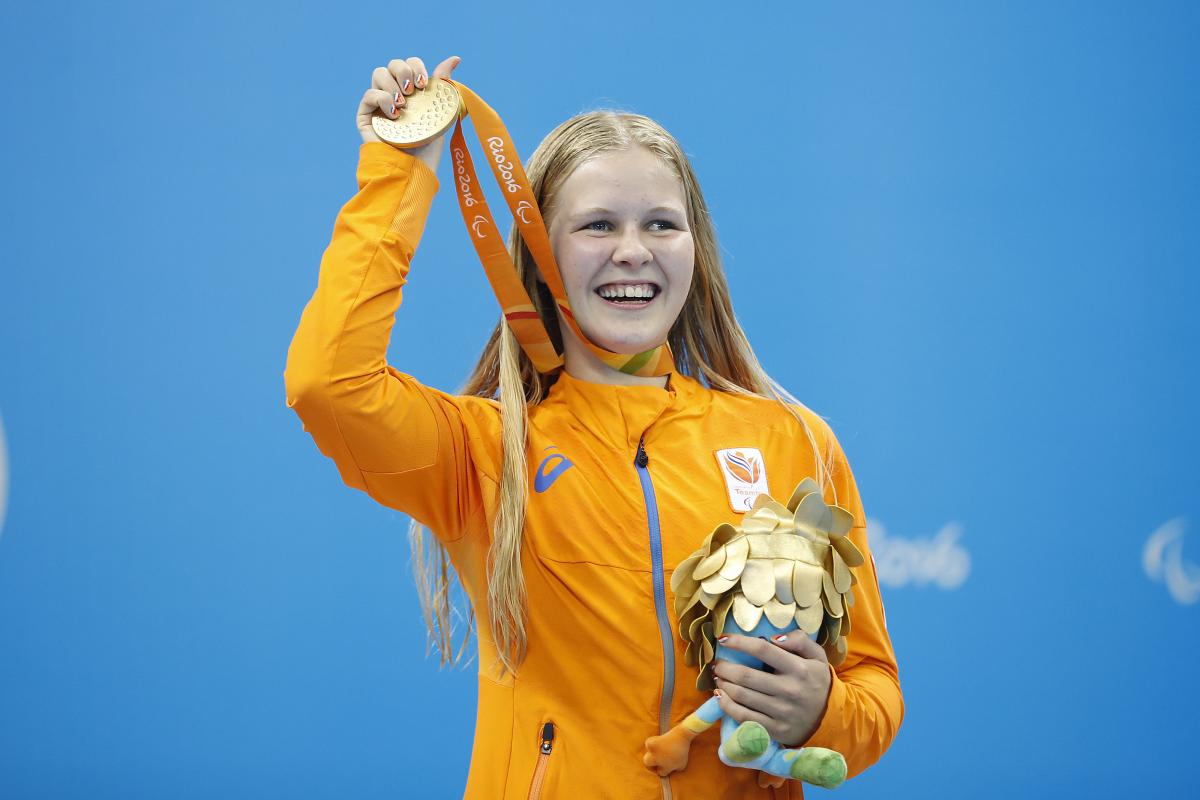 ⒸWagner Meier for the IPC
By Becki Ellsmore | For the IPC
"Some people expect good results of me. But I always swim my own race. I give all that I have."
Sixteen-year-old S11 swimmer Liesette Bruinsma is having a year to remember.
This time last year, the Netherlands native had just competed in her first European Championships, in Funchal, Portugal, winning a total of five medals, including three golds, and was preparing for Rio 2016.
Now, she can proudly display the five Paralympic medals she won, including two golds, and has her sights firmly set on the World Championships in Mexico City this autumn.
In the meantime, she will compete in the final event of the 2017 World Para Swimming World Series in Berlin, Germany, from6-9 July. Following the Rio 2016 Paralympic Games, she took a short break to evaluate and work on a new training plan, which she is hoping can help to continue her impressive winning streak.
"The competition in Berlin is a good moment to swim good races.. I hope to learn a lot of things that I can use for training for the World Championships."
"I like to swim in competitions very much. I also like to swim with swimmers in my own classification [so] I am looking forward to the World Series event in Berlin. We are staying with a large and very sociable team.."
"I think [the World Para Swimming World Series] is a great idea. It is a good thing that Para-swimmers have more opportunities for competition.. I hope that other people take Paralympic swimming more seriously after the introduction of the World Series."
Bruinsma is aiming high for her debut at the World Championships in Mexico City, which comes just over a year after her Paralympic success: "I want to claim the world title for the first time. Moreover, I want to swim the fastest races of the season."
She has some mixed feelings about the World Championships, but says that this will not stop her from giving her best performance.
"The World Championships are a different competition with other swimmers, races and challenges. The World Championships get less attention in the Netherlands than the Paralympic Games. There [will] also be less family, parents and grandparents of mine in Mexico. But this isn't a reason to not give all that I have in my races."
With her current track record - including 18 world records broken since 2014 - the teenager, who will turn 17 just before the World Championships, has built an impressive reputation in a very short time. However, she prefers to focus on her own performance rather than putting too much emphasis on results.
"I do feel a little bit [like I have a reputation to uphold]. Some people expect good results of me. But I always swim my own race. I give all that I have. I hope that people understand it... I think it is important that I understand it myself. I am not so preoccupied with it."
Berlin will host the last of the five-part World Series. For more information about the World Series, visit World Para Swimming's website.
Around 550 swimmers from more than 60 countries are expected to compete at the Francisco Marquez Olympic Swimming Pool, at the Mexico City 2017 World Para Swimming Championships from 30 September-6 October.