Canada name TO2015 wheelchair rugby squad
The world's second best team know they will have to beat Team USA to qualify for the Rio 2016 Paralympic Games.
12 Jul 2015
Imagen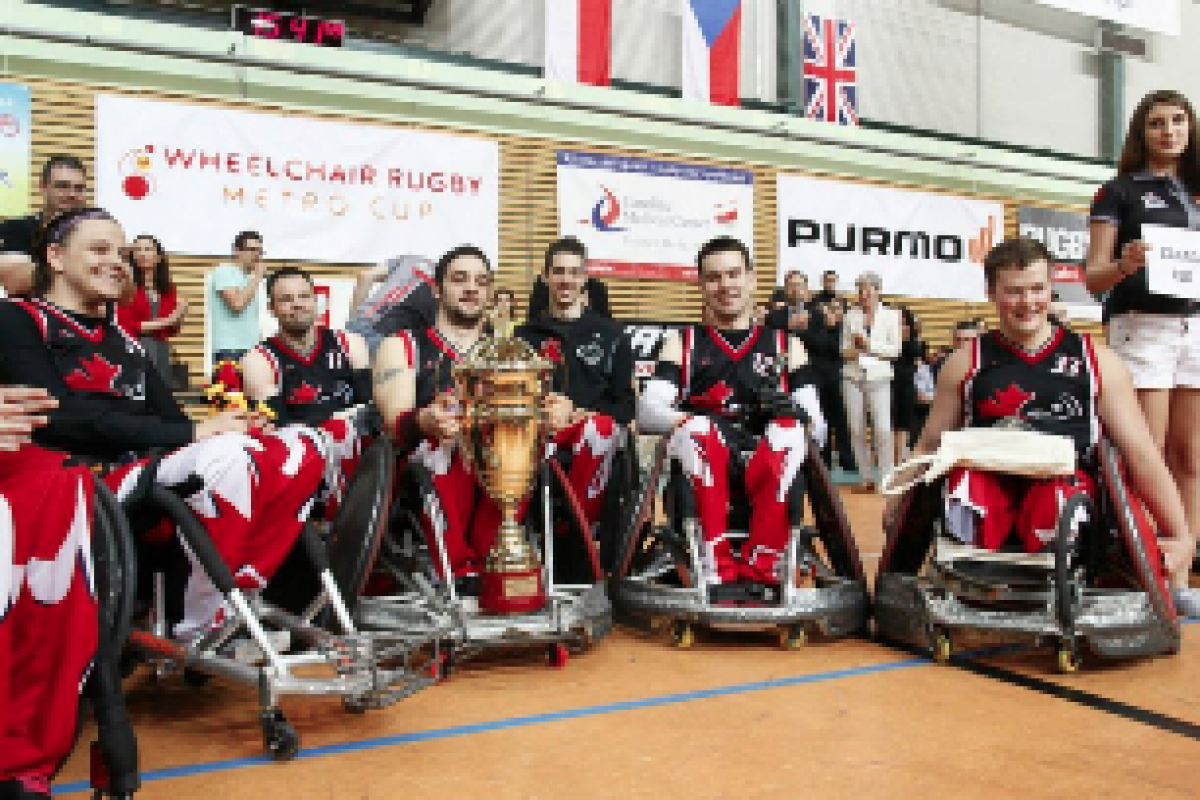 ⒸIWRF
By Canadian Paralympic Committee
''These athletes are some of the toughest in the world and are an enormous source of pride for Canadians."
The Canadian Wheelchair Sports Association has announced the 12 athletes for nomination to represent Canada in wheelchair rugby at the Toronto 2015 Parapan American Games 97-15 August).
Stakes are high at the Games for the Canadians, who are currently ranked second in the world. To win a berth into the Rio 2016 Paralympic Games, they will have to defeat their rival, Team USA (#3) in Toronto.
"Though there are many athletes in Canada who have the skills to play at this level, we believe that this squad has the winning combination of speed, strength and experience needed to beat the USA," said head coach Kevin Orr. "We can't wait to make our Parapan Am debut and show the Canadian public what we're capable of."
Because of its full-contact nature, wheelchair rugby was originally called "murderball" when it was invented in Winnipeg in 1976. Using tank-like wheelchairs, players score by carrying a ball across the opponent's goal line. To be eligible for the sport, athletes must have impairment in at least three limbs. Both men and women play together.
"Our team just got bigger and stronger with the 12 of you being named," said Chef de Mission Elisabeth Walker-Young. "This promises to be one of the most exciting tournaments at the Games with a spot for Rio on the line. Congratulations for the commitment you've given to get here. Your team is known for focus and determination. These are assets that we admire in Team Canada. All the best with last minute fine tuning."
"My sincere congratulations to the athletes named today to Canada's wheelchair rugby team at the Toronto 2015 Parapan Am Games,'' said The Honourable Bal Gosal, Minister of State (Sport). ''These athletes are some of the toughest in the world and are an enormous source of pride for Canadians. We look forward to cheering them on as they vie for the gold on home soil during the Year of Sport in Canada."
The Toronto 2015 Parapan American Games, the fifth edition of the Parapan American Games, will host over 1,600 athletes from 28 countries and take place from 7-15 August. The complete Canadian Parapan Am team of approximately 220 athletes will be officially announced in July 2015.
TORONTO 2015 Parapan Am Games tickets are currently on sale. The wheelchair rugby competition will take place at the Mississauga Sports Centre. Tickets are available online at TORONTO2015.org/tickets.
Team Canada wheelchair rugby - Toronto2015 Parapan American Games
Athletes
Miranda Biletski
Byron Green
Patrice Dagenais
Patrice Simard
Jason Crone
Travis Murao
David Willsie
Cody Caldwell
Mike Whitehead
Fabien Lavoie
Staff
Kevin Orr - Head Coach
Andy Van Neutegem - Team Leader
Patrick Cote - Team Staff (Support)
Nancy Wong - Team Manager
Marnie McRoberts - Team Staff (Support)
Melissa Lacroix - Team Staff (Support)
Bob Hirschfield - Equipment Manager