Colin Lynch attempts to break para-cycling's 'Hour Record'
On Saturday (10 October), the Irish para-cyclist will try to ride the farthest on a 250m velodrome within an hour.
06 Oct 2015
Imagen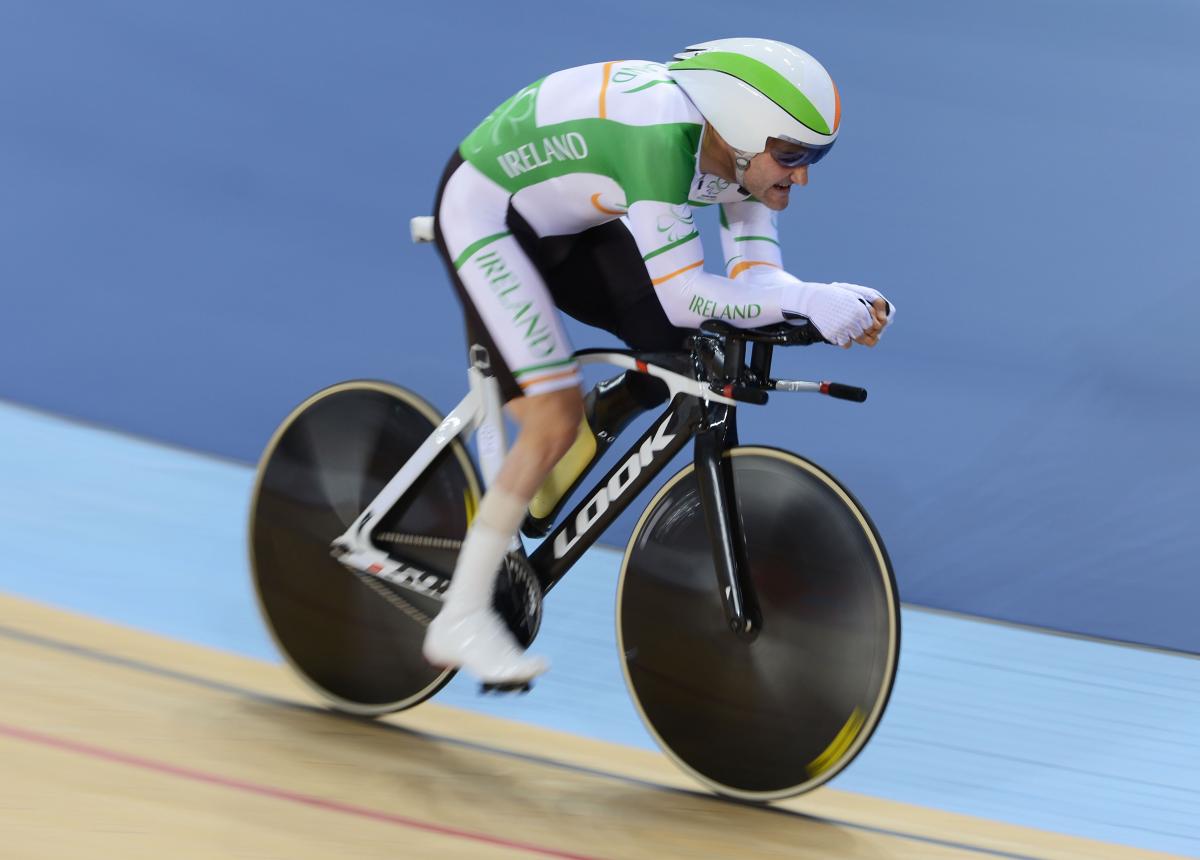 ⒸGetty Images
By IPC
"It's weighed on my mind now for so long. I really just want to get up there, do it, be successful and get it over with."
Hunched over in an aero position, riding around a velodrome non-stop for one hour, Colin Lynch is not looking forward to the pain he will experience this weekend.
But he is ready for it.
This Saturday (10 October) at 14:00 GMT in Manchester, Great Britain, the Irish para-cyclist will attempt the "Hour Record," which is the farthest one can ride for an hour, uninterrupted on a 250m velodrome. Additionally, he must preselect a gear and stick with it.
"To be honest, I just want to get it over with," Lynch said. "It's weighed on my mind now for so long. I really just want to get up there, do it, be successful and get it over with."
You can watch a livestream of Lynch's record attempt via YouTube.
Lynch recalled the excruciating experience in August, when he did a dry run.
He rode the first 20 minutes with ease, making good on his lap splits. But that ease was replaced with heaviness. He felt himself pushing the gear at a slower cadence, but due to the criteria, he could not switch to a lighter gear.
On top of that, he felt the strain in his upper body, struggling to hold himself in the crouched position, especially around the corners, which he encountered about every six seconds.
Lynch's lap times tumbled dramatically, but he did not care. He just wanted to finish.
In the final 15 minutes, Lynch felt delirious. But it helped that a few of his teammates were cheering him until the final second.
"I know exactly how hard it's going to be and how much it's going to hurt," he said. "But I also know I can do it."
The record for Lynch's class (MC2) is 41.31km, set in 1999 by France's Laurent Thirionet, the very person who snatched the bronze medal by 0.1 seconds in the individual pursuit at the London 2012 Paralympic Games.
The "Hour Record" has lingered on Lynch's mind since he first got into para-cycling in 2010. Accomplishments, such as gold in the time trial at the 2011 UCI Para-Cycling Road World Championships and also a victory in the individual pursuit at the 2012 Track World Championships, gave him more reason to believe he could do it.
It was just a matter of when and how.
He had to pay a straight cost of EURO 2,000 that goes to the event organiser and covers mostly the anti-doping test and track officials.
He also had to find the time to train and make sure it does not interfere with training for the Road and Track World Championships, and for the Rio 2016 Paralympic Games.
"It [the Hour Record] is a whole different animal," Lynch said. "Something like this is mentally and physically tougher. You have to remember why you're doing it. You just can't stop. You can't take a break. You can't let up and decide to go harder again. Track riding doesn't work that way. So yeah I'm nervous but I'm also confident."
The most common advice he has received is to not go too hard for the first 20 minutes, even if he feels he can go faster. Rather, stick with a pace and ride it out to the end.
So on Saturday, he will attempt the feat in conjunction with the World Masters Track Championships at the Manchester Velodrome.
He wants to put track cycling on people's radars when Rio 2016 approaches and also the Track World Championships in March. And he wants to encourage other para-cyclists to attempt the Hour Record.
"Most para-cyclists aren't aware that these records and opportunities exist," Lynch said. "So it's not something that they would really think about doing. We all sit there and watch the Bradley Wiggins in the world do these records, but they don't realise they could be having a go at it themselves."