Zanardi looks to add new chapter to Paralympic story
Italian Paralympic champion believes that Brazil and Rio 2016 can create a unique experience for athletes and fans alike, and wants to be part of it.
31 Aug 2015
Imagen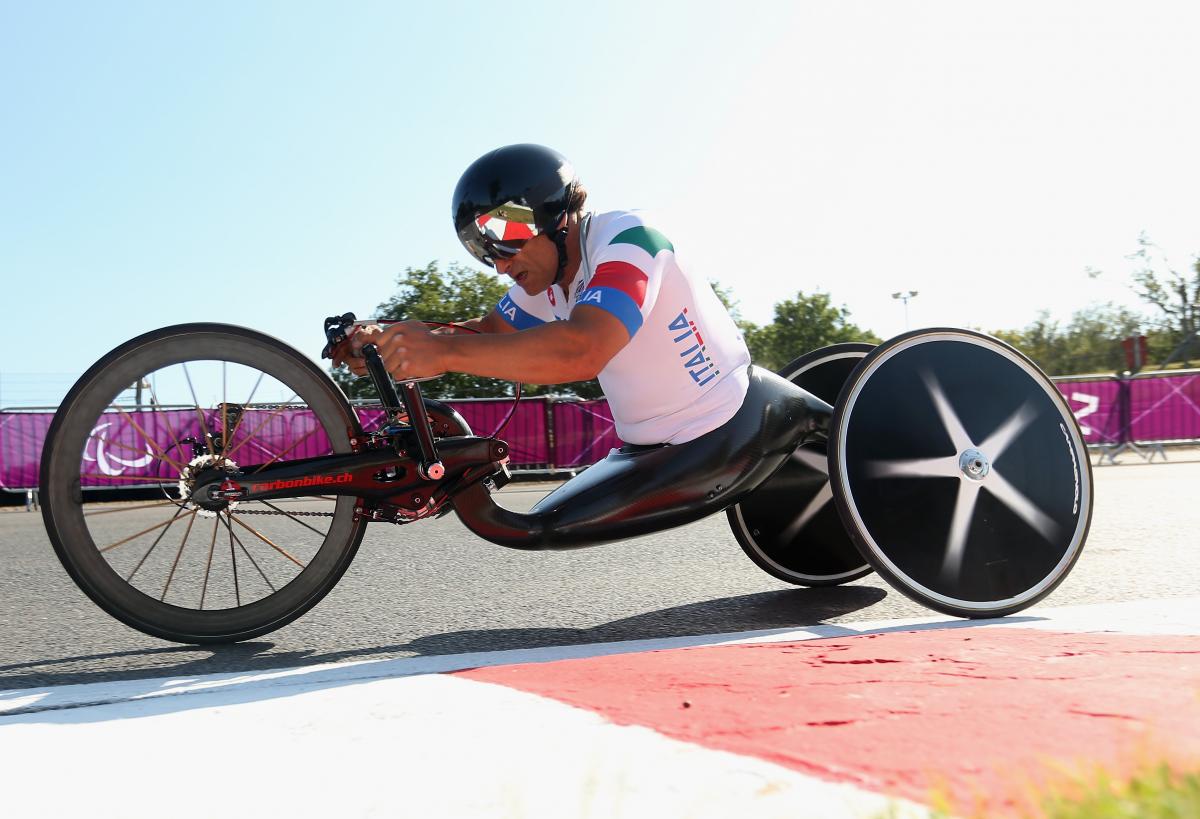 ⒸGetty Images
By Rio 2016
"I won because I simply wanted to ride my bicycle."
Italy's Alex Zanardi emerged as one of the biggest stars of the London 2012 Paralympic Games, as his two gold medals from those Games made him one to watch ahead of Rio 2016, which is drawing closer to the one-year mark on Monday (7 September).
The overall experience at London 2012 left a lasting impression on Zanardi, but he expects Rio 2016 to have a different flavour.
"London left a difficult example to follow, but it would be a mistake to try to be better than the British by copying what they did," he said. "You have to be different. You have to be original, and Brazil is the country which can really accept and overcome this challenge."
Zanardi' story – recovering from a racing car accident that cost him both legs and switching to handcycling – however, is one that made his victories at Brands Hatch, the legendary British motor racing track that hosted the London 2012 road cycling events, even more memorable.
He hopes to add a new chapter to his story.
"I used to come over in the late 90s for the Indy Car race, which I never won," Zanardi told Rio2016.com in an exclusive interview. "It was the same with Brands Hatch. It was a circuit I always loved, performed really well on, but (I) never enjoyed the pleasure of winning a race there on four wheels. I had to go back with my handcycle to correct it.
"I hope it will be the same case in Rio, as the Olympic Village will be close to the area where they used to have the oval circuit on which I competed with my Indy Car."
Barra Olympic Park, the main venue cluster for the Rio 2016 Games, is being constructed on the site of the old Rio autodromo (racing track), where Zanardi loved to compete. The Athletes' Village is a stone's throw away.
"Isn't this a sign?" Zanardi said.
Zanardi competed in Formula 1 and the American Indy Car series until the shocking crash that sliced his car in two at the Lausitzring circuit in Germany on 15 September 2001. His injuries were so severe that he was given little chance of survival. He lost 70 per cent of his blood and his heart stopped seven times. He was read his last rites on the helicopter ride to the hospital.
"It took me one year to really complete a rehabilitation process where I could use my prosthetic legs efficiently," Zanardi said. "Everything else came after, as only then could I finally focus on my passions.
"I never considered quitting sport," he continued. "Even in my hospital bed right after the accident, I knew I was mentally the same driver and athlete as I was before losing my legs. Of course, (I) also knew that legs are given to us by Mother Nature for a reason, so I had to investigate the possibility of using my talents in an alternative way."
Zanardi returned to motor racing less than two years after his accident, competing for BMW in the FIA World Touring Car Championship from 2003 to 2009. His vehicle was fitted with pedals that worked with his prosthetic legs, and he won four races.
"Even my wife doubted I was doing the right thing," Zanardi said.
His career in cycling began with an invitation to promote the 2007 New York Marathon, which he accepted on the condition that he could enter on his bike. He finished fourth, and four years later, he won the same race.
In the meantime, he had declared his intent to represent Italy at the 2012 Paralympic Games. In London, racing against competitors who were, in some cases half his age, the then-45-year-old won the individual time trial and road races (H4) and was part of the silver-medal winning team in the mixed relay H1-4.
"When I dumped motorsport in order to increase my preparation for para-cycling, even my wife doubted I was doing the right thing," he said. "But the bottom line is that the 'right thing' does not exist, or at least it changes according to what we really want to do. Through my life I have learned to synchronise my brain to my heart's wishes and not the other way round.
"Winning in London was great, but the three years of preparation leading up to the Games were the real value because I was living my passion, doing what I really choose to do. I did not jump on my bike because I wished to win in London. I won because I simply wanted to ride my bicycle."
"I do not have neither the right nor the duty to feel special," said Zanardi, who also acknowledged that his story may have the power to help others get through dark times.
He recalled that while it helped to have doctors tell him he would pull through, it was different hearing the same line from people who had been in similar positions as him and got through by rehabilitation:
"I guess this is what I am for a lot of people: someone who suffered but came back to a great life, proving it possible."
Tickets for the Rio 2016 Paralympic Games will go on sale to residents of Brazil on 7 September. Overseas fans will also be able to see the list of authorised ticket resellers (ATRs) for their territories on this date. Visit Rio 2016's website for complete ticket information.