Cuba's Hierrezuelo Marcillis picks up two judoka golds
Jorge Hierrezuelo Marcillis won the men's -90kg category at both the IBSA Parapan American Championships and USA Judo International Championships.
15 Jul 2013
Imagen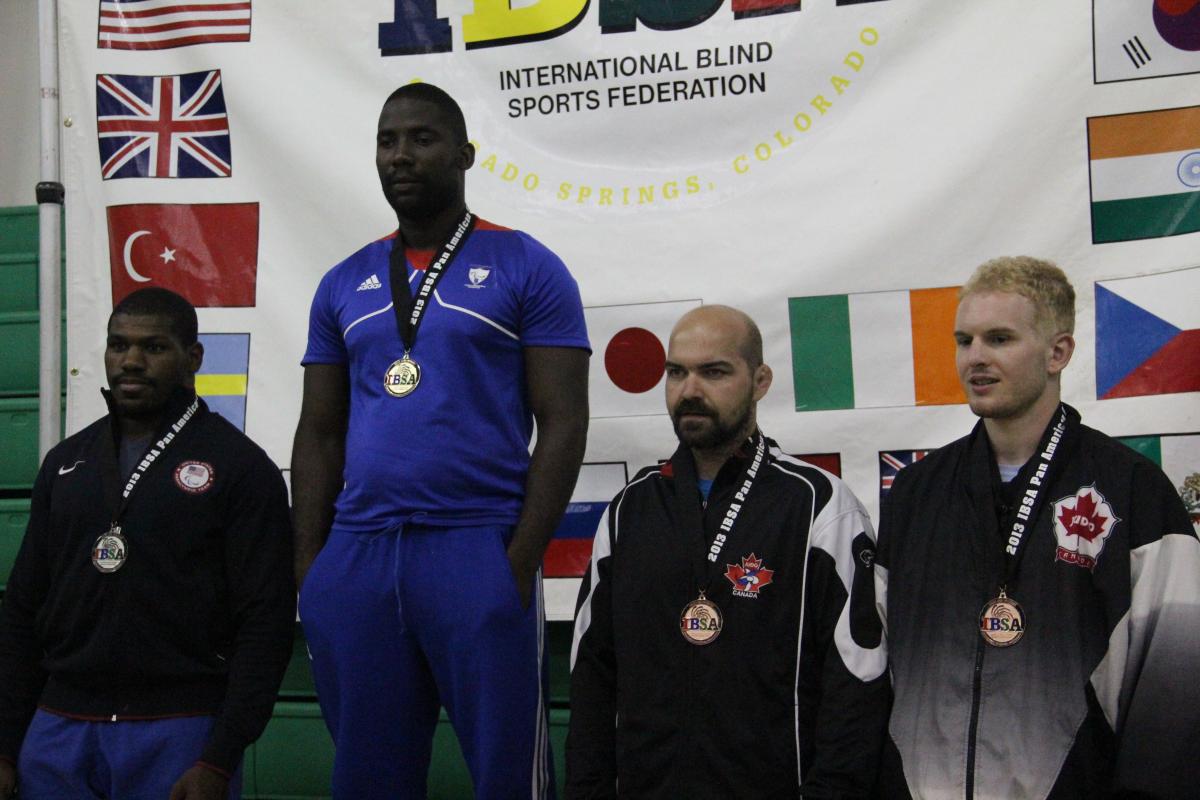 ⒸNico Goda
By Nico Goda | For the IPC
"I've come out ahead two days in a row. It makes a statement. The competition went very well. This is a step towards the World Championships next year."
Cuban judoka Jorge Hierrezuelo Marcillis won two gold medals last weekend in Colorado Springs, Colorado in the USA, taking titles in both the IBSA Parapan American Championships and USA Judo International Championships.
In the former, the defending Paralympic champion in the men's -90kg event defeated London 2012 bronze medallist Dartanyon Crockett of the USA.
The highly anticipated match on Saturday (13 July) was deemed a strong-man competition that went the full five minutes.
"It was a very high level," Hierrezuelo Marcillis said. "It was a very well match for both of us, and it was a small technical spell that finished it."
The match was one that ended in controversy, though. After taking a waza ari (half point) Hierrezuelo Marcillis was caught with a kuzushi (throw) by Crockett. Hierrezuelo Marcillis landed in a bridge before falling down face first.
"Before the rule change that would have been no score," said US certified official Mark Smith. "Since they have a new rule, any bridge is ippon (a full point that ends the match)."
Crockett was awarded no points for what would have been the match-ending throw.
"We went down and (the match officials) reviewed it on the camera," Hierrezuelo Marcillis assured. "They decided in my favour. We continued and I kept my attacks strong and in the end I came out just a little bit ahead."
Hierrezuelo Marcillis won the gold, with Crockett taking silver, and went straight to focusing ont he next day's USA Judo International Championships.
Hierrezuelo Marcillis found himself with a familiar opponent in Crockett during a semi-final match. This bout again was decided upon by an official decision.
The bout ended with the officials reviewing film when Hierrezuelo Marcillis caught Crockett in a kuzushi. After a few minutes, the officials declared ippon and Hierrezuelo Marcillis was awarded the victory.
The final match of the Championships for him was against Great Britain's Sam Ingram, the London 2012 silver medallist.
For the third time, the officials had to refer to film to determine the outcome.
Both judokas went out of bounds during their match, and the officials said Ingram violated the rules by committing an illegal grab.
Ingram was disqualified and Hierrezuelo Marcillis won his second gold in two days.
"I've come out ahead two days in a row," Hierrezuelo Marcillis said. "It makes a statement. The competition went very well. This is a step towards the World Championships next year."