Day 2 review: Suzuki wins Japan's first gold in home Paralympics
Medal events across track cycling, equestrian, powerlifting, swimming and wheelchair fencing light up Thursday's action in Tokyo
26 Aug 2021
Imagen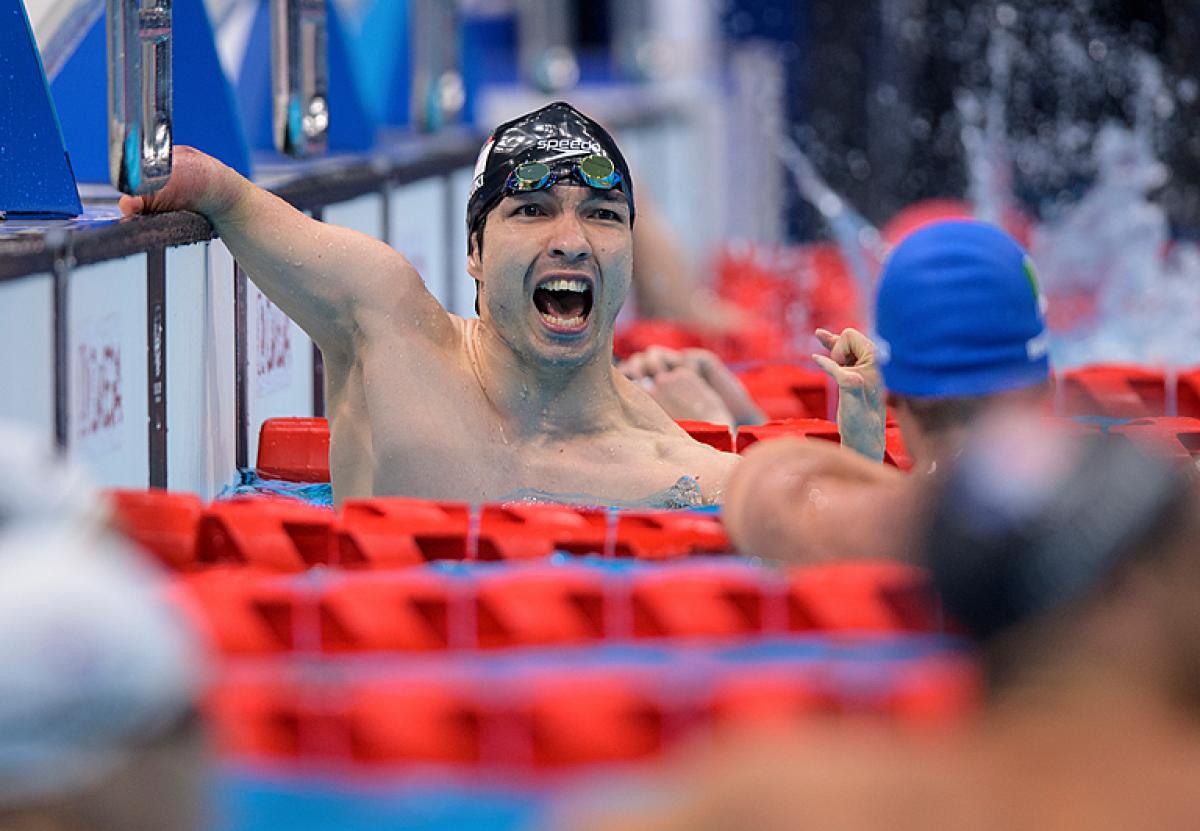 ⒸOIS/Joel Marklund
By IPC
Takayuki Suzuki ended a 13-year golden drought with a huge splash at the Aquatics Centre on Day 2 (26 August), securing Japan's first Paralympic title of their home Tokyo 2020 Games. 
In a Paralympic record time of 1:21.58 in the men's 100m freestyle S4, Suzuki won just his second career gold after five Games; his last one was at Beijing 2008 in the 50m breaststroke SB3. While the 34-year-old has a total of six Paralympic medals, his last was London 2012.
"I couldn't see the moment I had finished the race, so I didn't know if I was in first place, but when I saw on the score board that I was in first place, I was so happy," he said. "I have been racing since yesterday, so I was worried about fatigue, but I tried to be confident, and I hoped I could increase my speed without straining myself.
"In the last 25m, my competitor was in front and then he started to fall, so I tried not to fall," added Suzuki, who also took bronze in the 50m breaststroke SB3.
It was an action-packed day in the pool with 14 gold medals decided. A nail-biting showdown in the women's 100m breaststroke SB8 saw Ireland's Ellen Keane out-touch New Zealand's most decorated Paralympian Sophie Pascoe for her first career Paralympic gold. 
Ireland's Ellen Keane and New Zealand's Sophie Pascoe ©Getty

"I'm actually a bit in disbelief because my goggles filled up with water so I didn't know where I was, I didn't know where Sophie Pascoe was or the other girls beside me," said Keane, who made her Paralympic debut at 13 years old in 2008. "So to me it was just sticking to the game plan that me and my coach had, just being long and strong, and that's what I focused on throughout the race. I just gave it my all on the last 25."
Meanwhile a new face surfaced on Thursday when the USA's Anastasia Pagonis went into the history books not once but twice when she broke her own world record in the women's 400m S11. 
The 17-year-old finished in 4:54.49 and nearly half a length ahead of two-time Paralympic champion and three-time world champion Liesette Bruinsma from the Netherlands.
GUO LIFTS TO GLORY 
Two-time world champion Guo Lingling can call herself a Paralympic champion as well, showing off her strength in world-record fashion in powerlifting's opening day.
The 32-year-old made her Paralympic debut one to remember, breaking her own world record twice in the women's up to 41kg. The Chinese star appeared to lift 109kg with ease to set a world and Paralympic record at the Tokyo International Forum. Her starting lift was 105kg, she had one failed attempt at 108kg, before she nailed it on the third. Judges then allowed Guo an extra attempt at 109kg, which cemented her place in history.
Guo Lingling ©OIS

"This is the first time I've participated in the Paralympic Games, so to break a world record and win this medal for China is very special for me," Guo said. "I'm excited to speak with my family, and I'm also excited to share my joy on Instagram and WeChat with my friends."
She was one of three Para powerlifters to celebrate on Thursday.
Jordan's Omar Sami Hamadeh Qarada (men's up to 49kg); Nigeria's Latifat Tijani (women's up to 45kg) and Kazakhstan's David Degtyarev (men's up to 54kg) left with golden hardware. It was a first Paralympic gold for both Qarada and Tijani, who took silvers from Rio 2016.
VERES BOUNCES BACK FROM DISAPPOINTMENT
Hungary's Amarilla Veres did not start her Tokyo 2020 campaign on a good note, failing to fight for a medal on Wednesday's sabre event. But the wheelchair fencer pulled herself together for Thursday's women's epee category A bout, meeting and beating her Chinese rival and 2016 Paralympic champion Rong Jing in a tight 15-12 final. It was Veres' first Paralympic gold since her debut five years ago, where she scored a bronze.
"Last night I was sitting in the Paralympic Village at the fountain crying because I did not expect not to be in the top eight," Veres explained. "When I lost yesterday, I was devastated. And then I was told that a true champion is a champion because you can get up from when you're knocked down. So that was like my main goal for today. 
"In the morning when I woke up I was nervous, of course. I kept thinking about how yesterday it didn't work out for me. I felt like I was playing well, it just didn't work out. And today I came here and I told myself that I have to do this for myself because I can get up and I'm here because of that."
Amarilla Veres ©Getty

Great Britain's Piers Gilliver also upgraded his epee medal from Rio 2016 by celebrating his first Paralympic gold in the men's category A equivalent. Russian Paralympic Committee's Alexander Kuzyukov enjoyed victory in the category B, while China's Tan Shumei won the women's category B.
STOLEN GOLD
Five more Paralympic champions were crowned on Day 2 in track cycling at the Izu Velodrome.
Tension was high in the men's 1,000m C4-5, with Alfonso Cabello Llamas serving Spanish spoils and taking away the gold medal from British rival Jody Cundy by one second.
Going last, the 27-year-old clocked 1:01.557, breaking his own world record set in 2014 and causing his own coaching staff to erupt in celebration after the result. It was also revenge over Cundy, whom he lost to at Rio 2016.
"I feel I am way up on a cloud now; I have worked very hard for many months. To be here and win this gold is a dream come true. I have given 100 per cent of my energy and I have shown that barriers are there to be broken," said Cabello Llamas.
Alfonso Cabello Llamas ©OIS

It was a record-breaking day in the men's 3,000m individual pursuit, with France's Alexandre Leaute (C2), Russian Paralympic Committee's Mikhail Astashov (C1) and Great Britain's Jaco van Gass (C3) setting blistering times for gold in their respective categories.
World champion Larissa Klaassen added Paralympic champion to her resume. The Dutchwoman upgraded her silver from 2016 to gold in the women's B 1000m time trial, crossing the line with her guide pilot Imke Brommer in 1:05.291. 
"In the end everything hurt and you don't know the time but the feeling is that it's OK," she said. "I was asking her (Brommer), 'what is it, what is it?' And she said 'well, one... five...' but then she was cheering and I thought 'it's OK', then we both were screaming a lot."
DUTCH DELIGHT
Dutch rider Sanne Voets and Demantur gave a flawless performance to open the first day of Para equestrian competition by securing gold in the individual test grade IV. Lee Pearson trotted to victory in the grade II equivalent, while Belgium's Michele George closed the night with a triumph in the grade V. 
Michele George ©OIS