Day 9 review: USA victorious as Pedersen, Masters leave as most successful athletes
USA victorious in 5-0 take down of Canada in Para Ice Hockey
Pedersen wins fourth gold in Para Alpine Skiing, Masters leads US mixed relay team to gold
Bertagnolli most successful Italian ahead of Milano-Cortina 2026
13 Mar 2022
Imagen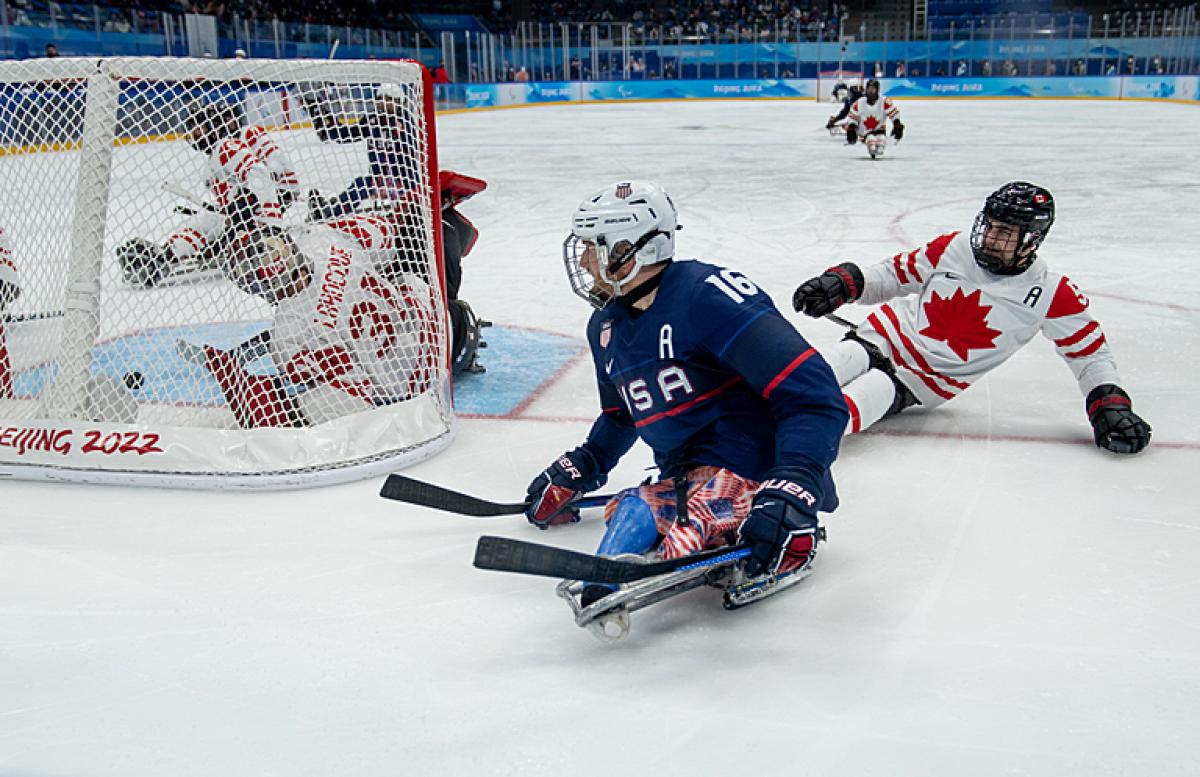 ⒸOIS/Bob Martin
By OIS and Lucy Dominy
The Beijing 2022 Paralympic Winter Games ended in style on Sunday (13 March) with a victorious USA in Para Ice Hockey and the most successful athletes crowned.
The USA executed a 5-0 take-down of Canada as Norway's Jesper Pedersen won his fourth Para Alpine Skiing gold. The USA's Oksana Masters was part of the winning relay team in Para Cross-Country for her third triumph and seventh medal overall.
China end their home Paralympics at the top of the medals table with an incredible 61 medals made-up of 18 golds, 20 silver and 23 bronze. Ukraine were second with 11 golds, 10 silver and eight bronze while Canada finish third with eight golds, six silver and 11 bronze.
USA storm to fourth consecutive title
In a ruthless, relentless display inspired again by Declan Farmer, the US secured their latest gold, and fifth overall. 
Not since the 2017 world championship have Canada got the better of their North American rivals in a major final and, despite raining down eight shots on Jen Lee's goal in the first period alone, it never really looked like that run would be broken.
"We all just know that when it comes to these kind of games we are going to play harder than any other game," Farmer said after two goals and an assist underlined his reputation as the greatest player on ice.  
"It is so special to win with these guys and for everyone back home."
Brody Roybal was also a two-time scorer in the final for the USA.
After a cagey opening, a brutal two-minute first-period spell summed up the difference between the teams.
The USA strengthened their position as the most successful Para Ice Hockey team of all time. Ⓒ OIS Photos/Bob Martin
Canada's Liam Hickey burst from his own half with the puck but - one on one with goalkeeper Lee - failed to take his chance. Farmer made no such mistake less than 90 seconds later.
Canada found that at the other end of the rink the 2021 retirement of revered USA goaltender Steve Cash was barely been felt either. After two Paralympic Games spent watching from the bench, 35-year-old Lee faced 33 shots across the tournament and saved them all.
The single goal the USA conceded - against South Korea in the group stage - came when replacement Griffin Lamarre was between the sticks. 
Canada gave it their all and, despite falling short, are still one of the top countries with four appearances in the gold medal match. 
"We have so much talent and youth," skipper Tyler McGregor said. "We have so much young leadership within our team, and that's exciting. There is nothing else to do but hold your head high and go back to work."
He will do so knowing that with China becoming the fourth team in four successive Paralympics to climb on to the podium for the first time, and Slovakia making an encouraging debut, the competition is only going to get tougher. 
Pedersen cements status in Para Alpine Skiing
Jesper Pedersen became the most successful Paralympian at Beijing 2022 by winning his fourth gold medal in the men's slalom sitting.
The Norwegian won the men's slalom sitting six seconds ahead of the Netherlands' Niels de Langen and Italian Rene de Silvestro.
Pedersen had previously taken the top spot in the giant slalom, super-G and super-combined, and silver in the downhill. 
"I exceeded all expectations. Of course this is what I've been dreaming for the last couple of years, but to be able to have such good events here and in Hafjell [2022 World Championships] as well, it's been just amazing for me," said 22-year-old Pedersen.
"I'm just so happy and now I'm ready to go home and take a well-deserved rest."
The 22-year-old shared he skied in memory of his later father Bjorn, who passed away in November 2020. 
"I've had him [his photos] on my sit ski for the last races. He's always with me in my memory. I wouldn't be where I am today without him so he's a big part of who I am today."
Pedersen is now firmly the man to beat in the men's sitting. Ⓒ Getty Images
French 21-year-old Arthur Bauchet took the men's slalom standing gold, his third at Beijing 2022. 
"It feels crazy, amazing. It feels really good. It was very hard today. The coach told me on the radio, 'It will be hard, but even if you are collapsing, continue, it's not a big problem'.
"And I told myself, 'Listen to your coach, go forward', and at the finish, when I turned my head, I saw my name at the top of the scoreboard. That was a spectacular moment and a great pride.
"Since PyeongChang [2018], I'm training for Beijing 2022, so it's four years of hard work to arrive here. To go back home with three gold, it's just crazy."
Liang Jingyi ensured China did not miss out on the podium with silver. New Zealand's defending champion Adam Hall followed in third.
Italian 23-year-old Giacomo Bertagnolli, guided by Andrea Ravelli, took his second gold in the vision impaired to end Beijing 2022 as the most successful Italian athlete.
"It's amazing. I didn't expect it. It was very hard to get to the bottom and finish the race, but I'm super happy because I have improved since the last Paralympics in PyeongChang.
"There, I had one bronze, one silver and two gold, and here in Beijing we got two gold and two silver, so it means we improved. We have to keep training and getting better for Milano Cortina."
Austrian Johannes Aigner has not missed a beat this week, finishing amongst the top three in all events. Sunday saw him take silver with guide Matteo Fleischmann.
Slovakia's Miroslav Haraus, competing at his fifth Paralympics, claimed bronze to bring his all-time medal total to six, guided by Maros Hudik.
Masters leaves as most decorated woman
The USA finished the mixed 4x2.5km relay 26 seconds ahead of China to secure the win and Oksana Masters's third gold of Beijing 2022.
Masters was ably assisted by Jake Adicoff and guide Sam Wood, Daniel Cnossen and Sydney Peters.
"When you're part of a team and you know your teammates are counting on you for every second, that's a special feeling," Cnossen said.
"I handed it off to Jake with a 30+ seconds deficit and I knew he was going to make that up. We were looking at the jumbotron and we saw when he took the lead that it's home sweet home.
"He fought through, what a great Games they have all had. What a proud moment for us."
Oksana Masters was an integral part of the USA's mixed relay win to finish as the most decorated female athlete. Ⓒ OIS Photos
Grygorii Vovchynskyi finished Beijing 2022 as he had started in the open 4x2.5km relay, winning gold. His victory meant he won his country's first and last gold medal of the Paralympics.
Having triumphed in the Para Biathlon sprint standing on 5 March, Vovchynskyi rounded off the action on the final day of competition beating all-comers alongside his four teammates Vasyl Kravchuk, Dmytro Suiarko and Anatolii Kovalevskyi, guided by Oleksandr Mukshyn.
"This win today means Ukraine is like five fingers (one fist)," Vovchynskyi said.
"It means Ukraine, the whole country, is like one person. Today our whole winning team is like one guy. Everyone supports each other, like in Ukraine now.
"This is like a union of all the Ukrainian people here. On this podium will be all of Ukraine together."
Kovalevskyi and Mukshyn had ground to make up when they took over for the final leg. Ukraine were in fourth place when they set out, but the pair managed to get ahead of all the other teams, including France, who finished second, and bronze medallists Norway.
The French team consisted of Benjamin Daviet and Anthony Chalencon with Norwegians Nilse Vilden, Thomas Oxaal and Kjartan Haugen joining them on the podium.
Canada's Brian McKeever ended his career as the joint most decorated male Winter Paralympian of all-time, despite finishing sixth with teammate Brittany Hudak.
McKeever won gold in all three individual events this week to bring his total to 16 golds.
"It's after you cross that finish line and it's finally done, and then it hits," McKeever said. "That was harder than I thought it would be. It's emotional for sure."
Reflecting on a career which began at Salt Lake City 2002, the 42-year-old said: "It's been an adventure. It's taken us to places that we never thought we'd go, and we've met people that we never thought we'd meet."