A day in the life of para-canoeist Scott Martlew
The 21-year-old balances intense training with a 20 hour-a-week job in a bid to reach Rio 2016.
13 Oct 2014
Imagen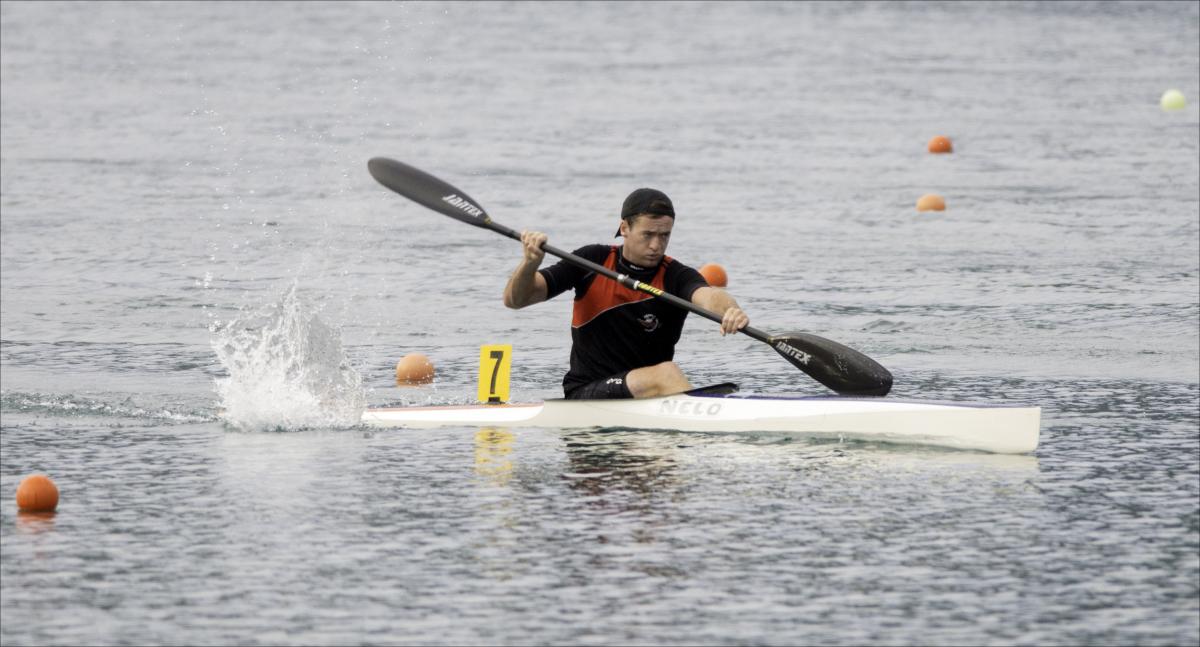 ⒸParalympics New Zealand
By IPC
I typically arrive at the High Performance Sport New Zealand training base at the Apollo Projects Centre for 06:00 to begin the morning session.
With less than two years to go, New Zealand's para-athletes are working hard, inspired by the dream of competing at the Rio 2016 Paralympic Games in Brazil.
Para-canoe makes its debut in Rio and 21-year-old rising prospect Scott Martlew, who finished eighth in the recent K1 200m final at the 2014 Canoe World Championships in Moscow, Russia, will be looking to be amongst the medals in Brazil.
Here, the Christchurch-based paddler describes a typical day in his life:
"My alarm clock usually wakes me up at 05:45 before I grab a couple of slices of toast with honey and a water with lemon juice – recommended for warding off colds - before jumping in the car to head off to the gym. I typically arrive at the High Performance Sport New Zealand training base at the Apollo Projects Centre for 06:00 to begin the morning session.
"With my strength and conditioning coach, Todd Andrews, we will begin with some warm up exercises focusing on the back and shoulders before launching into the lifting phase of the session. We often carry out a range of exercises such as bench press, chin ups, dead lifts and shoulder press. We will then wrap up the session with a number of core strengthening exercises.
"The gym session often leaves me feeling both fatigued and sore before I have a shower and grab breakfast – often cereal and a banana - in the athlete lounge with other members of the New Zealand squad.
"I work 20 hours per week as a cadet quantity surveyor at Downer and most days I work from 09:00 until 13:00. As a cadet I am relatively inexperienced and at the moment I'm doing 'take off' which is measuring quantities from the building plans. I really enjoy my time at work. It gives me something else to focus on and it is also important because it lays down some important foundations in my life for when my sporting career is over.
"Lunch will often be a cheese, ham and lettuce sandwich with some leftover food kindly cooked by my mum from the night before.
"I train on the Avon River in Christchurch out of the Arawa Canoe Club. Three days a week the focus will be on a long two-hour session covering between 20-24km. Here we try to focus on technique, although the sessions can be pretty gruelling, only made easier by being part of a group.
"For two days a week we will focus on interval sessions of between 0.075-2km in length. The short sessions are fun and often form part of the group's 'World Championship Friday', in which the winner will be crowned world champion – at least of our group. Sometimes to add resistance to the boat it will be fitted with a bungee.
"I usually arrive home around 19:30, and as I live with my parents, I am lucky that I'll have a cooked meal waiting for me. Dinner will typically be something like mince and rice with vegetables or chicken breast with potatoes and salad or maybe a steak salad. I rarely eat desserts as I try to avoid sugar and also any caffeine where possible.
"I will then eat another smaller version of my tea before heading to bed at around 9pm exhausted from a day's training."
For more information, visit the New Zealand Paralympic Committee website.