A day in the life of para-swimmer Mary Fisher
New Zealand's Mary Fisher is balancing her hectic training schedule preparing for Rio 2016 with studying for a degree.
24 Sep 2014
Imagen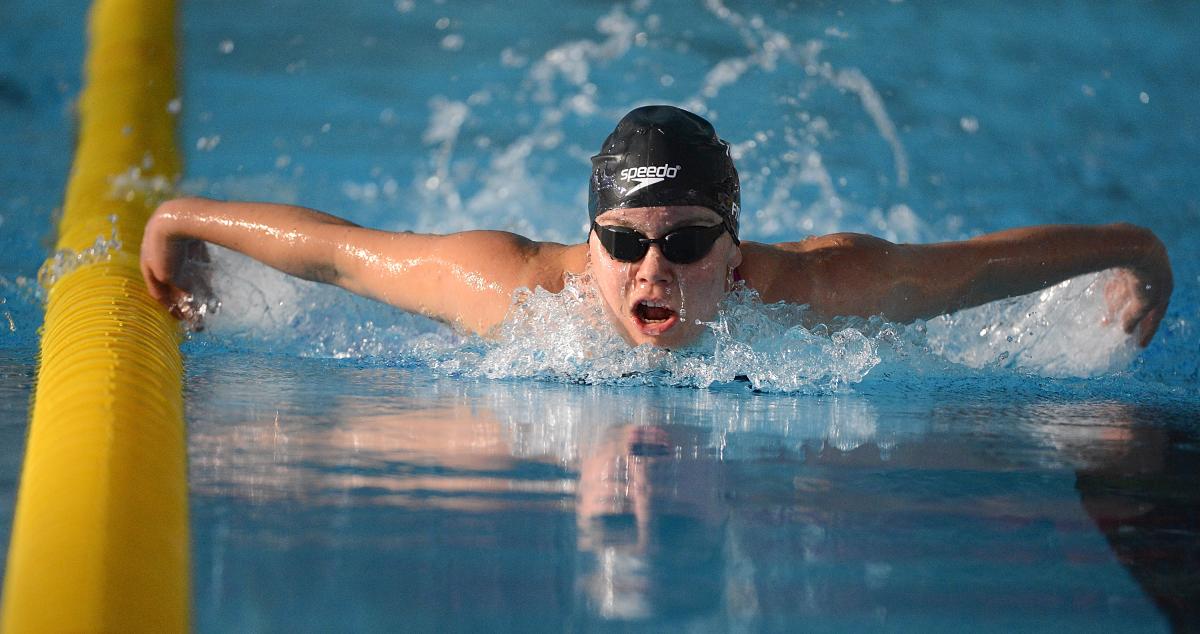 ⒸGetty Images
By IPC
06:00: The two-hour swimming session begins with 10-15 minutes of warm-up, which comprises of pre-hab exercises and dynamic stretching.
New Zealand's para-athletes are working hard on a day-to-day basis inspired by the dream of competing at the Rio 2016 Paralympic Games.
One such athlete is Paralympic gold medallist Mary Fisher, who won a staggering six gold medals at the recent Pan Pacific Para-Swimming Championships in Pasadena, California, USA. She also balances her para-swimming with studying for a Bachelor of Arts Degree at Massey University.
The Wellington-born athlete describes a typical day in her hectic life:
05:30: Each morning, my first action of the day is to try to flick off the alarm switch as quickly as possible, so the noise doesn't wake up any of my flat-mates. I'm usually quite prepared, so I will have already packed my swimming bag the night before and I'll have my togs ready to jump into.
I'll then have a breakfast of two Weetbix plus my dad's homemade muesli, brush my teeth and be out of the door by 05.50. Because of my visual impairment, I can't drive, so I often take a lift to the pool from either my parents or a coach.
06:00: The two-hour swimming session begins with 10-15 minutes of warm-up, which comprises of pre-hab exercises and dynamic stretching. Depending on what is on the training programme, the focus might be on technique, speed or endurance.
My coach, Jon Shaw, is generally based in Auckland, New Zealand, so he is often not down in Wellington to oversee many of my sessions. Fortunately, I have several people who help me out including a swim coach, Lynn Coetzee, who often acts as tapper.
I'm out of the pool at 08:00 and quickly grab a protein shake or flavoured milk for a quick boost of energy before jumping in the car with a fellow swimmer for the two minute drive to the nearby sports centre for a gym session.
08:30: Training out of the pool and my gym sessions, depending on the emphasis that day, might be focused on power, strength or cardio – which sometimes include one-hour of circuit training. We do a range of activities, including core exercises, pull ups, bench press and also jump squats with a bar to replicate the power needed to most effectively push off the turns.
After my session, I like to replenish my energy by eating tuna on toast with a chocolate milk drink and maybe a piece of fruit.
I'll then grab a lift home and either have a nap for 45 minutes, or catch-up on some university work.
13:00: I might carry out some grocery shopping, some washing or whatever mundane tasks need to be done. Lunchtime might be a chicken wrap with some salad, fruit and maybe a muffin. If I have a double swimming session for the day I might also have a Weetbix later in the afternoon.
16:00: I head back to the pool for my afternoon swimming session, which will often be in the 25m short course pool. Here, the emphasis will be more on sprint work. I enjoy the short course swims, which entail more turns and are a lot more technical in nature.
17:30: I live with seven other people – we take turns to cook dinner, so the meals can be quite varied in content. If I feel I have a dinner lacking in the nutrients I need, I supplement it with some vegetables.
The rest of the evening I often hang out with my flatmates and chat and maybe play cards. I've also recently started to play the Mbira, which is a Zimbabwean thumb piano. It is only around the size of an A4 sheet of paper and is very quiet, so it is a nice instrument to play at home.
On an evening, I might study some more and I also carry out some work for Parents of Vision Impaired (PVI), so I might take some calls from families.
21:00: I'll then make sure I've packed my bag for training the next day and retire to bed to rest up for the next day of intense training.