Day six preview: semi-final showdown between world's best
Watch out for Chuck Aoki and Zak Madell as well as Ryley Batt and Daisuke Ikezaki in the semi-finals at the 2014 IWRF Wheelchair Rugby World Championships
09 Aug 2014
Imagen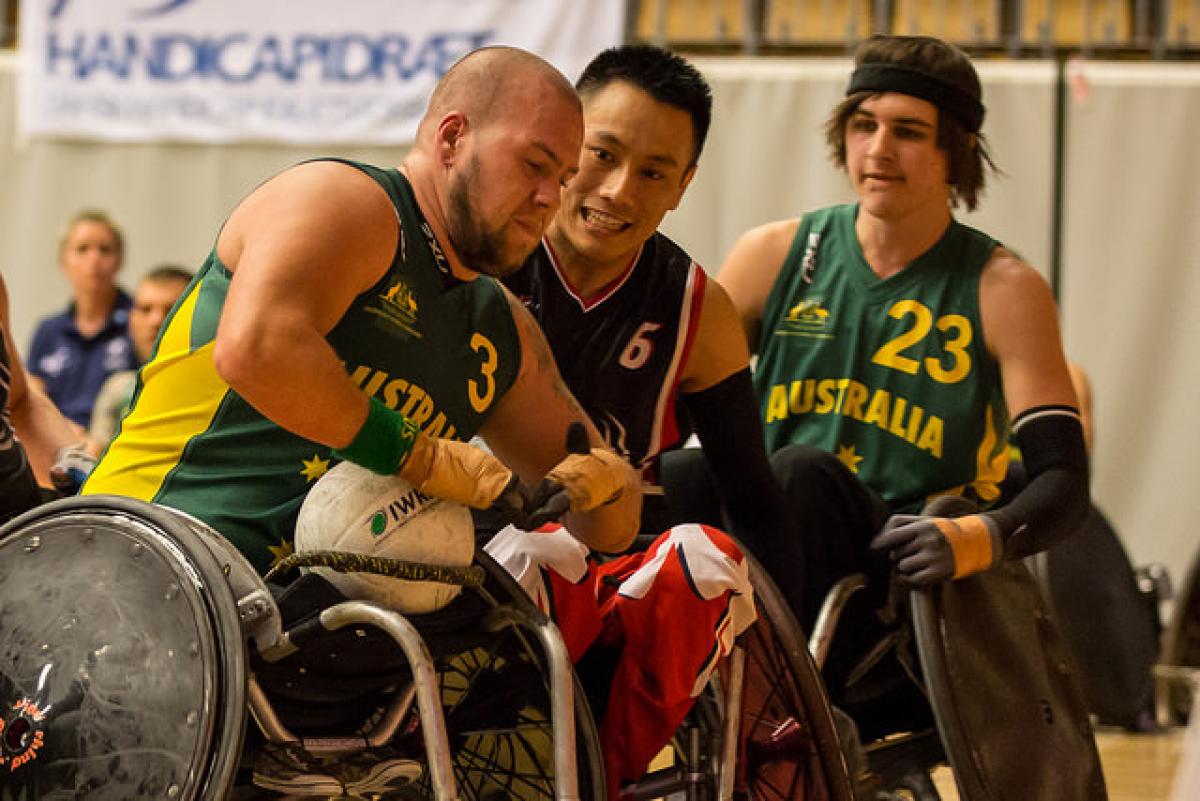 ⒸBrian Mouridsen
By Beau Greenway
Regarded by many as the best player in the world, the damaging 3.5 player Ryley Batt essentially has no weaknesses.
Saturday (9 August), the penultimate day of the 2014 IWRF Wheelchair Rugby World Championship, will determine who plays in the medal matches.
USA v Canada
The USA will meet Canada at 15:00 CEST which will guarantee that North America will be represented in the final.
Here are a few factors that could play a part in this encounter:
• The USA has not lost a match to Canada since the London 2012 Paralympic semi-final. That loss two years ago has inspired team USA to win every major tournament since then.
• Both teams have very deep squads and can rotate players regularly to rest the starting line-up. This is where Canada has an advantage when playing USA because they cannot be ground out of the match as easily as some other teams.
• Never underestimate the underdog. The USA has been well and truly in the spotlight all week while the Canadians have gone quietly about their business and qualified for the semi-finals. All expectations are that the USA will win, but Canada can go out there and play like they have nothing to lose.
Star matchup: Chuck Aoki v Zak Madell
Two of the young superstars of the sport will go head to head on Saturday.
Chuck Aoki
Aoki, a 3.0 classified player, is a genius at both ends of the court. He has attacking flare and a brilliant defensive mind-set which forces his opponent to work extremely hard in order to score goals. If Canada has any chance of winning, they will need to limit Aoki's opportunities and put him under pressure right from the start of the match.
Zak Madell
At just 20 years of age, Zak Madell is already an incredible player and he can only get better. Do not let his age put any doubt in your mind, he has been in the Canadian national squad for a while now and has enough experience on his side to mix with the best teams in the world. Team USA will need to find a balance between defending him and the rest of the team because his speed is good enough to beat anyone to the goal line.
Australia v Japan
Following the first semi-final Australia and Japan will play at 16:15 CEST.
Here are some key points that could determine the match on Saturday afternoon.
• Australia are arguably the fittest team at this year's championship. The starting line-up of Ryley Batt, Chris Bond, Ryan Scott and Nazim Erdem are used to playing extended minutes and will likely do so during this match. Japan will need to pile on the pressure and force the Australians to go to their bench early.
• Japan's recent record against the top three teams is not great. They have maintained the No.4 world ranking for some time now but have found it difficult to break into a higher ranking. We will see if they can change that against Australia on Saturday.
• Japan likes to play a high-risk, high-reward style of rugby which involves a lot of long passes. They need to do everything perfectly today, otherwise Australia will be able capitalise on their mistakes and damage them on the scoreboard.
Star matchup: Ryley Batt v Daisuke Ikezaki
Ryley Batt
Regarded by many as the best player in the world, the damaging 3.5 player essentially has no weaknesses. He is quick, fit and extremely strong and can put intense pressure on any player if he is given the space to work in. Japan's sole focus should be to limit his impact. If Batt can be somewhat taken out of the game Japan will have a big chance to play in their first World Championship final.
Daisuke Ikezaki
He is the most damaging player in the Japanese team and will need to be at his absolute best today. Ikezaki has loads of pace and is a very smart player who can get his team mates into matches with his precise passing. Australia will keep a very close eye on him and force him to make passes his does not necessarily want to make.
Other crossover games (all times in CEST):
10:00: 5A Finland v 6B Germany
11:15: 5B France v 6A Belgium
12:30: 3B Sweden v 4A Denmark
13:45: 3A Great Britain v 4B New Zealand
The winners and losers of the opening matches will then play to determine 9th to 12th place from 17:30.
Please tune into the live stream for all eight crossover matches on the World Championship website or follow live the commentary on Facebook and Twitter.
All of the photos from Saturday's action and previous matches from this week can be viewed on Flickr.