Dias leads the way for Brazil at Rio 2016
A bronze medal for Italo Pereiro also delights the home crowds at the Aquatics Stadium, alongside eight more world records.
08 Sep 2016
Imagen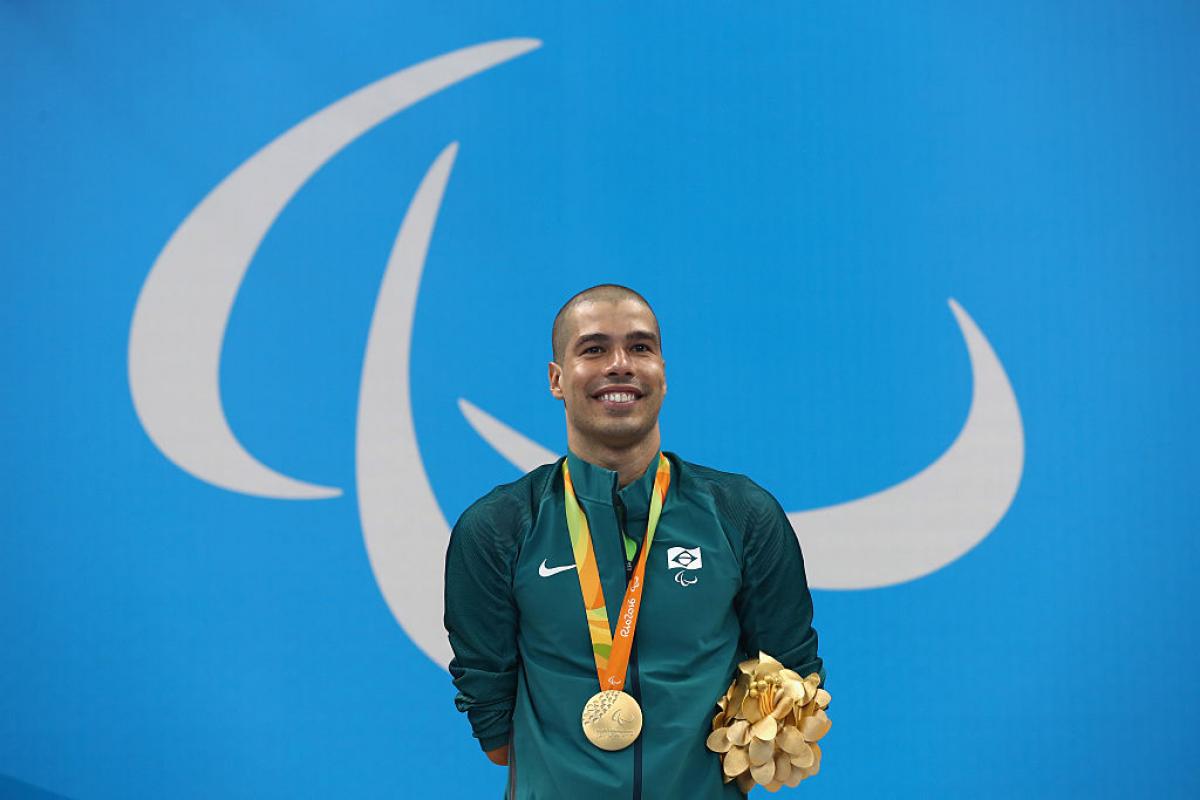 Brazil's most successful Paralympian Daniel Dias took one step closer to becoming the most decorated male athlete of all time on Thursday (8 September), winning his first gold in an electric atmosphere in the men's 200m freestyle S5.
The Paralympic and world champion led throughout the race, propelled by the cheers of the Carioca who turned out in force to support him.
At one point it seemed that the roof of the Aquatics Stadium would be lifted clean off, with the noise levels rising every time Dias took a turn.
Dias (2:27.88) is going for nine gold medals between 8-17 September.
The USA's Roy Perkins (2:38.56), a Paralympic bronze medallist from London 2012, was second. Great Britain's Andrew Mullen (2:40.65) collected his first Paralympic medal in third.
Dias' win was closely followed by another medal for Brazil from Italo Pereira in the men's 100m backstroke S7.
Ukraine's Ievgenii Bogodaiko (1:10.55), the silver medallist from London 2012, took a step up to claim the gold. Great Britain's Paralympic champion Jonathan Fox (1:10.78) was second whilst Pereira (1:12.48) held onto the bronze.
Thirteen world records in total were broken on day one, including eight in the finals.
China's Paralympic champion Tao Zheng (1:10.84) took revenge for losing his world record in the morning heats by winning the men's 100m backstroke in another new world record time. He did so over teammate, and record holder from the heats for eight hours, Jia Hongguang (1:13.42) who claimed silver.
"It is very hard to break a world record, I have worked so hard to do this. I am so excited," Zheng said.
Ukraine's Iaroslav Semenenko (1:15.41) collected bronze.
China's Lingling Song (1:21.43) blew away the women's 100m backstroke S6 world record on her way to victory over Paralympic and world champion teammate Lu Dong (1:21.65).
"I am very happy to win a gold medal. I have never thought this was going to happen," Song said. "I did not start the race so fast, but then I sped up and I won. Of course, now I will celebrate having my gold medal."
Song shaved more than three seconds of Dong's best of 1:24.71 from the London 2012 Paralympic Games. Ukraine's Oksana Khrul (1:26.82) was third.
Rounding off a trio of Chinese golds was Keting Le (1:23.06) in the women's 100m backstroke S7. Her Paralympic title-holding teammate Ying Zhang (1:23.34) was second, leading New Zealand's Rebecca Dubber (1:23.85) into third.
Great Britain's Oliver Hynd (4:21.89) broke the men's 400m freestyle S8 world record for the second time this year, claiming his first title in the event after winning silver at London 2012. He also broke his brother Sam's Beijing 2008 Paralympic record.
"It's kind of nice really. It was the last record in this event that he held," Hynd said. "I was fortunate enough to be in Beijing to watch him win his gold medal. He showed me what it means to work hard and what it means to be a Paralympic champion."
China's Haijiao Xu (4:25.65) set a new Asian record for silver, ahead of former Paralympic champion teammate Yinan Wang (4:32.78) who dropped back to third after 150m.
Paralympic champion Bethany Firth (1:04.05) made it a second world record for Great Britain in the women's 100m backstroke S14. Firth had already bought down the time in the heats this morning, but left a little in the tank to break two in one day.
The Netherlands' Marlou van der Kulk (1:06.33) was second ahead of British world champion Jessica-Jane Applegate (1:08.67).
Australia's Lakeisha Patterson (4:40.33) was also in record-breaking form in the women's 400m freestyle S8 to claim Australia's first gold medal of the Paralympic Games. The USA's Jessica Long (4:47.82), the Paralympic champion since 2004, took silver. Great Britain's Stephanie Millward (4:49.49) was third.
"It was pretty surreal. I knew I had to attack and not let go. I knew she was right behind me," Patterson said of Long. "Jess is amazing. She has been my idol growing up and to race alongside her and to get past her is amazing."
Long said: "I knew that it was going to be a tough race. I am so excited for (gold medal winner) Lakeisha and for my silver medal too. Well, it is everything so exciting. Lakeisha did a great job so I am happy to hold on for the silver. I had to overcome some injuries to compete, so it is a good result."
Belarusian Ihar Boki bagged the first of what he hopes will be six gold medals and six world records in the men's 100m butterfly S13. Boki dominated from the start, touching it at 53.85 to take down his own previous mark.
"To be honest, right now I am nervous much more than the last time," Boki said. "There is a weight of responsibility on me because a lot of people believe in me and hope in me, and I don't want to let them down. So I have to work and keep getting good results."
Kirill Pankov (56.84) was second, followed by Muzaffar Tursunkhujaev (57.26), with silver and bronze for Uzbekistan.
The USA's Rebecca Myers (1:03.25) secured her first Paralympic title in the women's 100m butterfly S13 in a new world record time. Myers shaved more than one second off Uzbekistan's former record holder and silver medallist Muslima Odilova's (1:04.92) mark. Odilova's teammate Fotimakhon Amilova (1:04.93) was just edged into third.
Kazakhstan's Zulfiya Gabidullina (1:30.07) is the new world record holder in the women's 100m freestyle S3, smashing the mark by nearly five seconds. All three podium finishers either went under or equalled the previous best.
China's Qiuping Peng (1:34.71) was second, whilst Ukraine's Olga Sviderska (1:34.86) set a new European record for bronze.
In the women's 200m freestyle S5, China's Li Zhang (2:48.33) set an Asian record to win gold ahead of multiple world and Paralympic medallist Teresa Perales (2:50.91). Norway's reigning world and Paralympic champion Sarah-Louise Rung (2:51.37) was beaten into third.
South Africa's world champion Kevin Paul (1:04.86) was absolutely delighted with reclaiming his men's 100m breaststroke SB9 gold from Beijing 2008, along with winning South Africa's first medal of the Games.
"I was 17 in 2008; the times were a lot slower back then," Paul said. "The level of swimming has improved so much. I was 17 and I came away with a gold but I don't think I knew what it meant.
"Eight years later – I think it is to the day – I truly appreciate what it means and how much work goes in to getting it."
Paul was nearly caught by Ukrainian silver medallist Denis Dubrov (1:05.10) in the dying stages but held on for the title. The Netherlands' Duncan van Haaren (1:06.54), a youngster at just 16, completed the top three at his first Paralympics.
Van Haaren's teenage teammate Lisa Kruger (1:15.49) came within two hundredths of her own world record set during the morning heats in the women's 100m breaststroke SB9, after some pre-race problems with her suit put pay to her chances of lowering it again.
Kruger can still be happy with claiming her first Paralympic title at the age of 16.
Great Britain's Harriet Lee (1:16.87) was second, having overtaken Dutch world champion Chantalle Zijderveld (1:17.01) in the closing stages.
South Korea's Inkook Lee (59.82) went out hard in the men's 100m backstroke S14, claiming gold ahead of the Netherlands' defending champion Marc Evers (1:00.63) in a new Paralympic record time.
Japan picked up bronze courtesy of Takuya Tsugawa (1:03.42).
Lee's compatriot Giseong Jo (1:23.36) secured his first Paralympic title in the men's 100m freestyle S4. He beat China's Zhipeng Jin (1:26.05) and the Netherlands' Michael Schoenmaker (1:26.87) into second and third respectively.
• Live coverage and results of swimming is available at Paralympic.org. Live updates will also be posted to IPC Swimming's Facebook, Twitter and Instagram pages.