Diede de Groot wins wheelchair tennis gold to stay on track for golden slam
Dutch star admits to nerves after beating Japan's Yui Kamiji 6-3, 7-6
03 Sep 2021
Imagen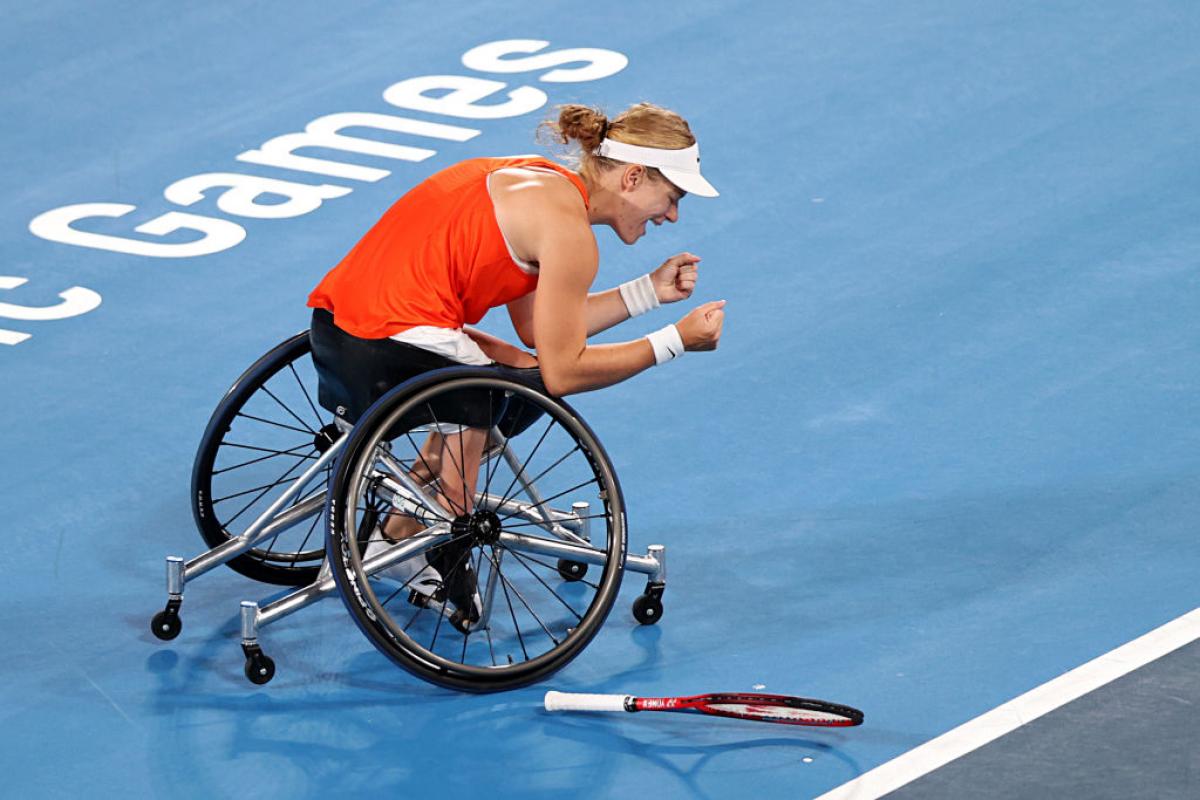 ⒸNaomi Baker/Getty Images
By IPC
Netherlands star Diede de Groot admitted to a bout of nerves as she beat Yui Kamiji of Japan 6-3, 7-6 in the women's singles final at the Ariake Tennis Park on Friday (September 3).
"For everyone who was following me, they know how much I wanted this. And if you've seen the whole match, I think you could tell that I was in it but also how nervous I was," de Groot said.
She will be turning her attention to the US Open next where she can achieve a golden slam – all four majors plus a Paralympic gold medal.
"What's gonna be a challenge is that we're gonna have a very big jetlag, and we're going to be very tired after this."
Her beaten rival admitted disappointment at missing out on a home gold medal.
"I'm really disappointed with the result. Not because this isn't the score I expected but because this is my home country and I wanted to show when I'm winning to my family and my friends who supported me for a long time," Kamiji said.
A marathon men's wheelchair tennis doubles final went the way of French duo Stephane Houdet and Nicolas Peifer after a tense and dramatic tie-break.
British pair Alife Hewett and Gordon Reid, who must face each other in the singles bronze medal match on Saturday, were poised for victory against their French rivals but could not put the contest to bed, going down 7-5, 0-6, 7-6.
Houdet revealed afterwards that he and Peifer had an on-court argument which led to the Britons romping a 6-0 second set but that peace had broken out by the third.
"We had an argument, so we just split, and we were not a team any more, and we had to fix it. But we came back mentally. We said we needed to go back to the team we're used to being," Houdet said.
"I'm so emotional right now. We wanted it so much, that was our motto during the match. We were saying, 'We want, we want, we want, we have to'."
The match and result was the same as at Rio 2016 Paralympic Games and left the British partners expressing their agony.
"I'm heartbroken. It's probably the toughest loss of my career," Reid said. "We came in here in such good form. We let ourselves down a little bit in the first set, we played the occasion and not the match.
"But we recovered really well, we played such a strong nine games in a row, we were unstoppable. Then the French guys came back."
Sidekick Hewett said: "It's so, so raw right now, I don't even know what happened. We just gave it everything."
On playing each other on Saturday, Reid admitted: "We play with respect, we will go for the win, but it's going to take a long time to get this match out of our heads."
There was one Briton with a smile, however, as Jordanne Whiley defeated four-time Paralympic medallist Aniek van Koot of Netherlands in the women's singles bronze medal match.
"I'm in a bit in disbelief. It just hasn't sunk in yet. I honestly thought I wasn't going to win after I had a small injury in my leg," said Whiley, who partners Lucy Shuker in the women's doubles final on Saturday.
"It was on one of my service games, I just jarred my hip. It's a problem I have quite a lot, so I wasn't sure what was going to happen, I just was trying to keep in the game."
Japan's Shingo Kunieda and Takashi Sanada went down 6-3, 6-2 to Tom Egberink and Maikel Scheffers in the men's doubles bronze medal match. Kunieda will face Egberink again on Saturday in the singles final.