Discipline to Give German Sitting Volleyballers Winning Edge
The German team hope their discipline and passion will get them to the podium at the London 2012 Sitting Volleyball competition.
19 Aug 2012
Imagen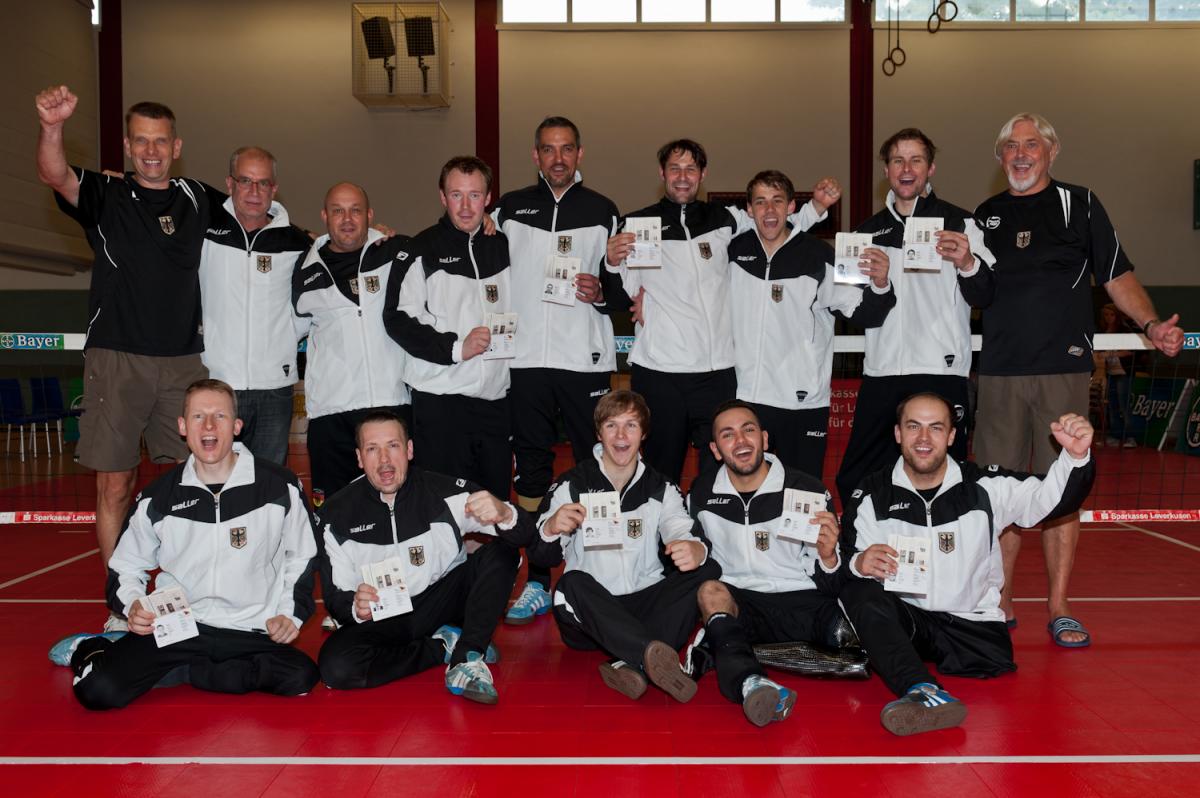 ⒸRalf Kuckuck
By IPC
"We play with a lot of heart and spirit and you can see that on the field of play. We never give up in a game."
Four years ago, the German Sitting Volleyball missed out on a qualification slot for the Beijing Paralympics after coming third at the 2007 European Championships.
It was a huge wake-up call for the squad, which was fractured, undisciplined and often chaotic.
"At the moment the team atmosphere is really good," said 23-year-old Barbaros Sayilir. "Two or three years ago it was different - we argued and nagged each other. Now we get on so well that we can spend three weeks together without arguing."
Since 2008, the team line-up has changed with new players like Heiko Wiesenthal and Sebastian Czpakowski, who used to play national league-level standing volleyball before he had his accident.
The change in team-dynamic is also down to a more structured, disciplined training regime, thanks to Rudi Sonnenbichler, the new national coach, who has over 18 years of experience as a national trainer for standing volleyball.
With him at the helm, it is no longer acceptable for team members to show up late.
"You notice that he's a professional. He's brought a lot of discipline into the team. We used to be a chaotic team," said Sayilir, who is one of six players on the national team and plays for the German champions in Leverkusen.
In Leverkusen, they have the opportunity to practice with beach volleyball players Jonas Reckermann und Julius Brink, who won Olympic gold in London.
Unlike the standing game though, sitting volleyball players have to move quickly along the ground with shorter reaction times to play shots. The sport is faster and more dynamic, making for an exciting game that even Olympic champions find difficult to play.
"It's quite difficult for the standing players to play sitting down. They use their legs to move around, but we use our hands and they can't adapt to it without a lot of training," explained Sayilir.
The German Olympic success has given the Sitting Volleyball team a real morale boost.
The team qualified for London in March at the Intercontinental Cup, after failing to get a slot at the European Championships.
In London, the team will face Morocco, Russia, Great Britain and Egypt in the group stage. They hope to finish in first or second place in the group so they do not have to face Bosnia or Iran in the quarter-finals.
Beating Morocco and Great Britain should not be a problem, says captain Juergen Schrapp, but Russia and Egypt may be a different story.
"The Russian team is relatively big physically," said Schrapp. "They are very athletic and have a good playing style. They have some very strong individual players."
"(Egypt) are different. They're playful and have a complex game. It has a lot to do with the team acting very well together."
The 37-year-old, who has been playing Sitting Volleyball at the national level for 19 years, said the skill level is markedly higher since his first Parlaympic Games in 1996, with six or seven teams capable of medalling.
"This year is going to be closer than ever. It will definitely be a very tense tournament in terms of who will medal."
Germany goes into the Paralympics stronger than ever, but both Schrapp and Sayilir admit the team lacks decent competition experience, having to travel long distances to play other teams on a par with them.
"Our weakness is consistency," said Schrapp. "We have days when we play superbly, but then we have phases where we loose points relatively quickly and on this level it's then very very difficult to catch up."
Whereas the Germans have one league, the Iranians play in seven leagues and the Bosnians in three. This match-experience makes all the difference when it comes to the Parlaympics.
What the team lacks in experience, they make up for with passion in London.
"We play with a lot of heart and spirit and you can see that on the field of play," said Scrhapp.
"We never give up in a game."