Duo defend their Paralympic titles on day six of shooting
Golds for high-flying Chinese and Ukrainian teams ¬as Mckenna Dahl, 20, makes US history after picking up bronze.
13 Sep 2016
Imagen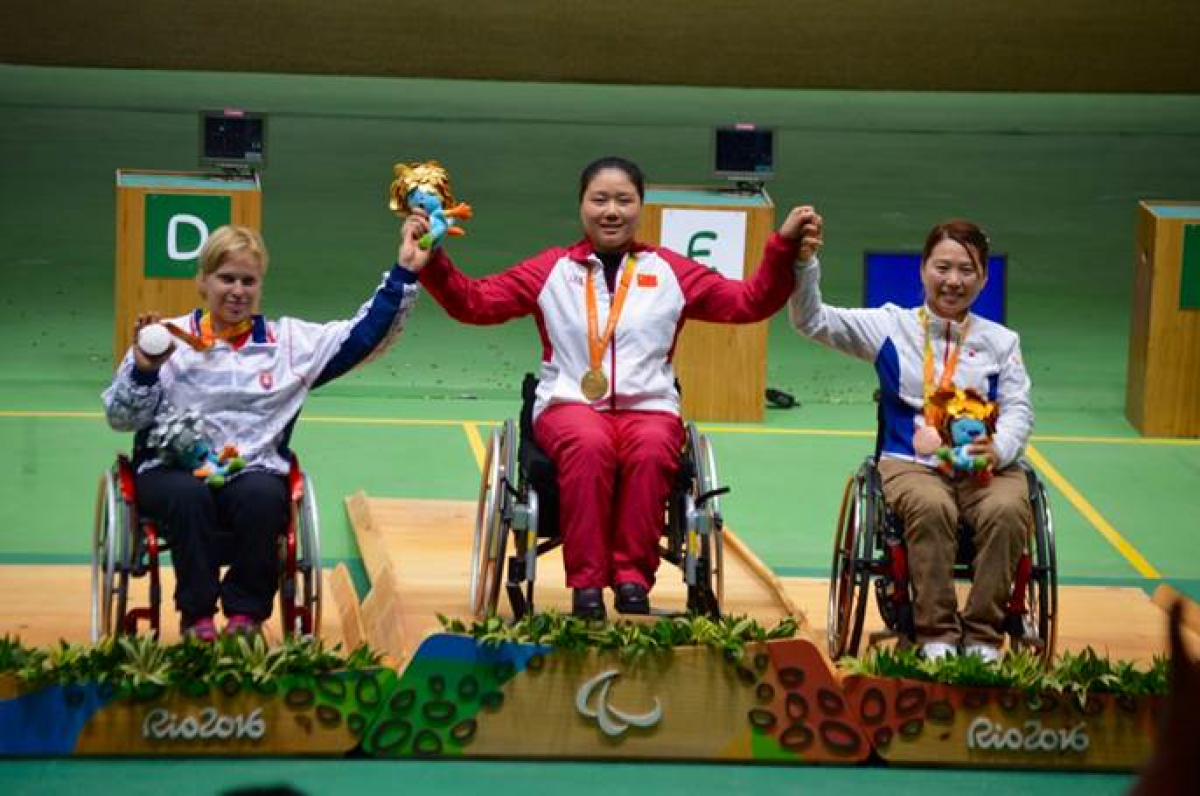 ⒸJake Smith
By Jake Smith for the IPC
China's shooting star Cuiping Zhang successfully defended her R8 (women's 50m 3 positions SH1) title on Tuesday (13 September) and Ukraine's Vasyl Kovalchuk followed suit in the R5 (mixed 10m air rifle SH2).
For Kovalchuk it was a family affair in Rio after his wife Olga picked up silver in P2 (women's 10m air pistol SH1) on Friday (9 September).
Zhang lead from the onset and whisked her way to glory ahead of Slovakia's double-Paralympic champion, Veronika Vadovicova, and South Korea's Yunri Lee.
She said: "I feel very happy and excited because after four years I still have this medal."
Zhang was well ahead at the conclusion of the kneeling position with a score of 152.7. Germany's Natascha Hiltrop trailed in second with 146.9 and was followed closely behind by Great Britain's Lorraine Lambert on 146.8.
"In my first two competitions I didn't do very well, but this time I adjusted myself and didn't think too much, just to do the competition," said Zhang.
Zhang continued to dominate throughout the match to record a convincing six-point win and break the Paralympic record in the process – the only record she did not hold before the competition.
"I have my record and I still want to break my own record. I will do more and do better in future competitions," she added.
In true Vadovicova-style, the Slovakian came from behind to close the gap on the frontrunners, moving into second place to collect silver – her third medal at these Games.
"I am happy," said Vadovicova. "It's okay that I don't win gold because the Chinese was excellent today."
Vadovicova has been the pin-up girl for Slovakia at these Games winning two gold medals and now a silver. She was pleased to be able to share her success with her family and support network back home.
"Slovakia has shown much interest in not only me, but also disabled sport and its growth so I thank them" she said. "I have a big family and they are all very happy too."
Yunri Lee also made up for a slow start executing some excellent shots in the standing position to boost herself into the top three.
"I am very happy to be here and win a silver medal," Lee said.
Lee, Zhang and Vadovicova will all have a short turn around as they start preparing to tackle the R6 (mixed 50m rifle SH1) event on Wednesday (14 September).
"I am prepared for tomorrow, but today I lost a lot of energy," said Vadovicova. "It was very hard for me because the conditions were very warm and we don't train like this."
Last week, Vadovicova beat a class field in R3 (mixed 10m air rifle prone SH1), which was predominantly made up of men – most of whom she will face again in the last rifle event of the competition.
"For me it doesn't matter that there are so many men," she said. "Of course, this means many more competitors but that doesn't matter. The mixed competition makes it an added bonus to beat the men.
"The men had a day off today, so they might be better prepared and of course there are some men who train only for R6."
Following in Zhang's footsteps, Kovalchuk also became a defending Paralympic champion winning R5 in a very tight race to the finish. Kovalchuk was happy that both he and his wife would be taking home a medal to show their children.
"I am very happy. We really fought to be here and then we really fought for medals," said Kovalchuk.
"I think that the most difficult part of training was the psychological part because during training I didn't have any difficulties or insufficiencies with my equipment.
"I had good preparations in my training for the Paralympic Games and also I had support from my coach and funding from the state to support me."
The Ukrainian's gold medal helped bolster his country's lofty position in the overall medal tally, where they currently sit third behind China and Great Britain. Ukraine have brought one of the biggest teams to Rio with 169 athletes in their delegation.
"I really think everyone has a goal and this goal is to win," said Kovalchuk. "Everyone works hard in our team in order to get a victory. It takes a lot of hard work."
The only female in the R5 final was USA's Mckenna Dahl who held the lead for the opening two series, but finished the day with bronze on her Paralympic debut.
"It's overwhelming. I knew probably about halfway through the final that I was in contention for a medal and I was probably going to succeed in doing so" said Dahl.
Dahl made history becoming the first ever female to win a shooting medal for the USA.
"I wasn't quite sure what to think, but it's really exciting being the only female and representing everybody so well," she said.
Kovalchuk was too precise for the competition, however, nailing a 10.9 and consistent high ten's to incrementally build his lead and surpass the American and the South Korean with just 0.3 splitting the three.
"I'm really happy with how calm I stayed the entire time. That was one of my biggest goals coming into the Games and I'm so proud that I was able to do that," Dahl said.
Dahl and Kim were going tit-for-tat out-shooting each other with near perfect shots in a gripping battle for silver. It came down to the final shot and where Dahl landed a 10.3, but Lee responded with a 10.8 to pinch the silver.
"I honestly wasn't nervous, but my heart rate got going a little bit! But the biggest thing I think was keeping my head together and keeping my thoughts collected," said the American.
It was a very special moment for Dahl whose parents travelled to Rio to see her compete.
"I looked up at them and they were both crying and it almost got me! But I think I'm really just so happy right now that I held it together," she said.
Aged just 20, Dahl has set the benchmark for herself at international meets. She is motivated after winning the bronze medal and is already looking towards Tokyo.
"I've been the kid for a while and it's really exciting to be able to pull in a medal as someone really so new to the sport," she said.
"Even winning the bronze medal, there's a lot that I know I still need to work on and I'm excited to go back home and gear up for that."