Dutra aims to fly the flag for Uruguay at Toronto 2015
The 20-year-old swimmer is one of the country's brightest talents and despite his age has bags of experience.
05 Aug 2015
Imagen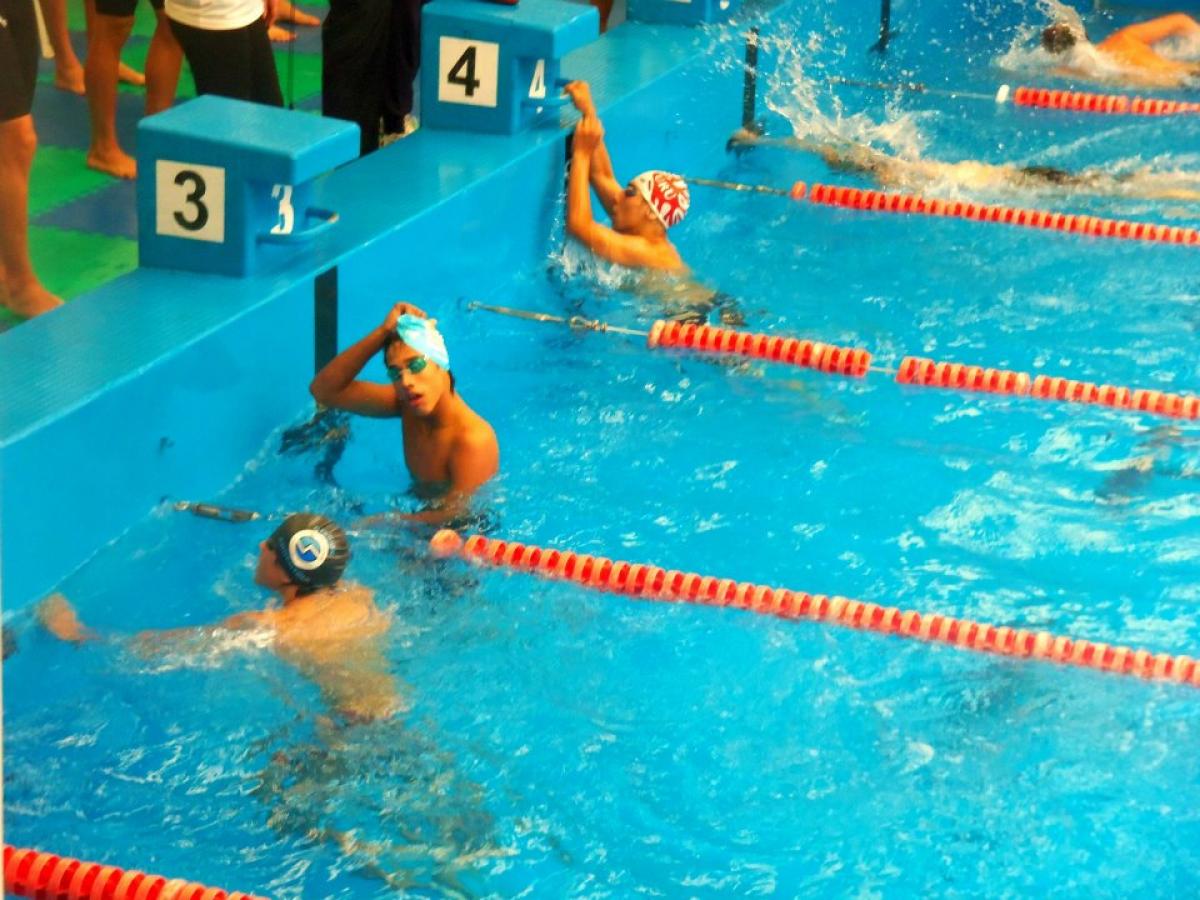 ⒸGonzalo Dutra
After competing at the Guadalajara 2011 Parapan American Games and London 2012 Paralympic Games, Uruguayan para-swimmer Gonzalo Dutra arrives at Toronto 2015 more experienced and with higher expectations.
The 20-year-old met the qualifying standards for the Parapan American Games which open on Friday (7 August) in the 100m freestyle and the 100m breaststroke at last year's Para-South American Games in Santiago de Chile. He now wants to do well at his second Parapan American Games.
"Having competed at Guadalajara 2011, London 2012 and the Montreal 2013 World Championships, it will help me face these Games in a better way," said Dutra, who is part of Uruguay's 10-man team for the Games, alongside judoka Henry Borges (-60kg) and members of the country's football 5-a-side team.
"In Toronto 2015 I want to outdo my own personal records and, if possible, to achieve the qualifying standards for the Rio 2016 Paralympic Games. I will also try to win a medal," he added.
Dutra praises his "excellent" coach Mateo Villalba and has said he is currently "following a very hard and challenging training programme."
With so much experience of international competition at such a young age, Dutra is one of Uruguay's most promising athletes.
"What motivates me the most is to represent my country the best I can. Without my family's support, that would be impossible," said Dutra, who started swimming aged four at the suggestion of his doctor who said it would help fight his asthma.
Twelve years after taking up the sport, he competed at his first Parapan American Games in Mexico, Guadalajara. Aged just 16-years-old, he finished fourth in the 100m breaststroke SB9.
"I remember Guadalajara 2011 as a huge party where all the athletes from the different countries were united. I met a lot of people and we had a great time."
He also proudly remembers his participation at the London 2012 Paralympic Games. "It was awesome. I could have never imagined how huge it would have been.
"After living that experience, I do not want to miss the opportunity to compete at my second Games, in Rio," he added.
The Toronto 2015 swimming competition will be held from 8-14 August at the CIBC Pan Am/Parapan Am Aquatics Centre and Field House.
To buy tickets for the Toronto 2015 Parapan Am Games, please visit Ticketmaster. http://www.ticketmaster.ca/toronto2015/parapan/?ac_link=TO2015_landing_ballot
Dutra se ilusiona con flamear la bandera de Uruguay en Toronto 2015
El para-nadador de 20 años es uno de los mayores talentos del país y, pese a su corta edad, tiene mucha experiencia.
Luego de competir en los Juegos Parapanamericanos Guadalajara 2011 y en los Juegos Paralímpicos Londres 2012, el para-nadador uruguayo Gonzalo Dutra arriba a Toronto 2015 con mayor experiencia y más altas expectativas.
Dutra logró las marcas que lo clasificaron a los Juegos Parapanamericanos, que se abrirán el viernes 7 de agosto, en 100m estilo libre y 100m pecho, en los Juegos Para-Sudamericanos de Santiago de Chile, celebrados el año pasado. Ahora, espera tener una buena actuación en sus segundos Juegos Parapanamericanos.
"El haber competido en Guadalajara 2011, Londres 2012 y el Campeonato Mundial Montreal 2013 me permite afrontar estos Juegos de mejor manera", aseguró Gonzalo, quien forma parte de la delegación uruguaya que también conforman el judoca Henry Borges (-60kg) y el seleccionado de fútbol 5.
"En Toronto 2015 quiero superar mis récords personales y, de ser posible, lograr las marcas que me clasifiquen a los Juegos Paralímpicos Río 2016. También intentaré ganar una medalla", añadió.
Dutra elogió a su "excelente" entrenador Mateo Villalba y dijo que está actualmente "siguiendo un duro y desafiante programa de entrenamiento".
Con tanta experiencia en competencias internacionales a una corta edad, Dutra es uno de las mayores promesas del deporte paralímpico en Uruguay.
"Lo que más me motiva es representar a mi país lo mejor que pueda. Sin el apoyo de mi familia, eso sería imposible", dijo Dutra, quien comenzó nadando a la edad de cuatro años debido a una sugerencia de su doctor, quien dijo lo ayudaría a combatir el asma.
Doce años después de haber comenzado con la natación, compitió en sus primeros Juegos Parapanamericanos en Guadalajara, México. Con apenas 16 años, finalizó cuarto en los 100m pecho SB9.
"Recuerdo Guadalajara 2011 como una gran fiesta donde todos los atletas de los diferentes países estaban unidos. Conocí mucha gente y la pasamos genial", dijo.
También recuerda con orgullo su participación en los Juegos Paralímpicos Londres 2012. "Fue espectacular. Nunca imaginé cuan grande sería", sostuvo.
"Luego de vivir esa experiencia, no me quiero perder la oportunidad de competir en mis segundos Juegos, en Río", agregó.
La competencia de natación en Toronto 2015 se desarrollará entre el 8 y el 14 de agosto, en el CIBC Pan Am/Parapan Am Aquatics Centre and Field House.
Para comprar entradas para los Juegos Parapanamericanos Toronto 2015, por favor visite Ticketmaster.