Dylan Alcott seeks follow in Rod Laver's footsteps
Australian quad player aims to complete set of four Grand Slams
06 Jun 2019
Imagen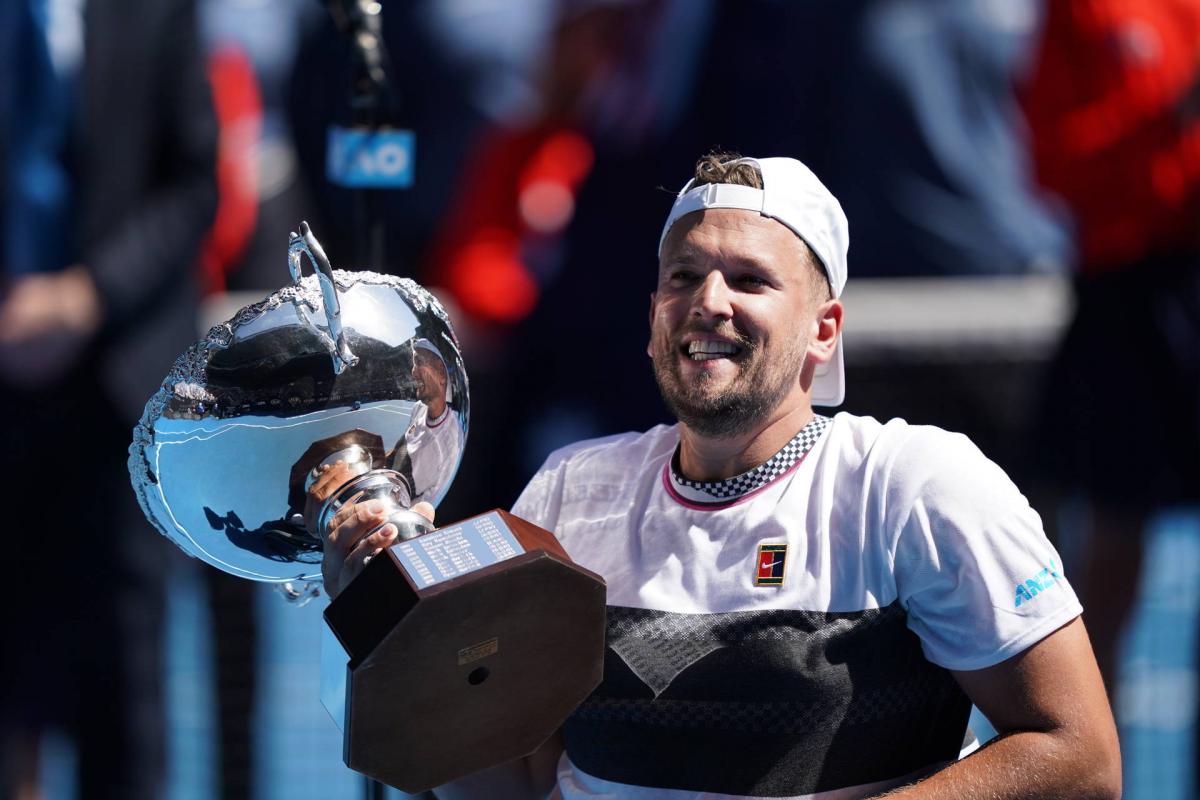 ⒸTakeo Tanuma
By Ross McLean | For the ITF
A conversation with 11-time Grand Slam winner Rod Laver at January's Australian Open has ignited a burning desire within Dylan Alcott to emulate his fellow countryman and attain sporting immortality.
Alcott has long been an advocate of quad singles and doubles featuring at Roland Garros and Wimbledon, in addition to their regular slots at the Australian and US Opens, and in 2019, for the first time, they will.
The 28-year-old world No. 1 is a serial title winner on the hard courts of Melbourne and New York and is now spying an opportunity to follow in the footsteps of Laver and scale new heights.
By winning the 1962 US Open, Laver became the first man to be crowned singles champion in all four major tournaments in the same year since Don Budge in 1938. Laver would go on to repeat the feat in 1969.
"As an elite tennis player growing up, you dream of playing the four Grand Slams and for this to be made possible for me is a dream come true," said Alcott.
"I spent some time with Rod Laver during the last Australian Open and heard all about his Grand Slam. With the four majors now on my circuit this is certainly a tempting triumph."
Whether that particular goal is achievable immediately remains to be seen, although victory at his home Grand Slam at the turn of the year ensured the first of those four potential hurdles was successfully cleared.
Following his fifth consecutive Australian Open crown, secured courtesy of a 6-4 ,7-6 (2) defeat of USA's David Wagner, Alcott took to the microphone and delivered the most emotional and poignant victory speech of his career.
Rod Laver Arena was collectively moved to tears as the 28-year-old spoke passionately about his lifelong dream to flourish in the mainstream and be proof that those with a disability can be elite at whatever they choose to do.
"This was probably the most raw I've ever been on the public stage as I was truly overcome by the support of both my friends and family, but more so the entire nation," said Alcott.
"I spoke about how growing up I never saw anyone like me on the television which meant I didn't have direct role models. I am very aware of the impact that seeing someone who looks just like you on the big screen has.
"That is why having the Australian Open final televised on Nine's Wide World of Sports was a highlight of my career – I still get goosebumps thinking about the change that we're continuing to make in sport.
"More visibility of wheelchair tennis in general is what we want. But it goes wider than sport. I have a saying that I live by: 'for every one thing I can't do, there are 10,000 others that I can'. Everyone can be elite in their own hobby or profession."
Alcott's desire to be a pioneer for disabled people can be traced to the first few weeks of his life, when he was born with a tumour wrapped around his spinal cord which required immediate surgery. The tumour was successfully removed, although he was left a paraplegic.
"I was pretty young at the time but I remember thinking: 'this is strange'. But then I realised that using a wheelchair was far easier than struggling to try and walk and not get places as fast as I'd like," added Alcott.
"I was very lucky to have the most incredibly accepting family who didn't see me as different but instead treated me exactly the same."
To his own admission, Alcott experienced bullying and loneliness, at times feeling depressed, overweight – search childhood photos and he says there will be "some alarming but hilarious shots" – and fearful for his future.
But through sport, Alcott began to fight back and proceeded to swim for his home state of Victoria and compete for Australia at both wheelchair tennis and wheelchair basketball.
Full story is available on the ITF's website.