Early Medal Success for Great Britain on Day 3 in Berlin
05 Jul 2011
Imagen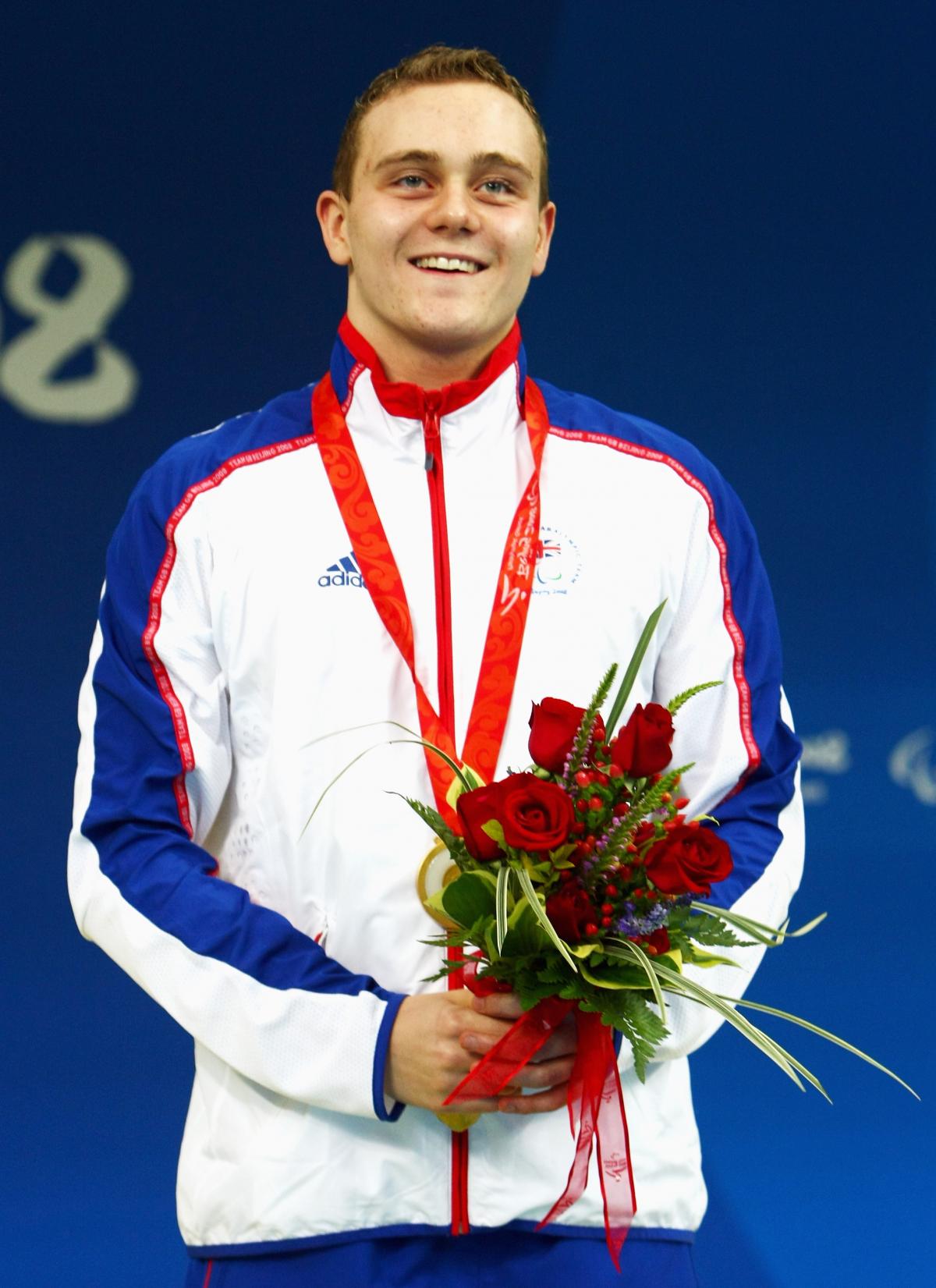 ⒸChris Hyde
By IPC
Great Britain made a storming start on the third day of finals at the International Paralympic Committee (IPC) Swimming European Championships in Berlin, Germany winning five out of the first six medals up for grabs.
In total the Brits won four gold, five silver, and five bronze medals on Tuesday to maintain their second position in the medal table on a day which Ukraine again dominated.
The Ukrainians now have 47 medals, including 19 golds, and 24 of the 36 countries competing in the German capital have now won at least one medal.
Day three saw four world and three European records broken bringing the totals for the competition to 12 and 11 respectively.
It is the Hynd family of Great Britain who can feel especially proud this evening after brothers Sam and Oliver took gold and silver in the first race of the day, the Men 400m Freestyle S8. Paralympic champion Sam (4:29.18), who celebrated his 20th birthday on Sunday, took gold ahead of his 16 year old younger brother Oliver (4:32.16). Bronze went to Thomas Young (4:32.70).
In the second race, the Women's 400m Freestyle S8, Great Britain claimed gold and silver. World record holder Heather Frederiksen (4:58.00) claimed her third medal and second gold of the Championships with a dominant swim. After setting a personal best in this morning's heats, Emma Willis (5:24.48) smashed it again to take silver. Denmark's Amalie Vinther (5:32.95) took bronze.
The Men's 400m Freestyle S11 saw Spain secure their ninth gold medal of the Championships. Enhamed Enhamed (4:43.70) followed up his success in the 50m Freestyle to take his second gold ahead of Ukraine's Viktor Smyrnov (4:49.48). Bronze went to another Ukrainian, Oleksandr Myroshnychenko (4:57.57).
World record holder Daniela Schulte (5:23.26) ensured she is currently the golden girl of the home crowd by securing her and Germany's second gold of the event in the Women's 400m Freestyle S11. Italy's Cecillia Camellini (5:23.87), a gold medal winner in yesterday's 50m Freestyle S11, took silver and Ukraine's Olga Iakibiuk (5:57.53) the bronze.
Arnost Petracek (43.21) added the European title of the Men's 50m Butterfly S4 to the World title he won last year in Eindhoven, the Netherlands. It was the 19 year old Czech swimmer's second gold of the Championships and resulted in Slovenia's Darko Duric (45.99) picking up silver and Sweden's Christoffer Lindhe (50.50) the bronze.
Ukraine's Yevheniy Bohodayko (30.27) is certainly staking his claim for the swimmer of the Championships after he claimed his fourth medal, and third gold, in the Men's 50m Freestyle S6. He finished ahead of Germany's Sebastian Iwanow (30.61) and Sweden's European record holder Anders Olsson (32.21).
Mirjam de Koning-Peper (34.94) of the Netherlands got revenge for defeat in the 400m Freestyle S6 to Eleanor Simmonds by not only winning gold but by smashing her own world record time. Germany's Tanja Groepper (36.49) took silver while Simmonds (36.52) took bronze.
Ukraine picked up their second gold of the night in the Men's 50m Backstroke S3 after two-time Paralympic champion Dmytro Vynohradets (50.63) powered to victory to secure his second first place finish of the Championships. Spain's Miguel Angel Martinez (51.79) took silver and Russia's Andrey Meshcheryakov (54.70) the bronze.
In the very next race Ukraine landed another gold in the Women's 50m Backstroke S3. Olena Istomina (58.36) broke the European record to take gold ahead of teammate Olga Sviderska (1:01.00). Bronze went to Germany's Anke Conradi (1:07.20)
Following their blistering start to the afternoon session, Great Britain claimed further success with a gold and silver finish in the Men's 50m Freestyle S7. World and three-time Paralympic champion Matt Walker (29.21) held off a stiff challenge from Jonathan Fox (29.81) to secure first place. Bronze went to Oleksandr Komarov (29.83) of Ukraine.
Ukraine's Ani Palian (33.49) won her first gold of the event in a tight race in the Women's 50m Freestyle S7. Silver went to Great Britain's Susannah Rodgers (33.99) in her first major Championships, while Germany's Kirsten Bruhn (34.70) claimed bronze.
Hungary finally landed their first gold of the Championships at the 62nd attempt in the Men's 50m Backstroke S5. European record holder and three-time Paralympic champion Zsolt Vereczkei (41.09) claimed it ahead of Great Britain's Anthony Stephens (42.75) and France's Hayri Simsek (43.07).
The Women's 50m Backstroke S5 saw Ukraine strike gold again. World record holder Natalia Prologaieva (39.73) had too much in the tank for her opponents claiming gold by a whopping seven seconds. Silver went to Anita Fatis (46.64) of France and bronze Hungary's Diana Zambo (54.82).
There was a Russian one, two in the Men's 100m Breaststroke SB9 with World and Paralympic champion Pavel Poltavtsev (1:06.57) beating his teammate Denis Dorogaev (1:10.11). Ukraine's Iurii Martynov (1:11.15) claimed bronze.
Spain's Sarai Gascon (1:20.36) claimed her second gold in three days in the Women's 100m Breaststroke SB9. Silver was Ukraine's Mariya Timofeyeva (1:21.58), who qualified for the final sixth fastest, while bronze went to Great Britain's Louise Watkin (1:21.73).
World record holder Itzhak Mamistvalov (5:06.53) of Israel claimed his and his country's second gold of the Championships with a convincing victory in the Men's 200m Freestyle S1. He led all the way and was well ahead of Greece's Christos Tampaxis (6:02.66) and Portugal's Jao Martins (7:42.31) who finished in silver and bronze respectively.
There was a new world record in the Men's 200m Freestyle S2 thanks to Russia's Dmitry Kokarev (4:41.99) who squeezed inside his previous world best time by 0.05 seconds. Greece's Aristeidis Makrodimitris (4:54.41) took silver ahead of bronze medalist Franceso Bettella (5:08.25).
Ukraine completed a clean sweep in the Women's 200m Freestyle S2. Gold went to Iryna Sotska (4:50.03) while her teammates Darya Kopayeva (5:28.32) and Natalia Semenova (6:01.30) took silver and bronze respectively.
World champion Roman Makarov (56.90) equaled his own world record in taking victory in the Men's 100m Butterfly S12. The 26 year old Russia won by nearly three seconds from Ukraine's Anton Stabrovskyy (59.67) and Spain's Albert Gelis (1:01.50).
The Women's 100m Butterfly S12 was a two horse race with 16 year old Russian Darya Stukalova (1:06.48) pushing world record holder and Paralympic Games champion Joanna Mendak (1:06.00) all the way. As it was though, the Pole claimed victory. Great Britain's Hannah Russell (1:11.83), who is just 14 years old, took bronze.
Belarus's Ihar Boki (56.24) is having a sensational Championships. In the Men's 100m Butterfly S13 he won his second gold and also broke his second world record of the event. Silver went to his teammate Dzmitry Salei (57:49) while bronze was won by Ukraine's Danylo Chufarov (59.25).
Richard Orbie (38.51) of Spain stormed to victory in the Men's 50m Freestyle S4 ahead of European record holder David Smetanine (39.03) of France. Bronze went to Ukraine's Eskender Mustafaiev (39.27)
The final individual event of the day was the Women's 50m Freestyle S4. It was finished in a new world record time by the Netherlands's Lisette Teunissen (44.19) who took a second off the previous world best which she had set almost three months ago in Sheffield, England. Silver medal was claimed by Sweden's Jennie Ekstrom (52.31) while bronze was won by Poland's Karolina Hamer (58.24).
The Men's 4x100m Freestyle Relay 34pt was won by Ukraine (3:55.00) in a thrilling race. Russia (3:56.83) were second and Great Britain (3:57.79) third.
The day finished how is started with Great Britain (4:35.89) claiming gold, this time in the Women's 4x100m Freestyle Relay 34pt. The British team finished in a new European record ahead of Spain (4:35.89) and Russia (4:41.58).