Estonia Looks to Get Back on Ice Sledge Hockey Map
As the reigning B Pool world champions, Estonia now seeks podium finish in A Pool.
12 Mar 2012
Imagen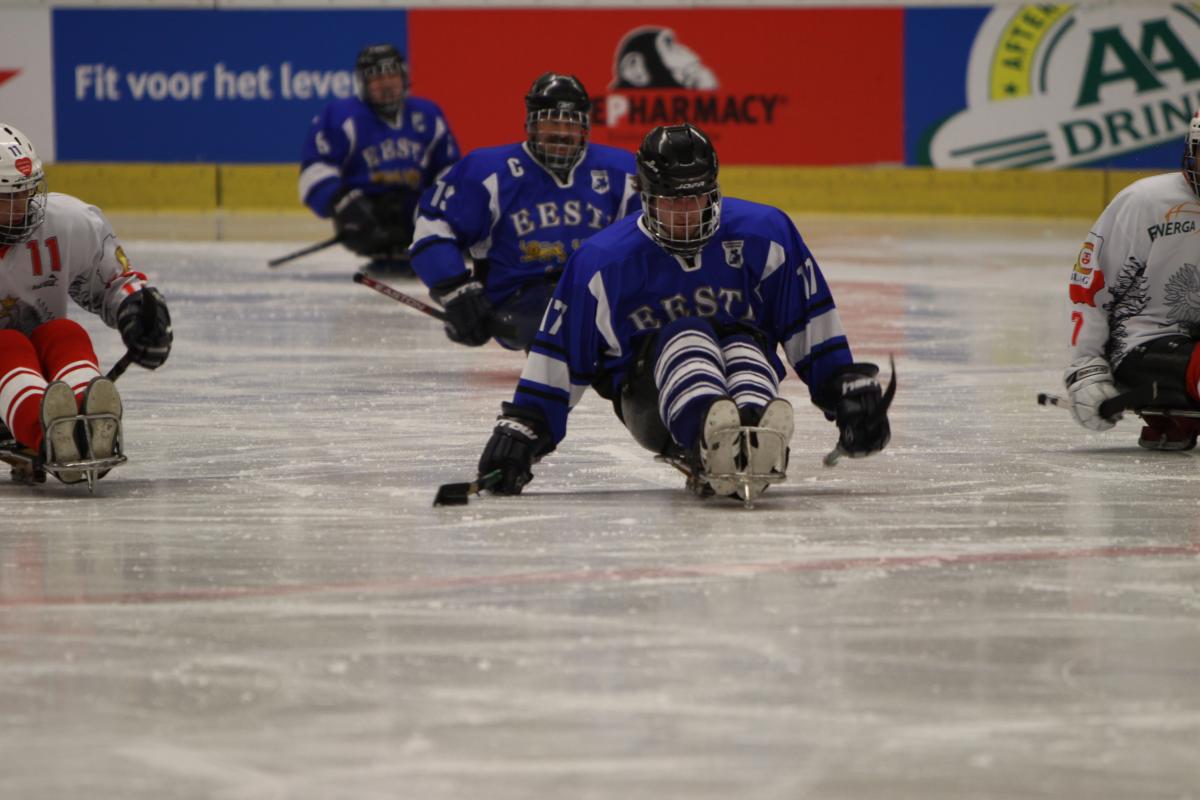 ⒸIPC
By IPC
"Of course I'm a little bit nervous. But this is good. This is normal."
Estonia's Ice Sledge Hockey team is now the underdog.
The squad won the 2009 B Pool World Championships after defeating Sweden in the finals in Eindhoven, the Netherlands, but this month, the Estonians have a new challenge ahead of them. They will make the step up to the A Pool World Championships – the premier group in which the world's top eight Ice Sledge Hockey teams compete.
The 2012 A Pool Championships begin on 24 March in Hamar, Norway, and with a solid performance, Estonia would be on track to make its first Paralympic Games (Sochi 2014) since finishing sixth at the 2002 Salt Lake City Paralympic Winter Games.
"I think this is an excellent opportunity to prove how good we are and stay in the A Pool," defenseman Tarmo Eerma said.
Veteran leadership
Amputee and Estonia's veteran forward Ivar Liiv has been around the team long enough to know its appearance in Hamar could be something special.
Liiv has been part of the national squad since the early 2000s, but he has played on and off for several reasons.
He broke his hand right before the Salt Lake City 2002 Games and was unable to participate.
And as the father of three kids and the owner of his own company, he has taken several breaks from the game to devote his time to other aspects of his life.
"All my career, I've had these breaks," Liiv said. "Not only injuries, there have been different reasons. My family, and my work and so on. That's why I've not been practicing or playing every year. I have a season with the team, then a season without, and so on."
That is why the 2009 B Pool title was such a big deal for Liiv.
"They were maybe my biggest memories from hockey because winning something as a special as the World Championships is a very big thing – a very big thing for me," Liiv said. "That was maybe my best season also. I was in super shape."
Most recently, Liiv was on leave of absence from Estonia's Ice Sledge Hockey team until January 2012. He wanted to spend more time with his family and had a new business partner to mentor.
"This hockey level is increasing all the time," Liiv said. "I see that I'm not quite young anymore. It's getting harder and harder for me personally. Especially after this break."
Passing the torch
In Hamar, Liiv will be lucky enough to have several established young players with him whom he can pave the way for.
Liiv and veteran captain Kaido Kalm will anchor a front line that is backed by defensive up-and-comers, such as Eerma.
The 25-year-old, who has been playing the game for 11 years now, said he wants to focus on co-operating and communicating more with his teammates on the ice in Hamar.
While Canada, USA and Norway will be podium favourites at the World Championships, Eerma is most eager to face Czech Republic and Italy, which are Estonia's main rivals in the sport.
Eerma noted how proud his countrymen are of Estonia's team back home and said the most important thing at this year's tournament will be to improve himself and "do what he was sent there to do."
"Of course I'm a little bit nervous," Eerma chuckled. "But this is good. This is normal."