European champions triumph at Para Triathlon World Cup
Four gold medallists defy Italian heat to take titles at Lake Iseo.
10 Jul 2017
Imagen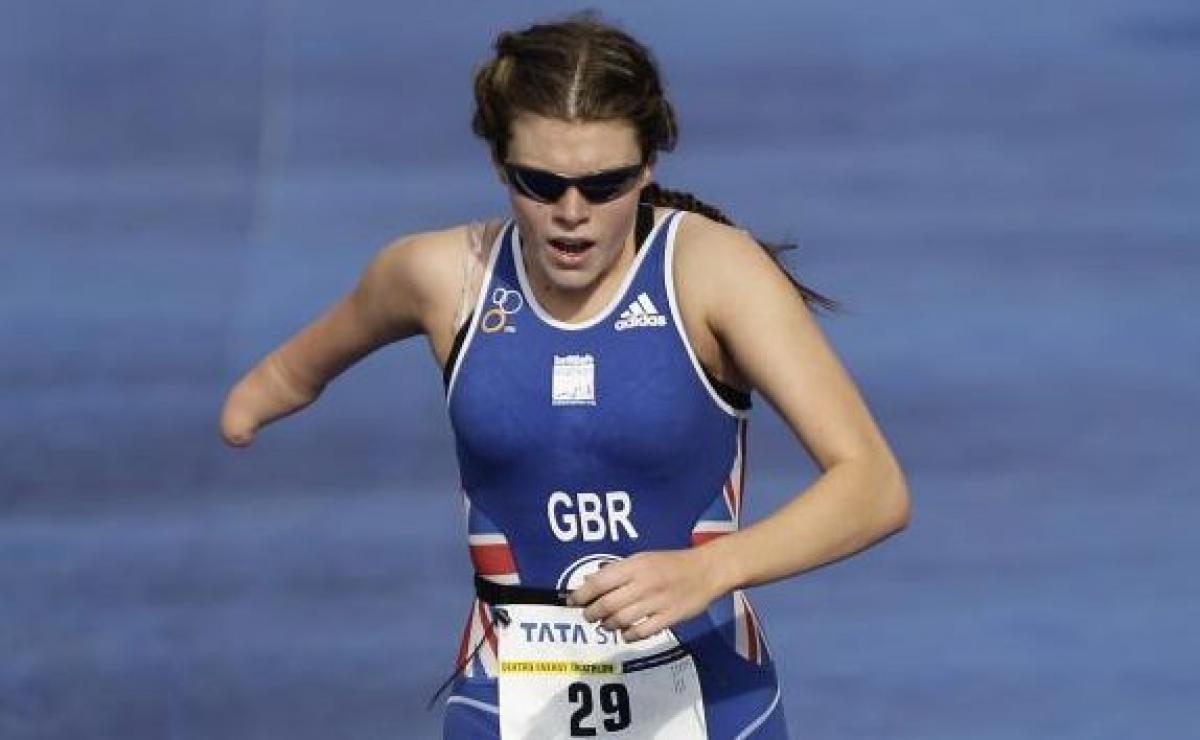 By Adam Bailey | For the IPC
Four European champions continued their good form at the Iseo-Franciacorta ITU (International Triathlon Union) Para Triathlon World Cup on Saturday (8 July).
The third World Cup event of the season took place in very hot conditions in Italy and saw European gold medallists Liisa Lilja, Anna Plotnikova, Alexis Hanquinquant and Lauren Steadman all win their respective classes.
Great Britain's Steadman continued her winning return to competition in the women's PTS5 class after a seven-month break from the sport following last year's Paralympic Games. The Rio 2016 silver medallist followed up her fifth European title with her first World Cup victory of the season.
The 24-year-old (1:13:21) finished ahead of France's Gwladys Lemoussu (1:18:47), with Ukraine's Alisa Kolpakchy (1:22:37) in third.
Another European champion who was victorious in Iseo was Finland's Liisa Lilja, who produced a dominant performance to win the women's PTS2 event. It was a comfortable win for Lilja (1:27:53) from Russia's Veronika Gabitova (1:43:52), with Italy's Veronica Yoko Plebani (1:53:47) completing the podium.
The women's PTS3 race saw two European medallists go head-to-head in what proved to be a close contest between European champion Anna Plotnikova and European bronze medallist Elise Marc.
Marc had an advantage of over four minutes after the swim, but Plotnikova cut the French Para triathlete's lead to two minutes, 10 seconds after the bike. Plotnikova then produced a strong run to catch and overtake Marc to finish in a time of 1:28:42, 54 seconds quicker than Marc (1:29:36).
France's Alexis Hanquinquant continued his impressive start to his Para triathlon career in the men's PTS4 event. Hanquinquant only started competing in the sport last year and victory in Iseo saw him pick up his fouth win of the season.
The European champion (1:06:37) beat the Russian* pair of Mikhail Kolmakov (1:09:49) and Denis Kungurtcev (1:10:53).
Two European silver medallists went one place better in Iseo with France's Stephane Bahier (PTS2) and Spain's Jairo Ruiz Lopez (PTS5) winning their respective races.
Bahier pulled out an advantage on the swim, before extending his lead on the bike and run to win in a time of 1:12:47. Russia's Vasily Egorov (1:19:09) finished second, while Italy's Michele Ferrarin (1:20:23) rounded off the podium.
Ruiz Lopez continued his good form after an injury-hit start to season by winning back-to-back World Cup events. The Spaniard was second after transition two, before producing a strong run to repeat his victory from Altafulla in a time of 1:04:33.
George Peasgood (1:05:20) finished second, ahead of France's Yannick Bourseaux (1:06:14).
Great Britain's Karen Darke, who won a gold medal in the cycling time-trial H1-3 at last year's Paralympic Games, finished nearly 13 minutes ahead of France's Mona Francis (1:40:12) to win the women's PTWC race in a time of 1:27:37.
There was Italian success in the men's PTWC and women's PTVI events with Giovanni Achenza and Anna Barbaro making their home advantage count.
Achenza (1:07:25) beat Germany's Antonio Daniel Muller (1:16:32) and Czech Republic's Jan Tomanek (1:17:43) to gold in the men's PTWC race.
Anna Barbaro won the women's PTVI event in a time of 1:26:22, ahead of Ukraine's Vita Oleksiuk (1:28:09). France's Annouck Curzillat (1:32:26) finished third.
In the men's PTVI event, Serbia's Lazar Filipovic (1:07:24) beat Italy's Maurizio Romeo (1:08:23) to win his first international event since 2011. France's Antoine Perel (1:11:06) held off the challenge of Italy's Federico Sicura (1:11:10) to claim the bronze medal by just four seconds.
*Editor's note: The International Paralympic Committee suspended the Russian Paralympic Committee on 7 August for its inability to fulfil its IPC membership responsibilities and obligations, in particular its obligation to comply with the IPC Anti-Doping Code and the World Anti-Doping Code (to which it is also a signatory). As a result of the suspension, Russian athletes cannot enter IPC sanctioned events or competitions, including the Paralympic Games. For further information please click here.