Faces of the future: Ireland's Thomas Moylan
In a new series profiling the stars of tomorrow, we look at the wheelchair rugby rookie has been key in Ireland's rise in the ranks.
13 Jun 2015
Imagen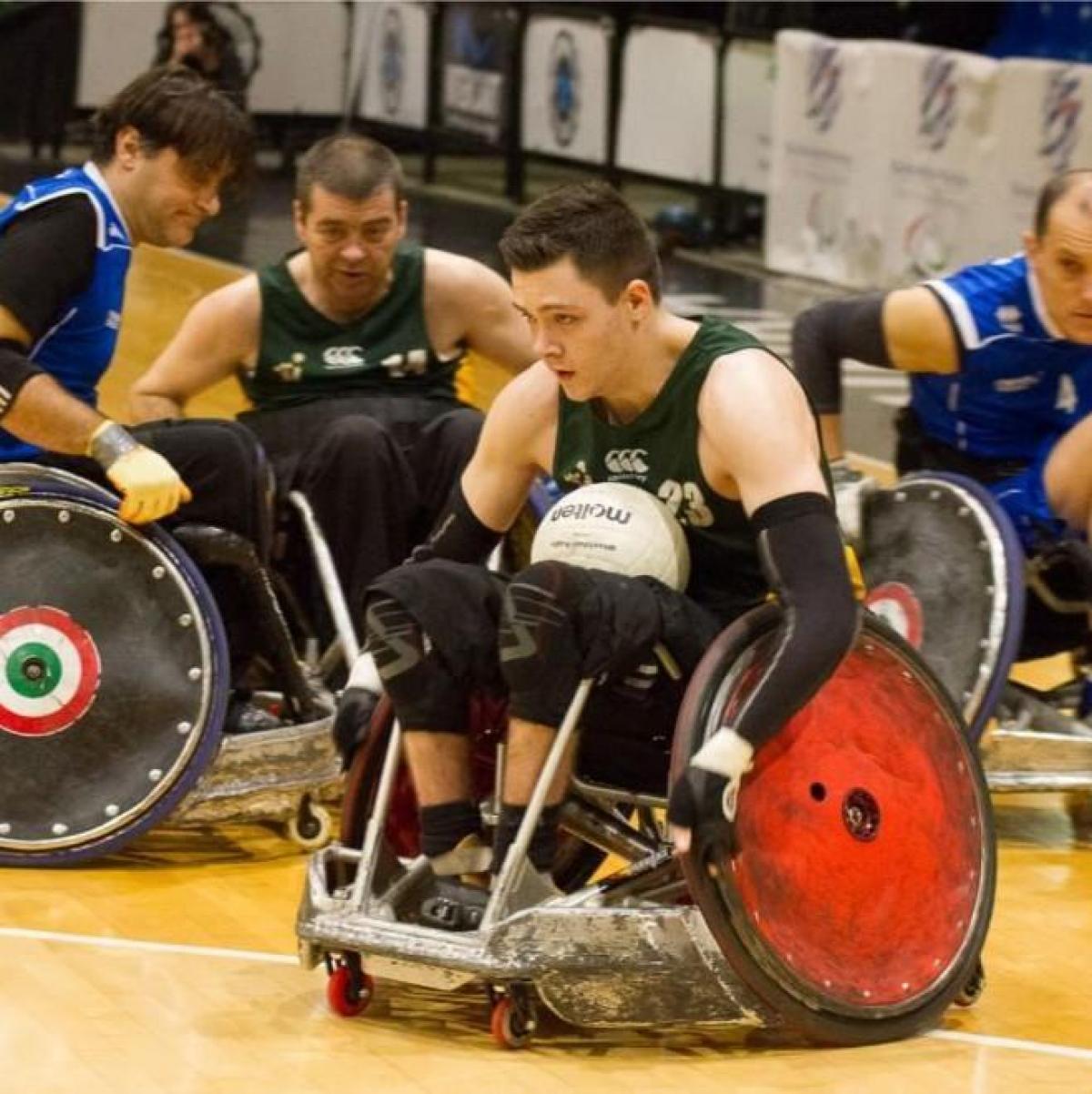 ⒸThomas Moylan
By Beau Greenway | For the IPC
"I love the physicality and how tactical the game is."
Editor's note: "Faces of the Future" is a series published once a month on Paralympic.org that introduces you to some of the young, rising talent in para-sport. The first part of this series brings you Irish wheelchair rugby player Thomas Moylan.
He may only be 16 years old, but Thomas Moylan is a big reason behind the rapid improvement of the Irish wheelchair rugby team. Furthermore, the promising star will be key in helping Ireland reach their first Paralympic Games in the sport.
When the latest world rankings for the International Wheelchair Rugby Federation (IWRF) came out, Ireland made the most notable jump – moving up 10 spots to No.13.
It came after their silver-medal finish at the IWRF European B Championships in April, when Moylan made his international debut with the team. Classified as a 3.5 player, Moylan got his team going in the finals against France, scoring the first point. Although Ireland could not pull out the win, they still secured their place in the IWRF European Championships in Finland this September, when the top-two teams get to qualify for Rio 2016.
"My ultimate goal is to see the Irish team get to the Paralympics and bring home a medal," Moylan said. "Over the past two years, I have watched the Irish squad improve and develop into a team that now has a shot to qualify for the Paralympics."
Moylan was born with a congenital birth defect, meaning he had no feet and was missing five fingers between both hands. Last year, he had his ring finger amputated after breaking it playing wheelchair rugby.
That has not stopped him from playing.
"I love the physicality and how tactical the game is," Moylan said.
His first wheelchair rugby experience was in 2012 after attending a Paralympic tryout day. It did not take him long to fall in love with the game.
"After taking part in a demonstration, I was hooked and went to my first training session the week after," Moylan said.
"Training is intense, but very rewarding, we want to be the best we can be," he said. "All of our competitions take place in Europe, so I have travelled to Germany, the Czech Republic, the Netherlands, Poland, Italy and the United Kingdom."
Travelling for international competitions and training is still manageable for the 16-year-old. He said he is very fortunate to do so, thanks to a great support network.
"My family and friends are always supportive, especially my mom, who is my rock," Moylan said.
"My school is also very supportive of my commitment to wheelchair rugby. It is difficult at times when training all weekend and also having to complete homework, but I somehow manage to make it work."
Moylan said there are too many great players around the world to choose a favourite, but being a 3.5 player, he enjoys watching Canada's Zak Madell and would love the opportunity to match up against him on the court.
Ireland has been drawn in Pool B of the IWRF European Championships and will face Denmark, hosts Finland and Germany in their opening three matches.
The tournament gets underway on 13 September in Pajulahti, Finland.
Visit the IWRF's website for information on the European Championships http://www.iwrf.com/?page=home.