First ever PTT World Team Champs set
Many of the top teams will meet each other again since battling at Rio 2016.
15 May 2017
Imagen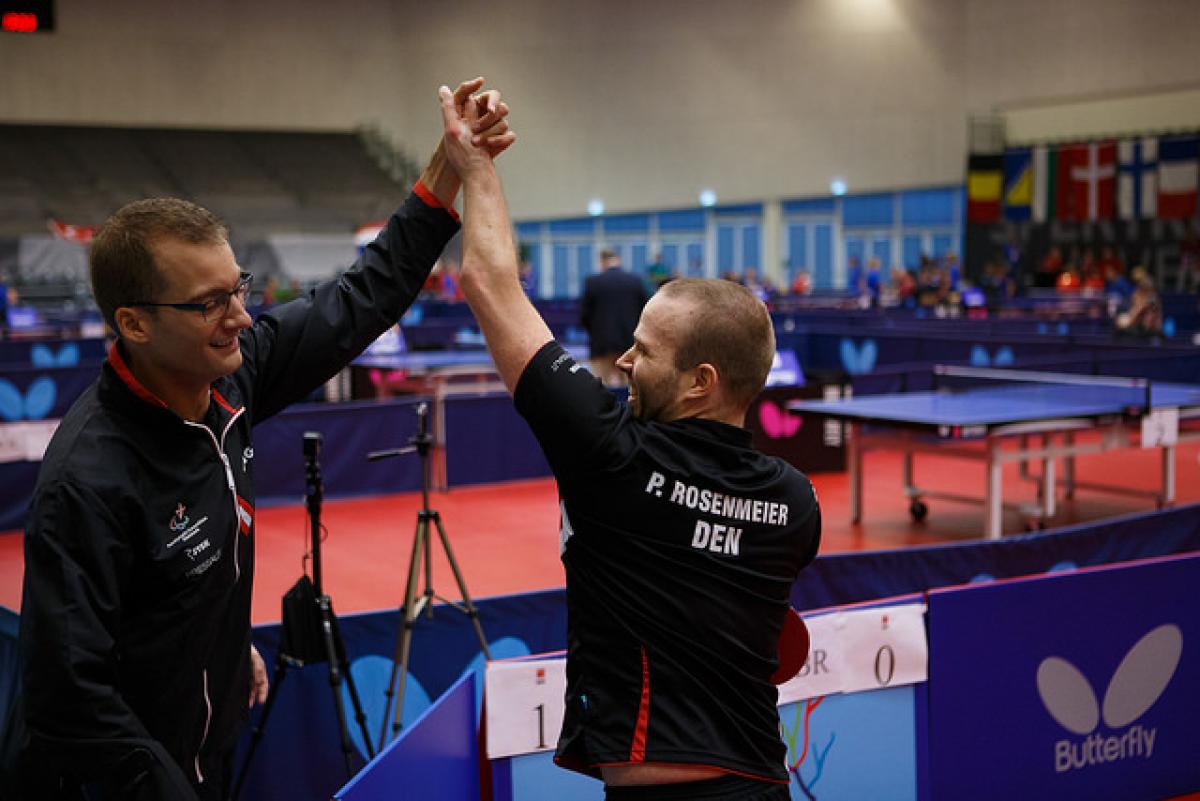 ⒸMorten Olsen
By Connor Craig-Jackson and the IPC
The 2017 Para Table Tennis Team World Championships may feature possible Paralympic rematches as the best teams from around the globe will face off from Wednesday (17 May) in Bratislava, Slovakia.
Most of the teams who competed at Rio 2016 are returning to the stage, minus China, who took five medals from Rio 2016, four being gold.
The men's class 10 could be a battle between Paralympic silver medallists Spain and bronze medallist Poland. The duo of Jose Manuel Ruiz Reyes and Jorge Cardona edged the Polish tandem of Patryk Chojnowski and Piotr Grudzien 3-2 in the Rio 2016 semi-finals. Poland could find redemption in Bratislava, but Chojnowski might have to do with Grudzien who is not on the entry list.
Germany enter as the men's class 3 favourites, as Thomas Schmidberger and Thomas Bruchle will team up again since their silver medal from Rio 2016.
Teaming up for the men's class 6-8 gold at Rio 2016, Ukraine's Viktor Didukh and Maksym Nikolenko will focus on their respective classes as both are coming off a pair of wins from the Lignano Master Open in March.
Nikolenko joins Mykhaylo Popov in class 7 while Ivan Mai accompanies Didukh in class 8, as both pairs look for a World Team Championship win to build momentum before bidding for a fourth successive European Championship golds in September.
However, China's absence may prove to be no change to who will be the favourites in the men's class 5 with reigning Paralympic champions South Korea and runners-up Chinese Taipei both likely to do battle once again. However Serbia could prove be a threat, with their recent Romania Open victory giving them good momentum going into the competition.
South Korea's Jung-Gil Kim might have to do however without his gold-medal winning partner Young Gun Kim. Chinese Taipei's Ming-Chih Cheng and Yen-Hung Lin will be back in full force in Bratislava.
An all-European clash is also the prospect in the women's class 3, as the continent's reigning champions and Rio 2016 runners-up Croatian tandem Andela Muzinic and Helena Dretar could face Italy. Croatia recently edged Giada Rossi and Michela Brunelli in a close 2-1 contest at the Ligano Master Open in March. But the Italians, who just missed the podium at Rio 2016, could be playing with chips on their shoulders.
The women's class 4-5 could be highlighted by Serbia, led by Paralympic singles champion Borislava Peric-Rankovic. The 44-year-old will be backed up by her teammate Nada Matic, whose World Championship team gold and Paralympic silver add to a formidable Serbian side.
In the women's class 9-10, Paralympic bronze medallists Brazil look likely to vie for the gold with Bruna Costa Alexandre and Danielle Rauen coming off a victory from the Slovenian Open last week.
Around 255 athletes, making up 116 teams from more than 30 countries will compete in Bratislava.
Competition will be live streamed here.
The complete players list at the Para Table Tennis Team World Championships can be found on the International Para Table Tennis Federation's website. Competition runs until 20 May.