Sport-life balance keeps Davies grounded
The newly crowned British table tennis Paralympic champion wants to stay No. 1 but is not pressuring himself about it.
26 Feb 2017
Imagen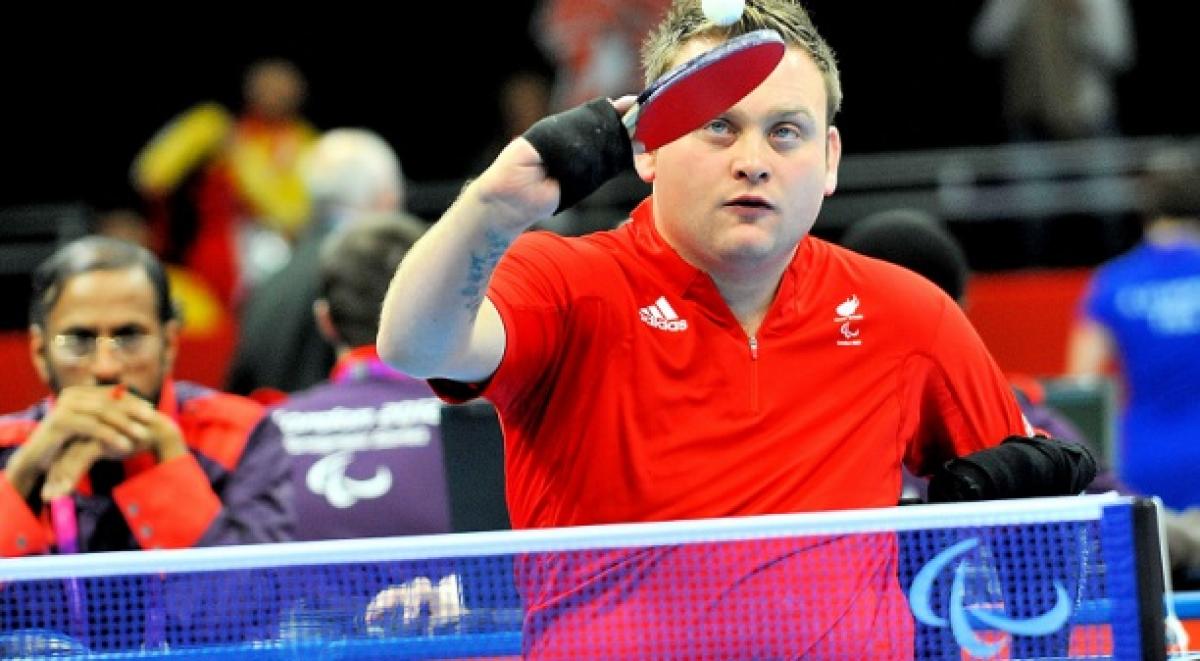 By IPC
"I've accomplished most things that I want to. There is still a World Championships I want to win."
Now that Great Britain's Robert Davies is at the top of his class, his aim this 2017 season is to stay on top. But the newly crowned Paralympic champion and No. 1 ranked player does not feel pressure.
Other things outside the table tennis courts are keeping things in perspective.
"I'm getting married in July as well," said Davies after discussing the competitions he plans to compete in this year. "I never realised there was so much work to it. It's going really well. Trying to get a good table tennis and life balance in the next couple of months is the main thing. But I want to enjoy myself, enjoy this year and then get ready for the Europeans."
The 2017 International Table Tennis Federation (ITTF) Para Table Tennis European Championships are not until September. Davies will try to hold onto the singles class 1 and team golds he won from the 2015 edition.
He will certainly be the man to beat in Lasko, Slovenia, after a successful Paralympics in Rio 2016. He overcame long-time rival and London 2012 silver medallist Jean-Francois Ducay of France in the quarterfinals. Davies then made it to the finals and beat South Korea's Young Dae Joo, an unfamiliar opponent whom Davies only faced twice before, and lost both times.
"I had not beaten any of the top guys before London," the two-time Paralympian said. "I knew I was not quite ready leading into London."
"After London I took a hard look at my training and made changes. I trained a lot harder, more professionally so I had basically become a full-time athlete. It's just a matter of getting over that hurdle. He's quite resilient himself," Davies said of Ducay.
"I beat him 3-0, so that was the biggest accomplishment for me. I had gone through that pain four years ago and I guess I repeated it back to him in Rio. But we're really good friends off the court."
While many may think the early rounds of the Games are the easiest, Davies said they were actually the hardest. But when he was advancing toward the finals, he started gaining more confidence. It was a matter of tactics and strategies – of which he did not want to give too much away – that helped him defeat Joo.
His fiancé watched Davies compete at London 2012 and was overjoyed to watch him win his first ever Paralympic medal at Rio 2016.
"She definitely experienced me at my lows from London and then she experienced the high as well from Rio. She watched me play in the finals from home. She was in tears and jumping up and down," Davies said.
Davies' first international competition of the year will be the Slovenian Open in May.
After a long restful break from Rio 2016, he is only getting back into competing, wrapping up his first tournament since the Games in late February.
The 32-year-old aims to keep his top status but is not letting that deter him from enjoying the sport and life off the table.
"I've accomplished most things that I want to. There is still a World Championships I want to win. But I don't feel too much pressure, to be honest. I'm just enjoying being back to playing after a break from Rio. I'm trying to stay there as long as I can," he said. "There are other things going on in my life. If table tennis doesn't go well, I have other things to enjoy."
The European Championships will take place between 26 September – 5 October.