Five things we learned from shooting at Rio 2016
From retiring athletes to the dominance of women on the world stage, many lessons emerged from the Paralympic Games.
24 Sep 2016
Imagen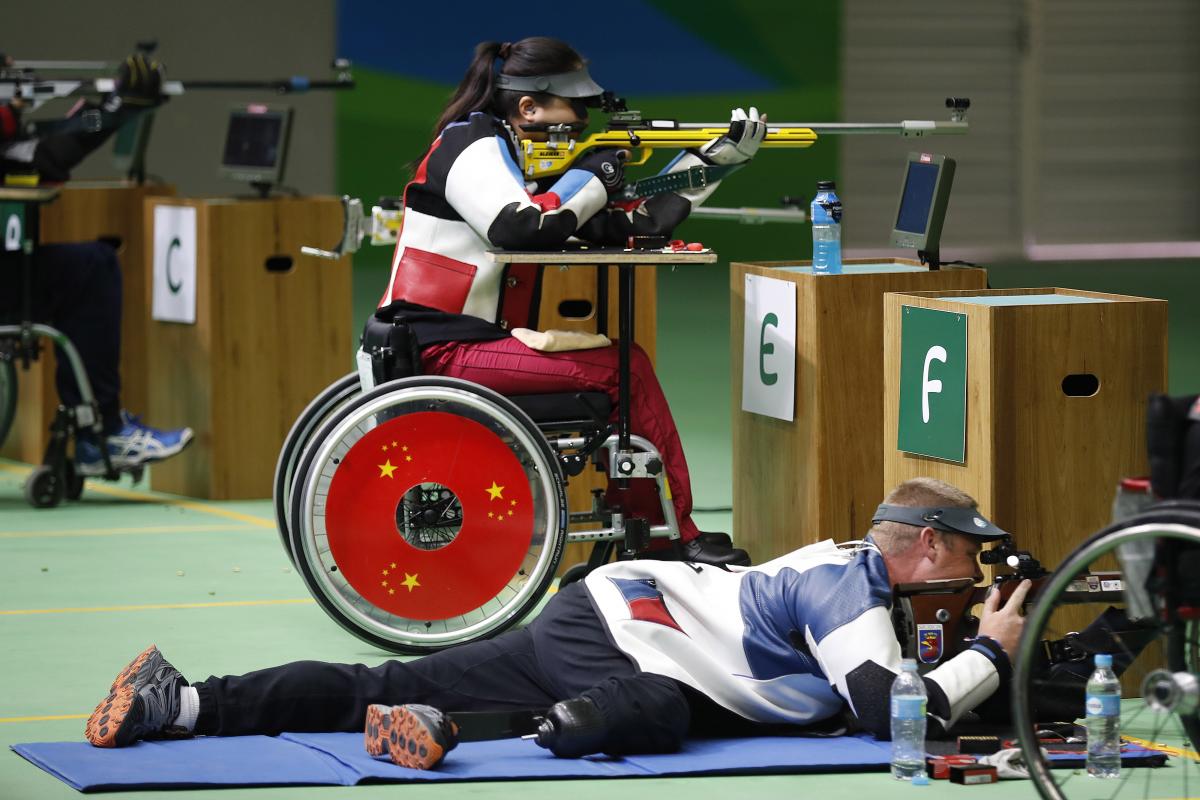 ⒸWagner Meier
By By Jake Smith | For the IPC
As the dust settles on the Rio 2016 Paralympic Games and athletes and teams return home, there is time to reflect on what was a truly great event.
Many great stories and faces for the future emerged. Here are just a few highlights.
It is not over until it is over
The world witnessed two gold medals that were decided on the final roll of the dice. China's Cuiping Zhang and Slovenia's Veselka Pevec both showed incredible resilience to come from behind and win gold on the last shot of the final in their respective events.
In what was one of the most dramatic scenes at the Olympic Shooting Centre, Zhang fired a near-perfect 10.8 on her very last shot of R6 (mixed 50m rifle prone SH1) final to overthrow defending Paralympic champion Abdulla Sultan Alaryani of the United Arab Emirates.
In similar circumstances, Pevec faced off against countryman Gorazd Francek Tirsek in a gripping duel that went down to the wire for gold in R4 (mixed 10m air rifle standing SH2). Tirsek was head and shoulders above the rest of the field for the best part of the match, but Pevec's fighting spirit continued to gather momentum as she closed the gap on her friendly rival. It came down to the very last shot of the competition for Pevec to topple Tirsek and realise her dream of becoming Paralympic champion.
You are not always as good as your last shot
Rio 2016 marked the tenth consecutive Paralympic Games for Swedish shooting legend Jonas Jacobsson, and although he did not take home a medal he will leave a long and lasting legacy as one of the greatest Paralympians of all-time. Jacobsson ends his professional shooting career with 30 Paralympic medals spanning across four decades. His collection boasts an astonishing 17 gold, nine silver and seven bronze medals.
Women are a force to be reckoned with
Following the London 2012 Paralympic Games, shooting Para sport was gifted an additional 10 quota places specifically for women. The reason was to encourage participating nations to invest in their female athletes and showcase their talents to the rest of the world. The results from Rio 2016 speak for themselves…
Out of the six mixed competitions on the shooting schedule, women landed on five of the podiums including four gold medal winners; Slovakia's Veronika Vadovicova in R3 (mixed 10m air rifle prone SH1), Slovenia's Veselka Pevec in R4, Zhang in R6, and Iran's Sareh Javanmardidodmani in P4 (mixed 50m pistol SH1). Adding to the dominance was Germany's Natascha Hiltrop with silver in R3 behind Vadovicova and the USA's Mckenna Dahl who picked up bronze in R5 (mixed 10m air rifle prone SH2) to become the USA's first ever female to win a shooting medal at a Paralympic Games.
It is time to say goodbye
Rio bid farewell to two veterans of the sport; Jonas Jacobsson and 74-year-old Libby Kosmala who both drew the curtain on incredible careers. Jacobsson and Kosmala reached the pinnacle of their sport on a number of occasions and will exit the Paralympic arena as the two most decorated athletes in the history of the sport. They make way for a new cream of the crop headlined by young guns, Dahl, Ukraine's Oleksii Denysiuk, Hiltrop and Sweden's Philip Jonsson. All four of these athletes are in their twenties and made finals appearances in Rio with the first three all winning medals. With their vibrant attitudes and confidence on the world stage these young athletes are paving the way for a generational transformation across the sport. We have been given a glimpse of what's to come at Tokyo 2020.
Weakness is merely a perception
At ten years of age, Vasyl Kovalchuk was attacked by a bear in front of his friends at a zoo in Europe. As a result, Kovalchuk became an arm amputee and from that day forward his life would change forever.
"If there is such a situation in your life, you have to overcome it and learn to live with it," said Kovalchuk.
A young, innocent, Ukrainian schoolboy would learn to turn his impairment into determination and transform his hardship into a heroic quality. At the Rio 2016 Paralympic Games, Kovalchuk became a back-to-back champion after successfully defending his R5 (mixed 10m air rifle SH2) title. What is even more incredible about this story is that his wife, Olga, picked up a silver medal in P2 (women's 10m air pistol SH1) making it a family affair and a fairytale ending for the Ukrainian couple at Rio 2016.
Kovalchuk showed us that if we shift our perspective to appreciate our strengths, we can achieve greatness.