Freestyle relay highlights Day 4 of swimming
Matt Cowdrey led a strong Australian squad to the title in the men's 4x100m freestyle 34 points relay.
03 Sep 2012
Imagen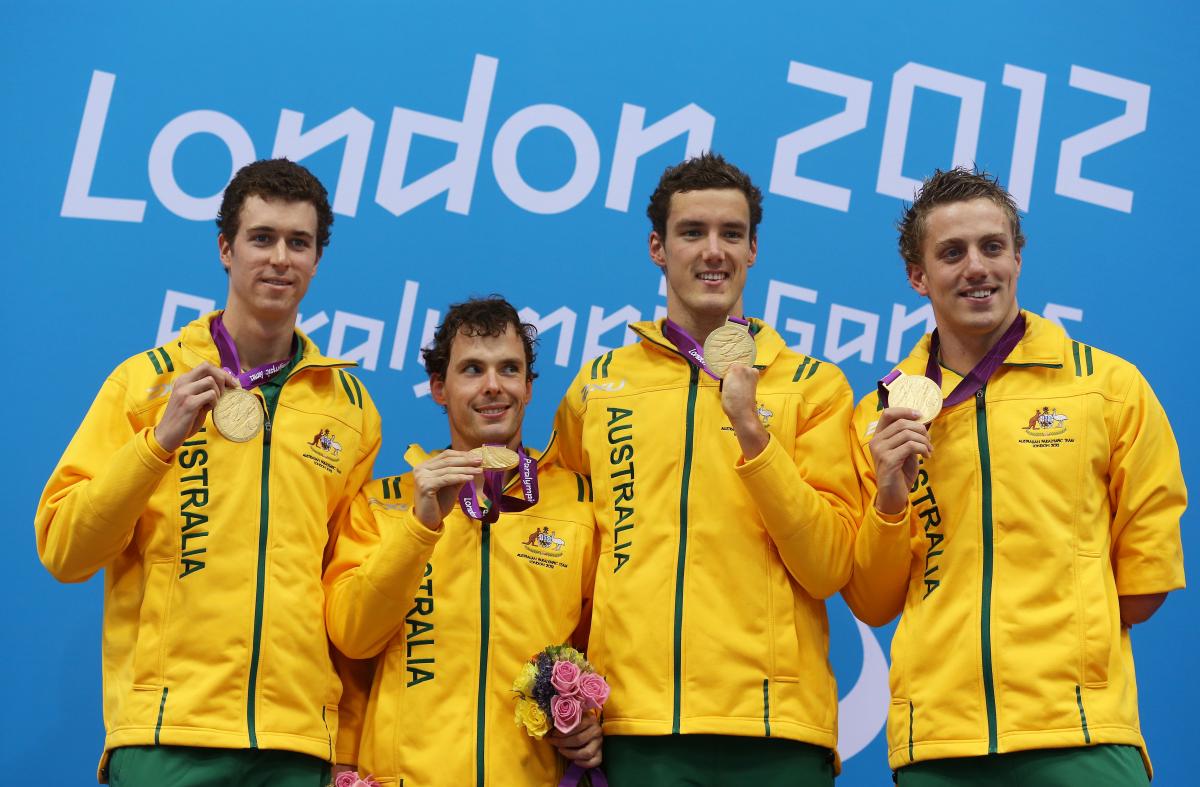 ⒸGetty Images
"I've been dreaming of being on that podium and hearing the anthem for four-and-a-half years."
In one of the most dramatic races on Day 4 of London 2012 at the Aquatics Centre, Australia won the men's 4x100m freestyle 34 points relay after seeing off the challenge of China. Won in Paralympic record time, Australia had to come from behind to overtake Spain as Matt Cowdrey fought off a rapid final length from China's Yinan Wang to win gold.
American Mallory Weggemann, meanwhile, produced a remarkable performance to claim a new Paralympic record as an S8 athlete after being reclassified from an S7 competitor.
Weggemann, 23, was subject to a reclassification only days ago, but the change in category didn't stop her winning her first gold medal as an S8 swimmer.
Up against American teammate Jessica Long, who already has three gold medals to her name in London, Weggemann won gold in a Paralympic record time with an incredible swim that left her delighted.
"Oh my God, it feels absolutely amazing," she said. "I've been dreaming of being on that podium and hearing the anthem for four-and-a-half years. It was a tough competition, I knew I had a tough race, but I gave it my all and that was enough tonight.
Earlier in the session, the home crowd got a chance to hear 'God Save the Queen' as 16-year-old Jessica-Jane Applegate won gold in the 200m freestyle S14. Making her Paralympic debut, Applegate overtook Australian Taylor Corry on the final length to finish in a Paralympic record time.
Belarus's Ihar Boki broke the world record twice in one day in the men's 100m freestyle S13, first in the heats and then in the final en-route to winning gold. Boki claimed his second gold of the games and third medal in total, finishing ahead of South Africa's Charles Bouwer and Russia's Aleksandr Golintovskii.
Boki admitted he aimed to beat the world record twice, and he'd be celebrating with a drink. He said: "After the morning swim my goal was to get the world record again.
"I am very tired and now I am going to have lots to drink, but only water."
Another multi-medallist is Australia's Jacqueline Freney. The 20-year-old picked up her third gold medal of the games after winning the 200m individual medley SM7 and broke a four-year-old world record.
Ukrainian Yevheniy Bhohodayko added a gold to his two silver medals in the men's 200m individual medley SM7 final, breaking the world record that silver medallist Rudy Garcia-Tolson set in the morning session.
Iceland's Jon Margeir Sverrisson won his country's first medal of the London 2012 Paralympic Games with a world record gold in the 200m freestyle S14 while Cameron Leslie set a best-ever time in the men's 150m individual medley SM4.
In an unusual turn of events, a re-swim was ordered in the men's 100m backstroke S11 after an accidental foul occurred. American Bradley Snyder was the athlete affected by the foul and was the only competitor to take up the option of racing again, this time in an otherwise empty pool. His second time of 1:09.62 was only enough to finish fifth, with Dmytro Zalevskyy's original time being enough to hold on to the gold medal.
Another world record fell in the men's 150m individual medley when Jianping Du reclaimed the gold he won in Athens in 2004. Rina Akiyama of Japan set a new Paralympic record in the women's 100m backstroke S11 to win gold.
Elsewhere Australian Kelley Becherer won gold in the 100m freestyle S13, Roman Makarov of Russia won the 100m butterfly S12 and Poland's Joanna Mendak took the gold in the 100m butterfly S12.