GB Names Wheelchair Basketball Teams for Manchester
With the return of Jon Pollock and Terry Bywater, Great Britain's men's Wheelchair Basketball squad is looking strong for May's BT Paralympic World Cup.
25 Apr 2012
Imagen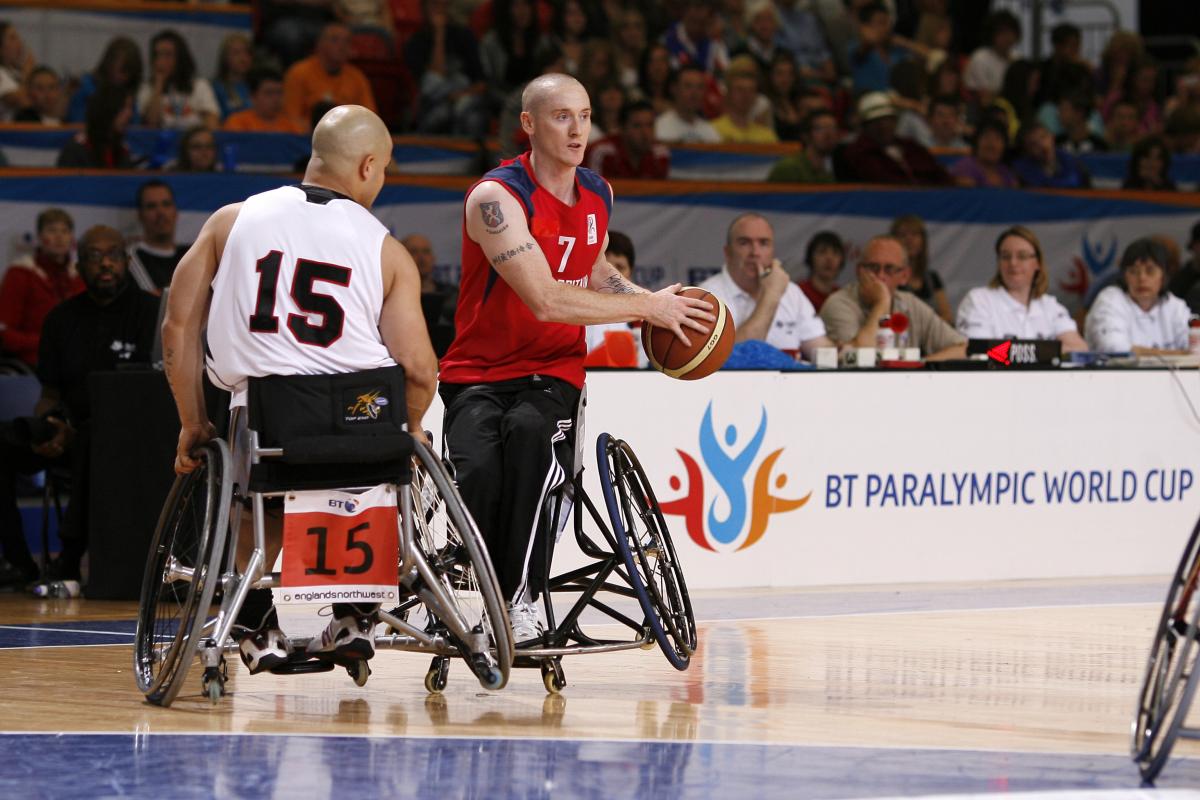 ⒸBT
By IPC
"We've shown some fantastic stuff in the past weeks and months and I'm expecting us to shine at the BT Paralympic World Cup."
Great Britain's men's Wheelchair Basketball team at the BT Paralympic World Cup will mark the return of Jon Pollock and Terry Bywater, while a motivated women's squad will also look to gain momentum for London 2012 at the competition in Manchester, Great Britain, from 23-26 May.
Bywater returns to the British team after having surgery to repair a wrist injury he aggravated during his victorious trip to Israel for the European Championships last September.
Pollock, meanwhile, returns to captain the squad after a shoulder injury forced him to miss both the BT Paralympic World Cup and European Championships last year.
"It's fantastic to be finally be out playing once again with the lads," said 34-year-old Pollock in a release, who launched his British career at the Sydney 2000 Paralympic Games.
"It's been a tough time, but I'm pleased it's all behind me now, and I'm looking forward to continued success with what is clear to be a fantastic group of players."
Both inclusions signal a huge boost for the side, which is currently ranked No. 1 in Europe, and Pollock is just desperate to be back with the team and ready to prove his worth once again at the Manchester Regional Arena.
"We're against some of the best teams in the world and that's what you need in a Paralympic year, to be tested against the best possible opposition," Pollock said. "I missed out on the tournament last year so I'm determined to make up for lost time and really go for it this time around."
The return of Pollock and Bywater, who between already have six Paralympic Games outings between them, is sure to lift the whole squad, but there is one man who is more pleased than anyone to see them back.
Pete Finbow made his debut back in 2001, and alongside Pollock and Bywater, he has seen the team develop and evolve into Paralympic contenders.
"Our mantra is 'you're only as good as your worst player,' and that's made us all even more focused and the strides we've made as a team have been astounding," Finbow said. "Having Jonny and Terry back has strengthened us even more, and by the time of the Paralympics, we're going to be ready for anything."
Meanwhile, women's coach Garry Peel and his squad will look to retain the title it won at last year's event.
Peel knows they will have their work cut out once again when they face 2011 finalists Germany, Australia and the world's top team, USA, this year.
"It's going to be very interesting to see how we fare against the likes of USA and the other top teams on show, but these are the teams you have to test yourself if you want to get to the top," Peel said.
"We've shown some fantastic stuff in the past weeks and months and I'm expecting us to shine at the BT Paralympic World Cup."
Once again taking her place on the team is Helen Freeman, Britain's youngest player at the 2008 Paralympic Games, and the Watford-born star insists her team is ready to go.
"All 12 of us girls can't wait to get going really," Freeman said. "The BT Paralympic World Cup is a quality competition and all four teams will be desperate to gain any kind of advantage over the others with under 100 days to go until the Paralympics.
"The team is in great shape and having won the event last year, we're all looking forward to going out and retaining our title."
In addition to Wheelchair Basketball, the BT Paralympic World Cup also consists of events in Athletics and Football 7-a-Side, as well as international matches in Boccia and Sitting Volleyball.
The complete event runs from 22-26 May.
Here's a list of the complete British Wheelchair Basketball rosters for the event:
Great Britain men: Gaz Choudhry; Dan Highcock; Matt Sealy; Terry Bywater; Simon Munn; Jon Pollock; Abdi Jama; Matt Byrne; Ian Sagar; Peter Finbow; Jon Hall; Ade Orogbemi.
Great Britain women: Caroline Maclean; Sarah Grady; Clare Strange; Helen Freeman; Laurie Williams; Judith Hamer; Amy Conroy; Madeleine Thompson; Helen Turner; Louise Sugden; Frances Ray; Sarah McPhee.
Related Images
Related Documents