Germany excel in biathlon once again at home World Cup
A season first victory for Ukraine's world champion Ihor Reptyukh also highlighted the action in Finsterau on Friday (26 February).
26 Feb 2016
Imagen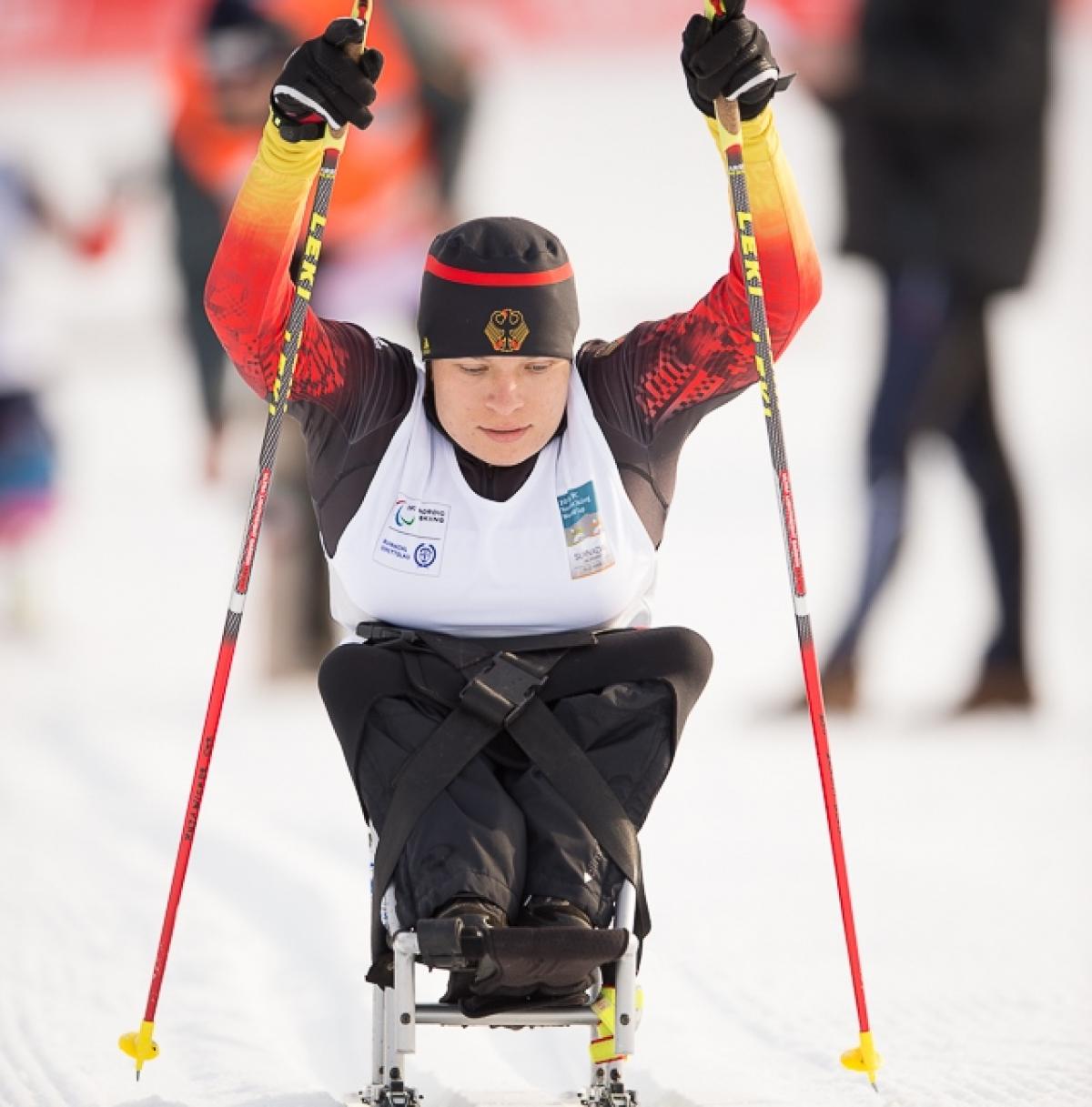 ⒸLediard Foto AS
German athletes made it onto the podium three times at the IPC Biathlon and Cross-Country Skiing World Cup on Friday (26 February), claiming more points in the individual biathlon on home snow in Finsterau.
Martin Fleig took the lead at the top of the men's sitting overall World Cup rankings with second place.
However Russian Paralympic champion Roman Petuhskov (45:09.9) was back in form, claiming his second win of the season. Fleig (45:13.0) led Russia's Ivan Golubkov (45:51.9) into third.
"Due to the improved weather, the track was much better than during my race on Monday [sprint]," Fleig said, speaking of the difficult conditions skiers had experienced in past days. "It was really fun competing with sunshine rather than rain and snow. Although the sun was a little tricky during shooting.
"Thanks to my team-technicians my skis were very good and I am very pleased with the outcome of the race. The Russian team was a little better but nevertheless I am happy.
"All the local helpers did a great job, I can see how much they love the World Cup and I also send my thanks to the organisation team in Finsterau."
Russia's Irina Guliaeva (41:25.0) led the field in the women's sitting. Anja Wicker (42:54.7) enjoyed a top three finish for Germany, claiming second and shooting clean.
"The track and the conditions were great, just like it should be during winter competitions," Wicker said. The race was fun and the weather has improved a lot. With nearly no wind the shooting went smooth."
Guliaeva's teammate Nadezhda Fedrorova (45:56.2) was third.
Russian Paralympic and world champion Nikolay Polukhin (39:41.4), guided by Andrey Tokarev, was the victor in the men's visually impaired.
Polukhin was the only man to shoot clean, leading Ukraine's Anatolii Kovalevskyi (40:45.2) and guide Oleksandr Mukshyn into second. Kovalevskyi's compatriot Iurii Utkin (42:22.0) and guide Rushan Perekhoda was third.
Ukraine's Oksana Shyshkova (38:41.7) was the sharp shooter in the women's visually impaired, guided by Vitalii Kazakov. Shyshkova hit all her targets to secure the win over Russia's Mikhalina Lysova (40:06.0) and guide Alexey Ivanov.
Vivian Hosch (43:17.7) helped towards the great result for hosts Germany in third, with guide Florian Schillinger.
Ukraine's world champion Ihor Reptyukh (37:35.3) was victorious for the first time this season in the men's standing. A dropped last shot for Russia's Vladislav Lekomtsev (37:51.0) pushed him into second, ahead of Reptyukh's teammate Grygorii Vovchynskyi (38:09.5) in third.
World Championships silver medallist Liudmyla Liashenko (37:45.4) continued the winning streak for Ukraine in the women's standing.
Delighted with her victory and shooting clean, Liashenko said: "The track and the conditions today were really good, the shooting also went well. I am happy to see that my hard preparing training during summer led to such a good result."
The Russian duo of Ekaterina Rumyantsev (38:20.1) and Natalia Bratiuk (40:48.1) were second and third respectively.
Full results are available at IPC Biathlon and Cross-Country Skiing's website.
Racing continues in Finsterau on Saturday (27 February) with the cross-country sprint.