Germany's Anna-Lena Forster finishes Worlds as most successful female skier
Sweden's Ebba Aarsjoe and Great Britain's Menna Fitzpatrick snatch gold medals in final-chance slalom races
22 Jan 2022
Imagen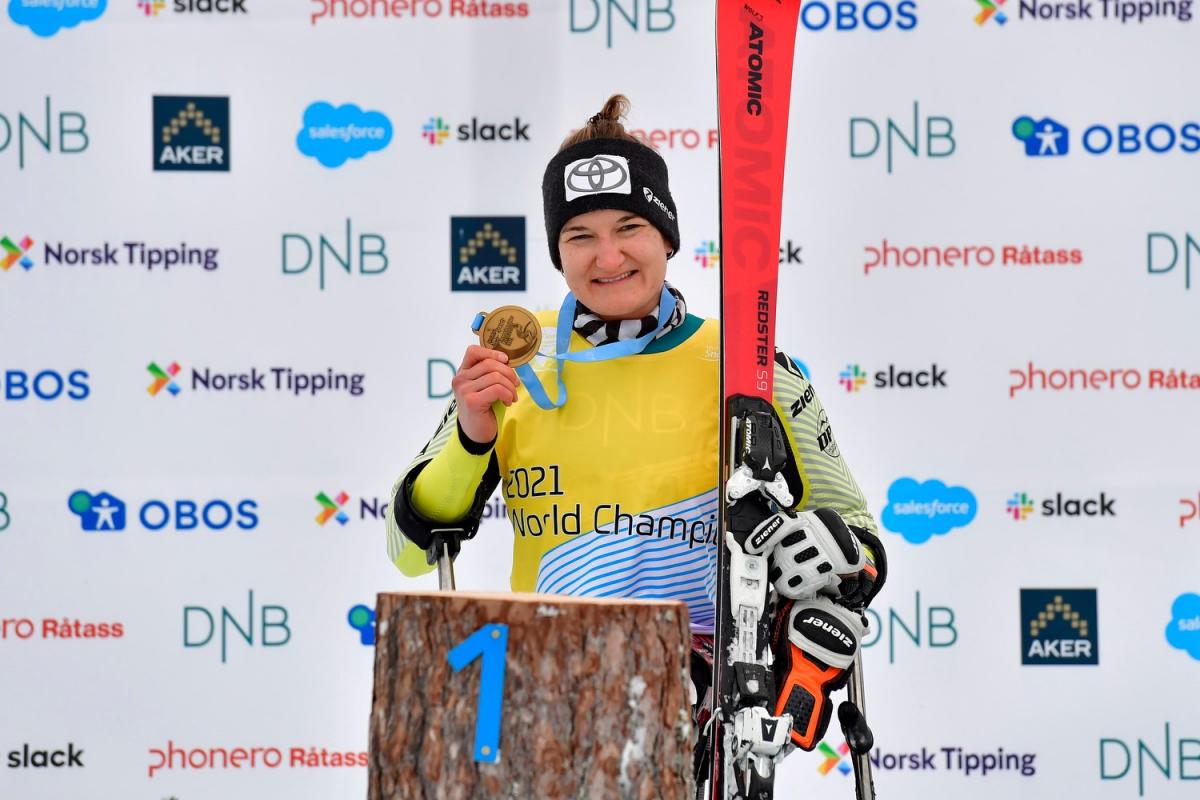 ⒸLuc Percival for World Para Snow Sports
By Lena Smirnova and Nadia Medeiros | For World Para Snow Sports
There was no stopping Anna-Lena Forster as the German sit skier won her fourth gold medal at the Lillehammer 2021 World Para Snow Sports Championships on Saturday (22 January).
Forster was undefeated in the women's sitting events until an uncharacteristic crash in the giant slalom wiped out her hopes of getting a full sweep.
On the closing day of the women's individual races, however, there was no obstacle big enough to stop Forster: Not her opponents, the heavy fog that hovered over the Hafjell course during both runs, nor the concussion and broken nose that put her out of racing last month.
"The results for me are very good," Forster said after taking her fourth gold medal with a lead of 14.41 seconds. 
"I never thought before that I'm able to win four golds here. I think I can perform better and I think I have to perform better in Beijing [2022 Paralympic Winter Games] because there are more competitors in my category and they are really strong. I have some training before Beijing and I hope I can get stronger and win other golds in Beijing."
Nette Kiviranta of Finland became a surprise silver medallist in her first World Championships race, while USA's giant slalom winner Laurie Stephens moved up a gear in the second run to take the bronze.
LAST GOLDEN CHANCE
Unlike Forster, it was the first gold medal at Lillehammer 2021 for Sweden's standing skier Ebba Aarsjoe who missed out on the first three races due to a positive COVID-19 test. She was back in time for the giant slalom, but fell out in Run 1.
Going out for the final individual race with an all-or-nothing attitude, Aarsjoe managed two flawless runs to finish 4.44 seconds ahead of two-time Lillehammer 2021 champion Varvara Voronchikhina of the RPC. 
"I just feel so relieved because I missed all those races and I didn't make it through the GS, so really, really relieved," Aarsjoe said after winning her career's first world title and Sweden's first medal at Lillehammer 2021. 
Looking back at the giant slalom race, the Swedish skier also found a silver lining in her DNF (Did Not Finish) result ahead of Beijing 2022.
"I don't feel the pressure that much anymore because people know, 'oh, she can DNF', so it's OK," Aarsjoe said. 
Canada's Michaela Gosselin edged out Germany's Anna-Maria Rieder with a fast second run to take a bronze in her debut season on the Para alpine skiing circuit. 
The defending world champion Marie Bochet of France injured her shoulder during slalom training the previous day and did not take part in the competition.
KEEP CALM AND SLALOM
Slalom was also the last medal chance and happy ending for Menna Fitzpatrick. The British vision impaired skier won a medal in each of her five races at the 2019 World Championships, but has since switched guides and is still adjusting to the new dynamic.
Skiing with new guide Katie Guest, Fitzpatrick got silver in the super combined, but finished off the podium in her other two events.
Going into the slalom as the defending Paralympic champion, Fitzpatrick managed a third place after Run 1 and improved on her second run to overtake Austria's Elina Stary in the standings. Her gold was assured once Run 1 leader Barbara Aigner caught on a pole and tumbled head first.
"We put in two really really good runs today and we're super happy that we've become world champions in slalom," Fitzpatrick said.
"With changing the guide we had to really get to know each other and how each other works under pressure," she added. "Every race is a step towards where we want to be and our goal is to be ready for Beijing."
Stary picked up the silver, while Italy's Martina Vozza claimed a bronze at her world championships debut.
CLOSING DAY
The Para alpine races of the Lillehammer 2021 World Para Snow Sports Championships conclude with the parallel event on Sunday, 23 January.
The last day in Lillehammer will be streamed live on the World Para Snow Sports Facebook page and the Para alpine skiing website.
Daily pictures of the World Championships are available for editorial purposes on Flickr.