Gold puts Gershony in tears
Upon winning the men's quad singles title, Israel's Noam Gershony gave his country its first wheelchair tennis gold.
09 Sep 2012
Imagen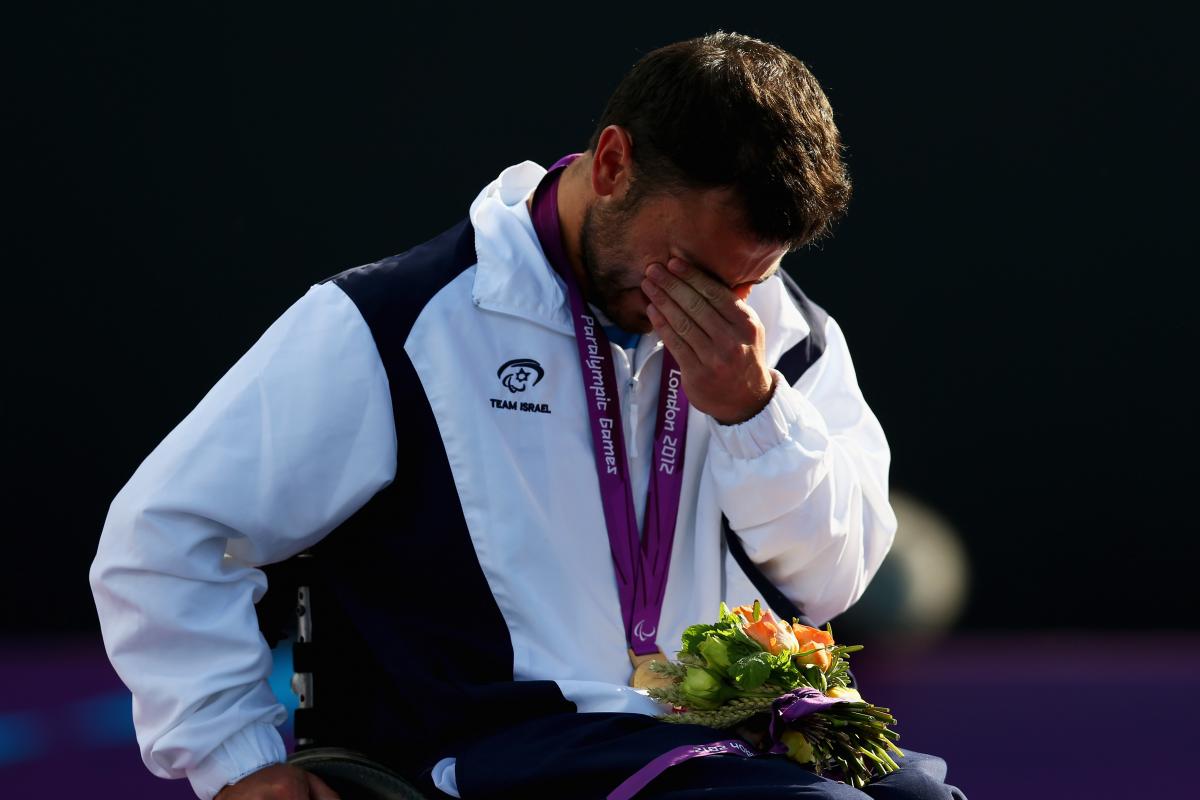 ⒸGetty Images
"I am going to dedicate my medal to my grandmother who is having her 88th birthday tomorrow."
Noam Gershony put a stamp on Israel's wheelchair tennis revolution after winning his country's first Paralympic gold on the court on Saturday (8 September) in the men's quads singles final
Gershony has taken the sport by storm, having only started playing in 2007, and he marked his first Paralympic appearance with a gold medal.
In the men's singles final, he dominated against the more experienced world No.1 David Wagner, as the American had no answer for Gershony, who was on top of his game, winning the match in straight sets, 6-3 6-1.
The Israeli took advantage of Wagner's poor serving and was clearly buoyed by his large group of supporters as he pulled off some perfectly placed shots.
Wagner showed glimpses of why he is regarded as one of the sports best but he wasn't able to get his hands on the gold as his opponent continued his electrifying form.
"I am going to dedicate my medal to my grandmother who is having her 88th birthday tomorrow," Gershony said. "I'll make sure I celebrate with her."
The American only had words of respect for the victor and admitted that on the day Gershony played the better tennis.
He said: "I played against a guy who is a great player, he is physically strong, he is able to manipulate the ball a lot more than the average player.
"I threw what I had at him, gave it my best chance and he just returned better and seved better today."
Gershony was overwhelmed by his victory and was very relieved to have met his own expectations.
"Wow, this feeling is almost unbearable," he said. "I don't know how to describe it.
"There was so much pressure to bring home the gold because I knew I could do it."
He made the final by beating his fellow countryman and doubles partner Shraga Weinberg in their semi-final match with out dropping a game, 6-0, 6-0.
Gershony was the sole survivor of a helicopter crash in the Second Lebanon War in 2006 that left him paralyzed. He started playing tennis as part of his rehabilitation in Tel Aviv, despite having just five tennis lessons total in his life before the crash.
"My co-pilot got killed and I was severely injured with broken bones," Gershony said earlier this year. "This gave me good perspective on what could have been.
"I almost got killed. I must make the most of it and make my life worth living and try to do good."
Gershony has now become accustomed to the podium at London 2012 after he picked up bronze in the quad doubles competition with his teammate Weinberg by beating the Japanese duo of Shota kawano and Misutera Moroishi.
Israel's coach Kobi Weiner has expressed the importance of his players' supporters and that it has been a historic Paralympic Games for his country.
"It is still a shock how well it has gone here," he said. "To go home with these medals from the wheelchair tennis is a very good result.
"We have a lot of fans in England and having them here to support us, as well as a big crowd from our clubs who have travelled here – it is like being at home."
Gershony cemented himself as a player to be feared on court when in 2011, he became the first player, who wasn't Wagner or Norfolk, to win a Masters Championship title and has been tearing up the wheelchair tennis world ever since.
Israel picked up their first wheelchair tennis medal at Beijing 2008, as Weinberg and Boaz Kramer won silver in the quad doubles competition, and since then the nation have been threatening USA and Great Britain's dominance in the sport, as they have three players in the top 10 world rankings with Gershony, Weinberg and Kramer, No.'s 2, 9 and 10, respectively.