Grace Norman celebrates historic Para triathlon victory
The US athlete was crowned the first female Paralympic champion in the sport, followed by a US sweep in the women's PT2.
11 Sep 2016
Imagen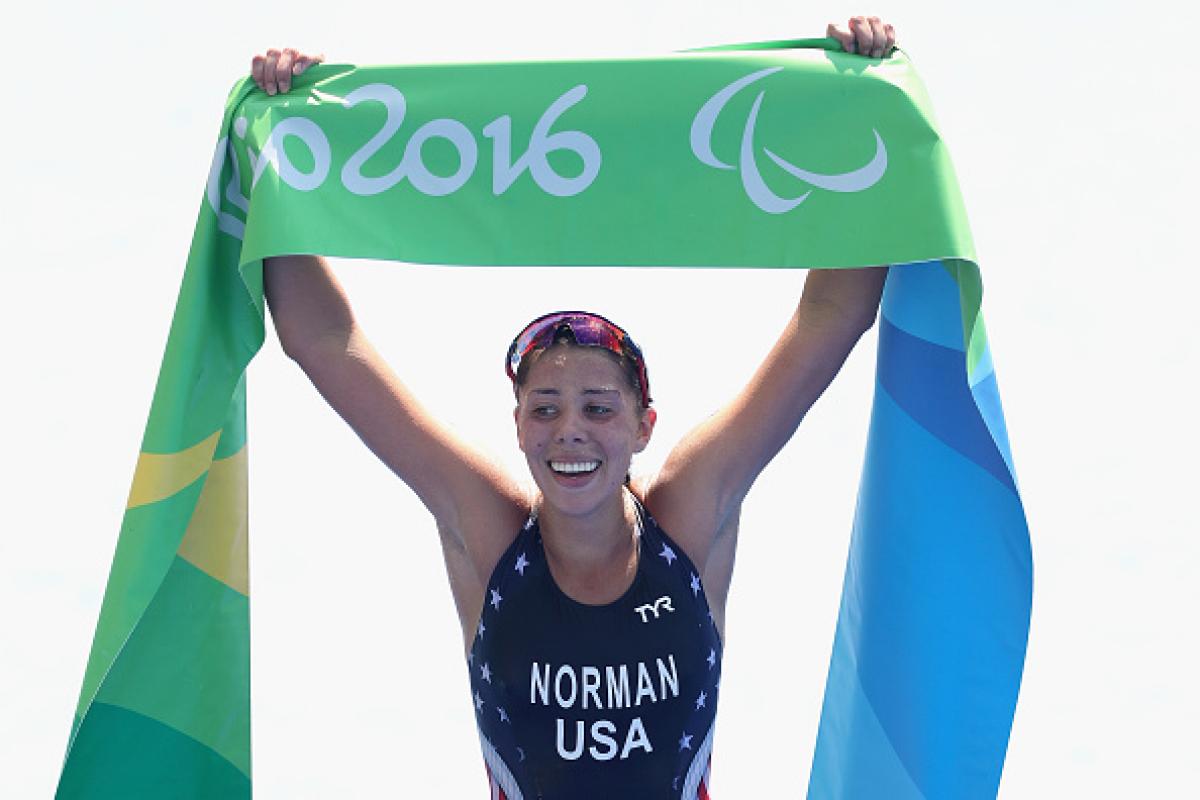 ⒸMatthew Stockman/Getty Images
By IPC
Grace Norman turned around and was immediately greeted by a joyful embrace from fellow teammate Melissa Stockwell.
"I'm so, so, so proud of you," Stockwell told Norman.
The 18-year-old, and the youngest athlete in the field, won the first women's gold medal in Para triathlon, as the sport debuted at the Rio 2016 Paralympic Games on Sunday (11 September) on Fort Copacabana.
"Going in three years ago I bet winning gold didn't even cross my mind," Norman said. "Now getting closer to here I believed in myself [that] I could take gold, and so to get here and take it for the US, first in history – I'm beyond excited."
Perhaps making the moment more special was Norman's upset of heavy favourite Lauren Steadman of Great Britain in the women's PT4 race.
The British triathlete had been undefeated for the most part since 2014. But the mishaps at the 2016 World Championships in Rotterdam, the Netherlands – a crash in the bike – and then on Sunday – missing a bogey turn on the swim – hurt Steadman, who took the Paralympic silver medal in 1:11:43. France's Gwladys Lemoussu captured the bronze medal in 1:14:31.
Norman emerged first from the 750m swim, a portion she said she had been working on. It paid off on Sunday.
"Definitely my swim has improved drastically," said Norman, who won in 1:10:39. "Here at the Test Event she [Steadman] beat me out of the water by a minute, so I've been working extremely hard on my swim. To see improvement like that here and in Rotterdam [where she won gold], it has been rewarding."
Para swimmer-turned-triathlete Steadman had missed the podiums at Beijing 2008 and London 2012.
"It has been hard since Rotterdam," Steadman said. "I delivered a performance I'm proud of.
"I was running with Grace, and she is a phenomenal runner. I gave it my all. And I am very proud of my silver medal. So Beijing I didn't make the finals. London I made the finals. And now in Rio, I am on the podium."
It was all USA in the women's PT2, with back-to-back world champion Allysa Seely taking the gold in 1:22:55. She waited for her teammate Hailey Danisewicz (1:23:43) at the finish line.
Both holding a US flag, Seely and Danisewicz cheered on fellow teammate Melissa Stocwell, who took the bronze in 1:25:24. All three held a lead in transition throughout the 750m swim, 20km cycle and 5km race.
"To be able to get my name down as the first gold medallist for Para triathlon is a huge honour. I want to take it very seriously and it's incredible," Seely said.
"As I crossed the finish line I thought 'it's been a hard journey with ups and downs and I can't think of a higher note this could have ended on'."
Earning a bipartite slot to Rio 2016, and then taking bronze on the 15th anniversary of 9/11, Stockwell said the US sweep was a culmination of a long journey.
"My bronze medal felt like a gold medal," Stockwell said. "Having my son, battling injuries, then being on the podium with two of my greatest friends, two of my US teammates, training partners, this is one of the greatest moments of my life."
Australian Katie Kelly, who had gone undefeated in the sport since taking it up two years ago, and her guide Olympian Michellie Jones had a strong finish for gold in PT5 (1:12:18).
Great Britain's Alison Patrick and guide Hazel Smith took the silver (1:13:20). The final podium spot came down to a sprint finish between the USA's Elizabeth Baker and guide Jillian Petersen and Great Britain's Melissa Reid and Nicole Walters. Baker tripped on the final stretch, and the British pulled through to take bronze in 1:14:07.
"I was saying to Michellie that it's something that you wish for, but you're trying not to dream of that in terms that you have thoughts of where you're gonna be at the finish line," Kelly said. "But these triathlon competitions I never take it for granted and it's hard work out there. You can't underestimate how hard it is to get there."
• Men's Para triathlon review from Saturday (10 September).