Guide dogs bring freedom to Canadian Paralympians
Two Canadian canines have become celebrities – and good luck charms – in the Paralympic Village.
16 Sep 2016
Imagen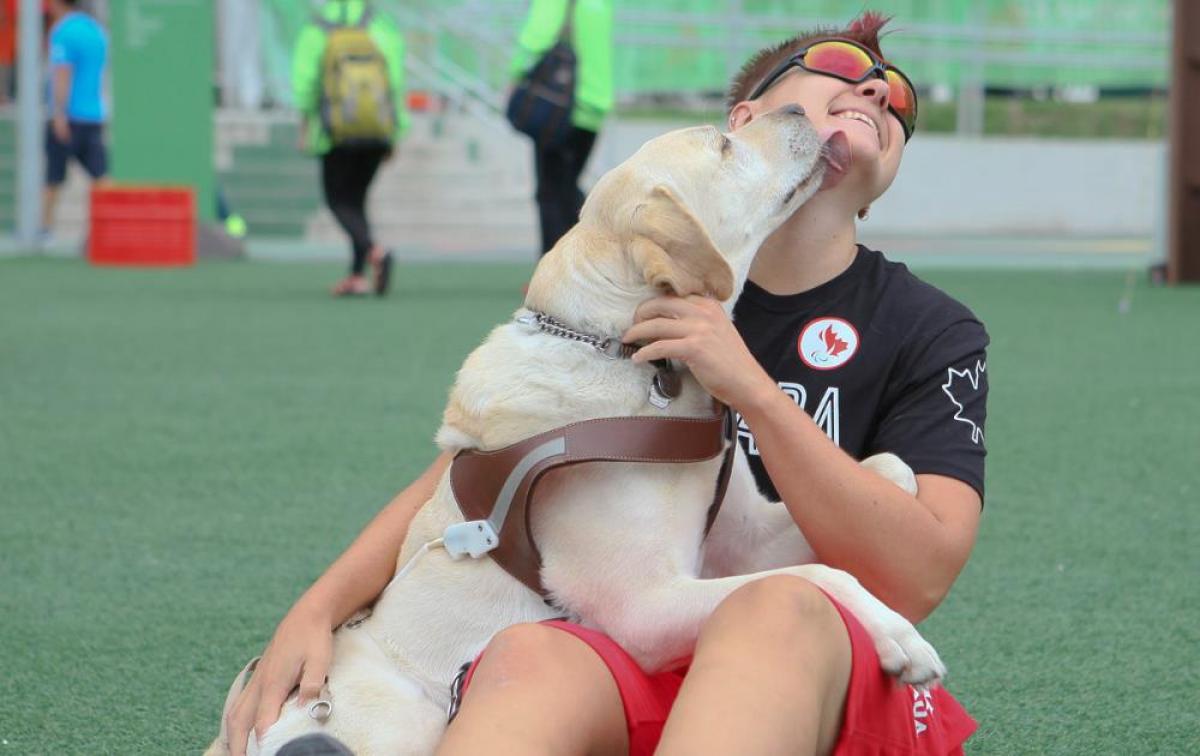 By Rio 2016/Sofia Perpétua
When asked about the guide dogs at the Paralympic Village, the cafeteria staff, the security staff and the cleaning staff smile with joy and start describing Lexington and Alan, the two furry residents who arrived with the Canadian team for the Rio 2016 Games.
"It's a very big, very cute dog. I saw it a couple of days ago," said a cafeteria worker. "You just feel like petting him all the time."
However, petting a guide dog, as one would with a pet dog, is not something that can be done when the dog is working.
"It's hard to explain that to people," said Australian-born Ness Murby, a visually-impaired discus thrower who now represents Canada. She is the proud owner of the much-admired labrador retriever, whose new full name is Lexington Pão de Queijo, in honour of the popular Brazilian snack food made of cheese and bread.
"Because he looks so handsome, it's hard to get people not to touch him or talk to him when he is working," Murby said. "He tries hard to focus and when there are people distracting him he tries to ignore it for a while but it's hard for him.
"I've had that happening a couple of times, people are not used to guide dogs, but if they get distracted their owners can bump into things. They are companions who work 24/7. It's like having your best friend with you all the time."
Murby, who came sixth in the F11 discus in Rio, travels the world with Lexington. Last year she earned silver in javelin and bronze in discus at the Parapan-American Games in Toronto, as well as another silver in javelin at the IPC World Championships in Doha. She must be attentive to the different national laws regarding guide dogs when she travels.
"We've been to São Paulo, Rio de Janeiro, Arizona, California. Next year we'll go to London," said Murby. "I feel more support when he is by my side. I feel more confidence, he gives me more independence. It's very difficult to be without him, I have to go back to being a cane user but it's not the same, your dog doesn't get you hooked on pebbles."
Lexington has become a good luck token for the other Canadian athletes too. "They come and give him a belly rub before they compete," said the proud owner.
Training guide dogs is a long and expensive process. Murby was going to be on a waiting list to get a guide dog until someone suggested she could go to a guide dog school in Oregon in the United States and be matched with the perfect canine for her.
"I was interviewed about my routine, the qualities I would like to see in a dog, how I navigate and walk with a cane," said Murby, who found her perfect companion. "I call him my little marshmallow. He is incredibly soft, he is addicted to belly rubs but he also loves to work and he is very diligent at his job. He is handsome and he knows it, he has a vain edge which is good, but he is also great at what he does."
With the hot weather in Rio, dog owners have to make sure there is enough water for their companions not to suffer dehydration. Murby brought along a suitcase full of dog food and once in a while Lexington eats broccoli. But it was a very Brazilian traditional snack that inspired his last name: pão de queijo, literally cheese bread, is a golden ball of bread with cheese inside, which comes in varying sizes and is virtually irresistible when freshly baked and still warm.
It is not that Lexington likes to eat them, rather that "when he crawls into a ball he resembles a pão de queijo," explained Murby.
Murby loves Brazil. She has friends in São Paulo she calls "my family" who drove to Rio de Janeiro (about six hours each way) and back on the same day so they could cheer her on.
"I want to see if I can come to Brazil and train here," said Murby. "My competitor Izabela Campos (F11 bronze medallist), I would love to learn from her. We haven't spoken much but she is always inspiring when we meet.
"Brazil is a low stress country, we're loving it. The sidewalks are a bit difficult because they're not always flat but it is such an accepting culture that everyone is ready to help and being on the bus or getting an Uber with my guide dog hasn't been a problem so far. I'm in love with Brazil, I'm in love with the sense of community, camaraderie, family mentality and the fact that everyone wants to be a part of the Paralympic Games."
The Rio 2016 Organising Committee has worked hard to ensure that every venue is accessible to all spectators. One of the services provided is a relief area for guide dogs in each venue.