Heavyweights off to a flyer in wheelchair rugby
Underdogs Brazil put up stirring fight against Canada in front of a partisan home crowd on first day of competition at Carioca Arena 1.
14 Sep 2016
Imagen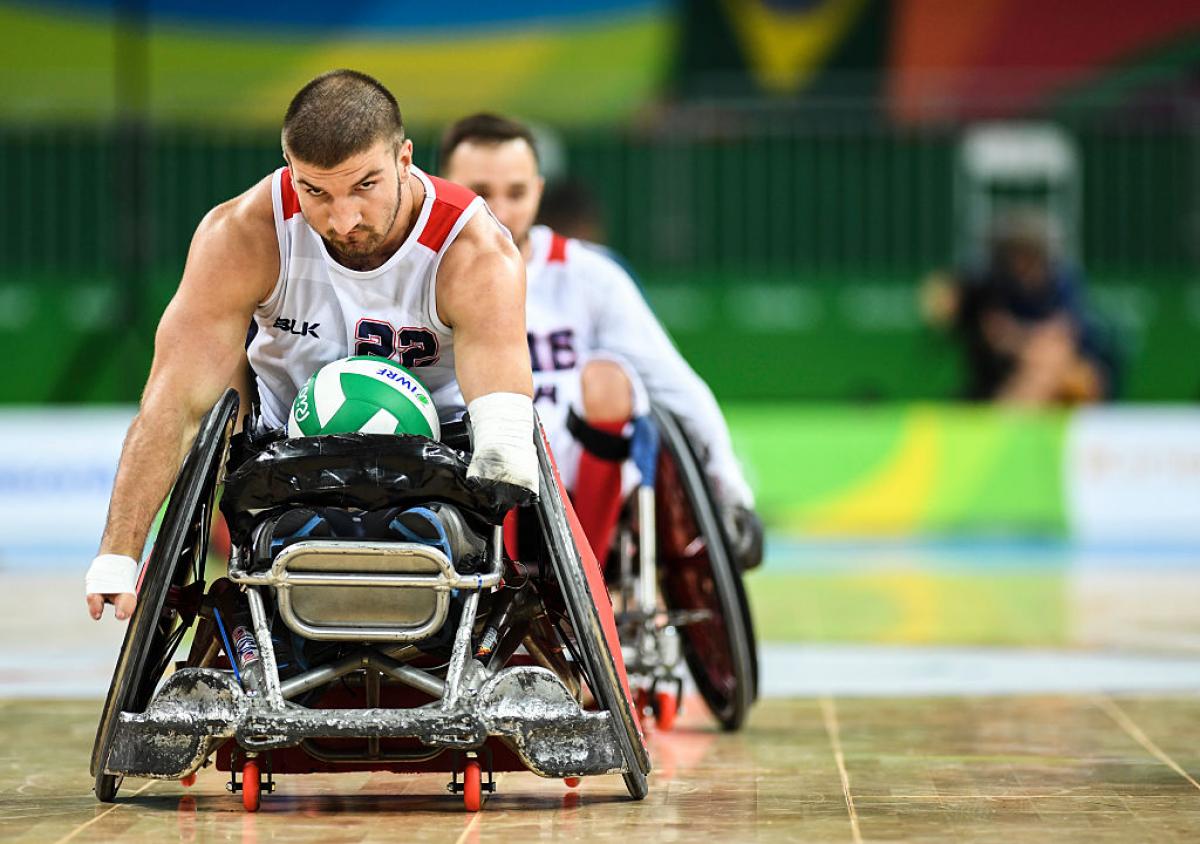 ⒸGetty Images
By Beau Greenway
"It was amazing, our team worked very well together and got a win together. It was very awesome."
Competition heavyweights Australia, USA, Canada and Japan got their Rio 2016 campaigns off to the perfect start on Wednesday (14 September) as wheelchair rugby took centre stage at the Carioca Arena 1.
Defending Paralympic champions Australia won a nail-biter against Great Britain in the first match of the day, 53-51, to start strongly in Pool A.
However, it was far from pretty with plenty of errors from both sides as Australia's third-quarter lead of six was whittled away to just two goals at the final buzzer.
Chris Bond was among the best players on court for Australia and explained after the match the importance of starting the tournament well.
"The first game is always hard in any tournament, especially in one as big as this," Bond said.
"Half of our team has never been to a Paralympics before so there were some nerves, but we got the job done at the end of the day and held onto the end, which will go a long way in this tournament knowing when can hold on in the close games."
He admitted the Australians will have plenty to look and improve on before their second pool match against Brazil on Thursday (15 September).
"Hopefully we'll come out with a cleaner structure and less turnovers," he said.
Great Britain's Ajaz Bhuta expressed his disappointment following the result, saying the team didn't take its chances at some key moments in the game.
"We're really disappointed we lost, there were a few key moments where we got the turnovers and gave them straight back," Bhuta said.
"The momentum was with us in the end, but we just couldn't convert the turnovers and that's what hurt us in the end. I think the start line today had three first-time Paralympians, which shows we've got no fear coming in and we can compete with the best."
Great Britain now face reigning silver medalists Canada in their second pool match.
"It's a must-win to get through to the medal stages, we've got to work hard and then get some rest in and hopefully give as good a performance, if not better than the one today," he added.
Up next, USA and France clashed in the opening game of Pool B, with the world No.1s getting over the line, 51-42 against a spirited French line-up.
Debutante Josh Brewer played an important role for the USA, scoring nine goals in nine minutes to help ensure the team made a strong start to Rio 2016.
Brewer was very pleased with the result and for getting the opportunity to play on the biggest stage.
"It was amazing, our team worked very well together and got a win together. It was very awesome," he said.
"I made the team in April and went to a couple of tournaments in Japan and Canada before playing the Paralympics.
"We started pretty strong and all played as a team and talked to each other, but at the end we didn't do the jobs we needed to do.
"We finished very well and that's what matters, but we've got improve on everything so we'll talk over it and see the footage of what we did wrong and go from there."
France's Adrien Chalmin knew his side was going to be in for big test, but he was happy with the way they continued to fight.
"We knew they were a very good team and are No.1 in the world, so it was very tough, but we did well," Chalmin said.
"The first few minutes were pretty awful and we made a lot of mistakes, but we done some good things afterwards.
"We need to concentrate more on what we know to do and realise we are able to play against the good teams.
"We need to be focused on the game tomorrow because we have one more chance against a good team in Japan."
Japan and Sweden then did battle in the second game of Pool B, with the Asian champions holding off their fast-finishing opponents, 50-46.
After racing out to a 14-8 quarter-time lead, Sweden brought the margin back to as little as two goals, but were ultimately unable to reverse their horror start.
Swedish captain Stefan Jansson was reasonably happy with his team's effort, but admitted the first quarter was where the game was won and lost.
"In the third and fourth quarters we won or we at least even which felt pretty good, but they got a lot more scores from the beginning and we couldn't make it up," Jansson said.
"It was simple, we didn't play our game from the start of the game, but then we started to play how we should and it looked better after that.
The Swedes must quickly regroup before taking on USA in their next pool game to give themselves a chance of staying the semi-final race.
"We need to start better and keep on playing our game, that's all we can do to give ourselves the best chance," Jansson added.
Finally, a massive home crowd rallied in support for Brazil against Canada in the last game of the night. However, the Canadians proved too strong, and ended winners by 62-48.
The result was a lot closer than many predicted, with Brazil showing vast improvement compared to the team that travelled to Toronto last year for the Parapan American Games.
Canadian star Zak Madell took the brunt of a very hostile home crowd that willed their team on for the entire match.
"It was totally new to me, every time I hit somebody I got booed and every time I got booed I wanted to hit somebody," Madell said.
"We had some fun, I was getting knocked over and I was knocking people over, there was just a lot of hardcore rugby going on."
Madell admitted the entire night was something like he had never experienced before.
"It was by far the loudest crowd I've played in front of, having the super hostile crowd is something we're not used to, but we had a decent sized Canadian section out there that had our backs, which definitely helps," he said.
"Brazil has come a long way since we saw them last and they've got a couple of strong new players I haven't seen before.
"Hopefully we did a good job of welcoming them to the big leagues, but they aren't going to give anyone easy games."
Brazilian coach Rafael Gouveia was very proud of the fight his side put up against one of the powerhouses of the sport.
"When I was made the head coach I made a pact with the squad that we need to prove to the world that we aren't underdogs," Gouveia said.
"We lost to them by 13 goals without Zak Madell, but tonight we only lost by 14 with Zak Madell playing.
"It proves that we have improved our level and that we didn't come here to be last, we came here to prove to the world Brazil knows how to play rugby too.".
He added that the team has come a long way since the Parapan American Games in Toronto last year and are more professional than any Brazilian team of the past.
"We need more experience, more training and more matches, but give us some time," Gouveia said.
The defending champions are Brazil's next opponents, but on this form it's clear they won't be easy beats.