Home advantage huge for Australia's Warn
Rising competition and No. 1 status puts pressure on 2018 Worlds host nation.
04 Aug 2017
Imagen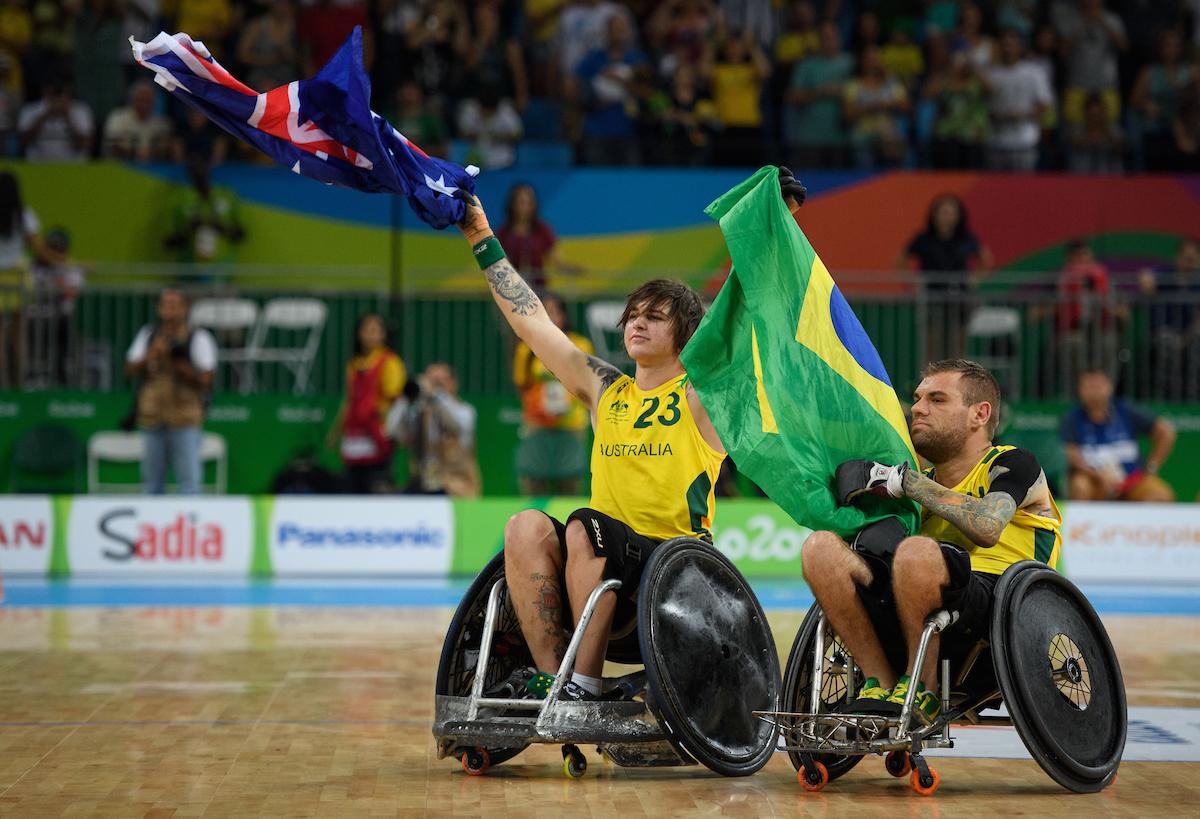 ⒸOIS
By Beau Greenway | For the IPC
"I always try to turn that into adrenalin and use it to my advantage."
Reigning Paralympic and world champion Australia will have a massive target on its back when it hosts the International Wheelchair Rugby Federation (IWRF) World Championship exactly one year from now.
Rising star Jayden Warn admits there will be pressure as always to perform in a big tournament like the Worlds, but believes being on home soil in Sydney will help drive the team to further success.
"A lot of my family and my wife hadn't actually seen me play live before Rio, so it's going to be awesome to be able to have a big crowd of people that have watched us for many years and supported us from back home when we've been travelling around the world," Warn said.
Warn was fresh on the national scene back in 2014 when the Steelers claimed the World Championship for the first time in Odense, Denmark.
The 23-year-old has since become a vital member of the team and took his game to the next level with a strong tournament during his Paralympic debut at Rio 2016. There, he saw how far the competition has come.
"We train hard for it, but I think after the last Worlds and the amount of teams that have improved, especially through Rio, it's definitely going to be a tough tournament," Warn said.
Warn said he is feeling both nervous and excited ahead of his second World Championship campaign, but is not as "scared" as he was heading into his first major tournament for Australia.
"You can ask any of the veterans in our team and people that have been playing for 20 years, and, even to this day, they still go into big tournaments with the same nerves and excitement as they had when they first started," Warn said.
"I came along after London [2012] and there was always a bit more pressure starting when we were at the top.
"Every tournament I've been to I go into it with the same nerves and excitement, and I think it's going to be the same at Worlds and all the way through to Tokyo [2020].
"I always try to turn that into adrenalin and use it to my advantage."
No longer the new face on the Australian team, Warn is looking forward to passing on his experience at the top level to the players who have recently joined the squad.
"They've brought me up from a rookie and took me under their wing, so I guess now having been to a Worlds and a Paralympics, it's good to be able to throw some of what I've been taught across to the new players," he said.
"We wouldn't progress as a team if everyone didn't pass on knowledge and teach each other different things.
"Particularly dealing with nerves as an up-and-coming player are the things I would like to pass on to new players."
Paralympic silver medallists USA, along with Japan, Canada and recently crowned European champions Great Britain again loom as Australia's biggest threats for the title.
The 2018 IWRF World Championships will be held at the Sydney Olympic Park from 4-10 August.