Home hero Evers smashes world record to take Euro gold
Host nation the Netherlands won four medals on the first day of the IPC Swimming European Championships in Eindhoven, but Ukraine lead the way winning six titles.
04 Aug 2014
Imagen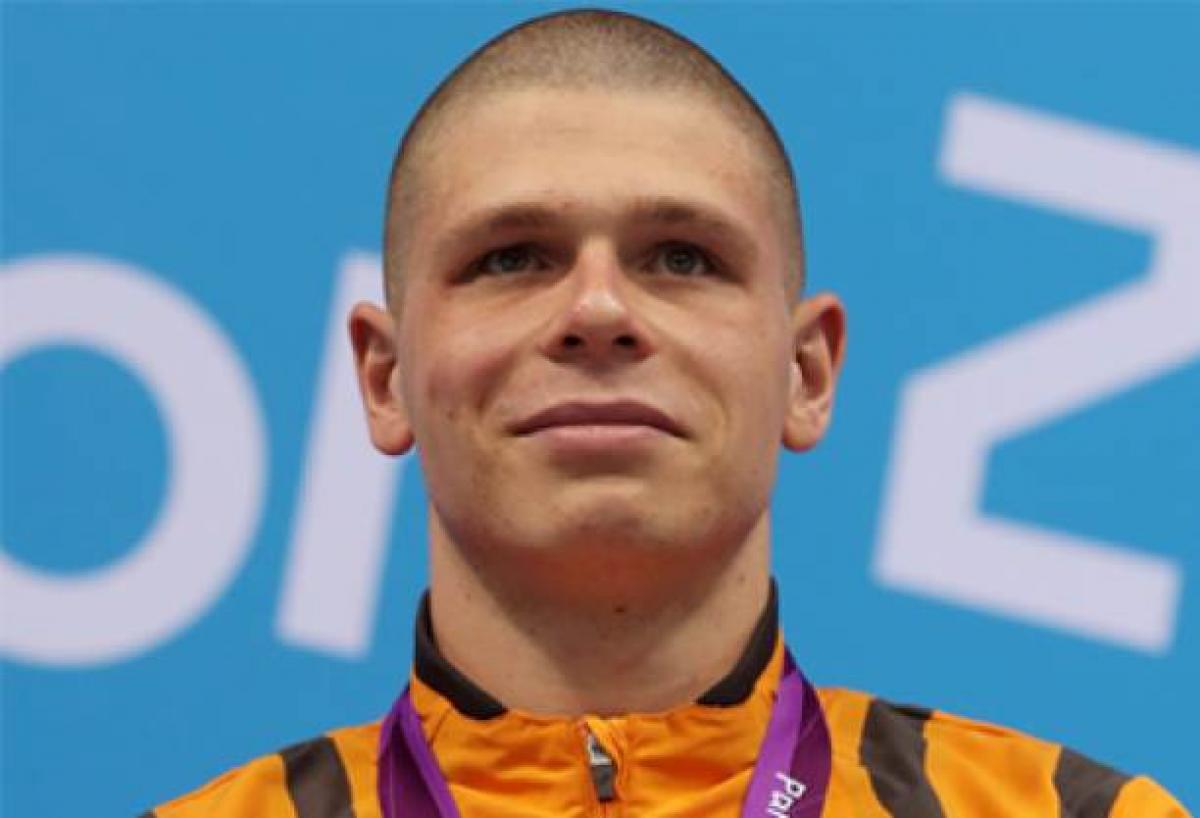 ⒸGetty Images
By IPC
*Editors note: This article has been amended to reflect changes to the results following classification amendments.
The Netherlands' Marc Evers broke his own 100m backstroke S14 world record to retain the European title in front of a noisy home crowd on Monday (4 August) at the 2014 IPC Swimming European Championships in Eindhoven.
On a busy first day of competition featuring 24 medal events, two world records were broken, one equalled, six European records were set and Ukraine finished the day leading the medals table.
For the home crowd, the afternoon session got off to a blistering start with Paralympic champion Evers (1:00.44) taking more than half a second off his previous best in the very first race. In control throughout, Evers finished ahead of the British duo of Jack Thomas (1:03.44) and Aaron Moores (1:03.50), who took silver and bronze respectively.
Further Dutch delight came when Summer Mortimer, who previously swam for Canada, won the women's 50m freestyle in a European record time. Mortimer (28.12) put in a stunning performance to smash the record she had set in the morning's heats to beat Russia's Nina Ryabova (28.56) into silver. France's former European record holder Elodie Lorandi (28.64) finished third.
Gold went to Ukraine's Serhii Palamarchuk with a new European record (2:04.57) in the men's 100m freestyle S2 silver to Russia's Dmitrii Kokarev (2:06.42). Bronze was awarded to Greek Aristeidis Makrodimitris (2:08.68).
Russian two-time Paralympic medal winner Dmitry Grigorev (24.37) lowered his own European record by 0.11 seconds in the men's 50m freestyle with another Russian Dmitry Bartasinskiy (24.96) in silver. Spain's David Levecq (25.04) finished in bronze.
The men's 400m freestyle S7 saw another Russian gold for Andrey Gladkov (4:49.80). Silver went to Norway's Andreas Skaar Bjornstad (4:59.76) ahead of Ukraine's Marian Kvasnytsia (5:02.89) in bronze.
Another world record fell in the men's 100m breaststroke SB12. Ukraine's two-time Paralympic champion Oleksii Fedyna (1:04.07) beat Belarus' reigning world champion Uladzimir Izotau (1:05.62) to the wall to claim European gold. Azerbaijan's Dzmitry Salei (1:06.97) completed the podium.
In an incredibly close men's 100m freestyle S4, Ukraine's Andrii Derevinskyi (1:28.36) beat all the favourites to win gold. France's David Smetanine (1:28.68) came incredibly close to the win but did not have the pace of Derevinskyi. He still touched in ahead of Spain's Richard Oribe (1:29.57).
The Ukrainian gold rush continued with two further wins.
Four-time Paralympic champion Oleksandr Mashchenko (1:16.02) took the men's 100m breaststroke SB11 ahead of Spain's Israel Oliver (1:17.39) and teammate Viktor Smyrnov (1:17.98).
Then, world relay bronze medallist Iurii Bozhynski (1:04.56) won the men's 100m backstroke S8 beating two Russians, Konstantin Lisenkov (1:05.72) and Denis Tarasov (1:05.75).
Great Britain's Stephanie Slater (1:17.42) beat Russia's multiple world and Paralympic champion Olesya Vladykina (1:19.57) in the women's 100m backstroke S8. Ukraine's Kateryna Istomina (1:22.89) finished third.
The Netherlands' Marlou van der Kulk (1:08.26) could not quite convert her fastest qualifying time, losing out on gold to Russia's Valeriia Shabalina (1:06.72) in the women's 100m backstroke S14. Great Britain's Jessica-Jane Applegate (1:08.57) collected the bronze.
Italy's Trimi Arjola (1:33.89) took the win in the women's 100m freestyle S4 ahead of another Dutch swimmer Lisette Teunissen (1:36.73). Bronze went to Ukraine's Olga Sviderska (1:42.16).
As they had done in the morning, Spain collected their third and fourth gold medals in quick succession.
Veteran Sebastian Rodriguez (1:17.05), a winner of eight gold medals at four Paralympic Games, swam to gold in the men's 100m freestyle S5 final beating Great Britain's Andrew Mullen (1:18.44) into silver and Ireland's James Scully (1:22.40) into bronze.
In the final race of the day Jose Mari (26.00) secured Spain third spot on the medals table with victory in the men's 50m freestyle S9. Silver and bronze went to Finland's Leo Lahteenmaki (26.14) and Russia's Alexander Skaliukh (26.39) respectively.
After day one of competition, Ukraine lead the medals table with 15 gongs, including six golds, ahead of Russia in second.
The 2014 IPC Swimming European Championships continue until 10 August and feature around 380 of the world's best swimmers from 37 countries.
Tickets are still available at www.eindhoven2014.com, as well as high quality photos of the event.
All morning and evening sessions will be livestreamed at www.ParalympicSport.TV and live results will be available at the Eindhoven 2014 website.
Live updates will be posted to the IPC Swimming Facebook page and the Twitter account or search #Eindhoven2014.