Huitzing shares wheelchair basketball experience with kids in Rio
The two-time Dutch Paralympian visited 3 schools to teach lessons about her sport
15 May 2015
Imagen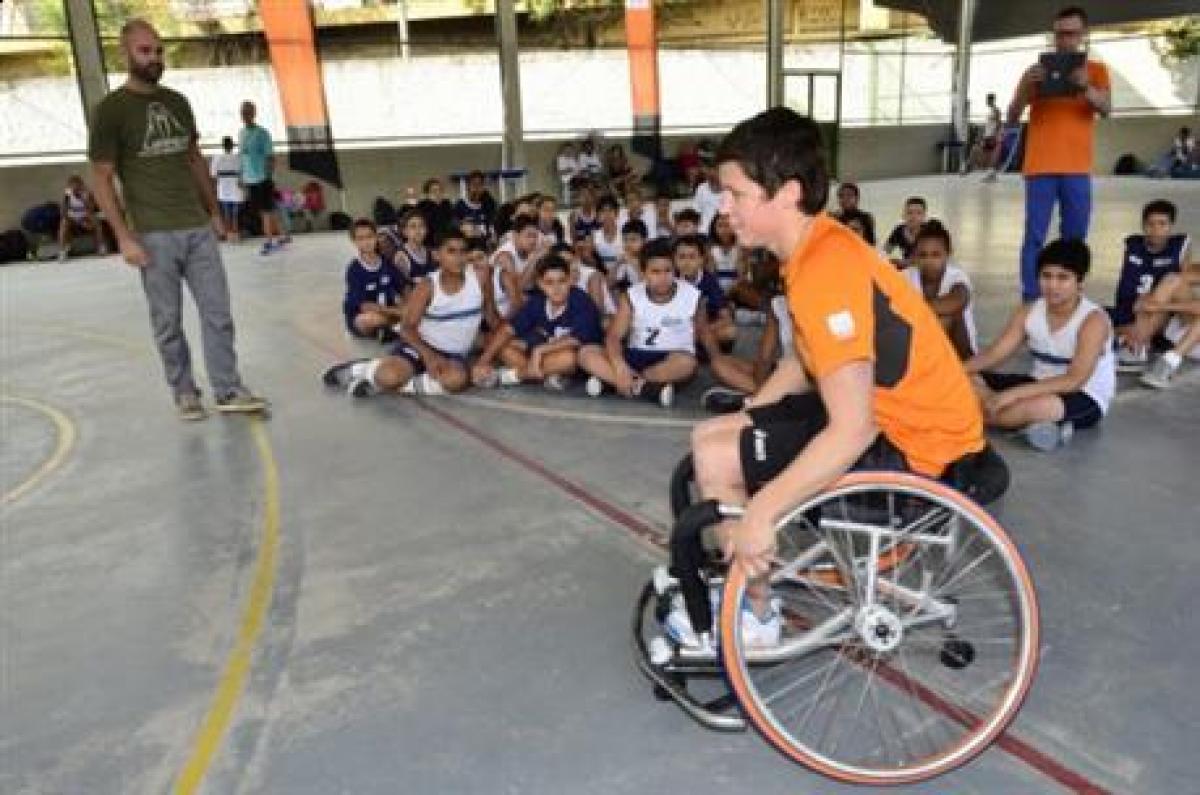 ⒸAndré Redlich/Rio 2016
By By Rio 2016
Wheelchair basketball star Inge Huitzing hit the courts early in Rio de Janeiro, Brazil this past week. But it was not to prepare for competition in the Rio 2016 Paralympics.
Instead, the Dutch athlete was in one of the city's Olympic Experimental Gymnasiums giving lessons to kids about her sport. Huitzing visited three different schools, also known by their Portuguese acronym GEO, which offer a mix of sporting and academic activities.
Huitzing's visit is the fifth by the Netherlands Paralympic Committee and is part of an exchange programme between the organisation and Rio's GEOs.
"I'm loving it," said Huitzing, a two-time Paralympian helped her team win the bronze medal in London 2012. "It's great to feel the joy of these children and to pass on the message of teamwork and triumph over adversity."
The Netherlands captured the bronze medal at the 2014 Women's Wheelchair Basketball World Championships in Toronto, Canada, where Huitzing was named the tournament's most valuable player. It took a while for Huitzing to adjust to playing wheelchair basketball, and she saw herself in some of the kids when she first picked up the sport.
"It took a while for me to adapt to the chair, but today it feels normal. It's the same reaction that I see in our students; they find it weird at first, but afterwards it becomes fun," Huitzing said.
On a visit to the Félix Mieli Venerando GEO, Inge helped supervise the student's basketball practice and spoke to the school's directors about the challenges of teaching physical education.
Huitzing's visit follows that of Marlou van Rhijn, the Dutch Paralympic 200m gold medallist, in November 2014. As well as the athletes themselves, the Netherlands Olympic Committee also sends academics to look at the impact of the Games. The University of Utrecht has sent one of its professors and two students to accompany Huitzing in order to study the importance of sport as a factor in social transformation.
"It might seem surprising, but I think that the pupils here are more disciplined than those of the same age in Holland," said Frank van Eekeren, an assistant professor of the Utrecht University School of Governance.
"The kids take the athlete's advice more seriously and really apply themselves to the exercises," Eekeren said. "As a result, the athletes become even more involved in the process and manage to enjoy themselves in a situation which, at first, could seem difficult, because of the language barrier."
Twelve-year-old Kayalane Vitoria took part in last year's Olympic wrestling competition (in the juvenile, 59kg to 63kg category) in her state and came in second. For her, the experience with Huitzing opened her eyes to other sports.
"I love basketball, but I have never seen anyone play in a wheelchair," Vitória said. "It's very different, but it's really cool. Now I want to watch the Paralympic Games."