'Hurricane Hannah' has special reason to shine at Rio 2016 Paralympic Games
Multiple world and Paralympic champion will compete in racing wheelchair named after friend who passed away last year
22 Mar 2016
Imagen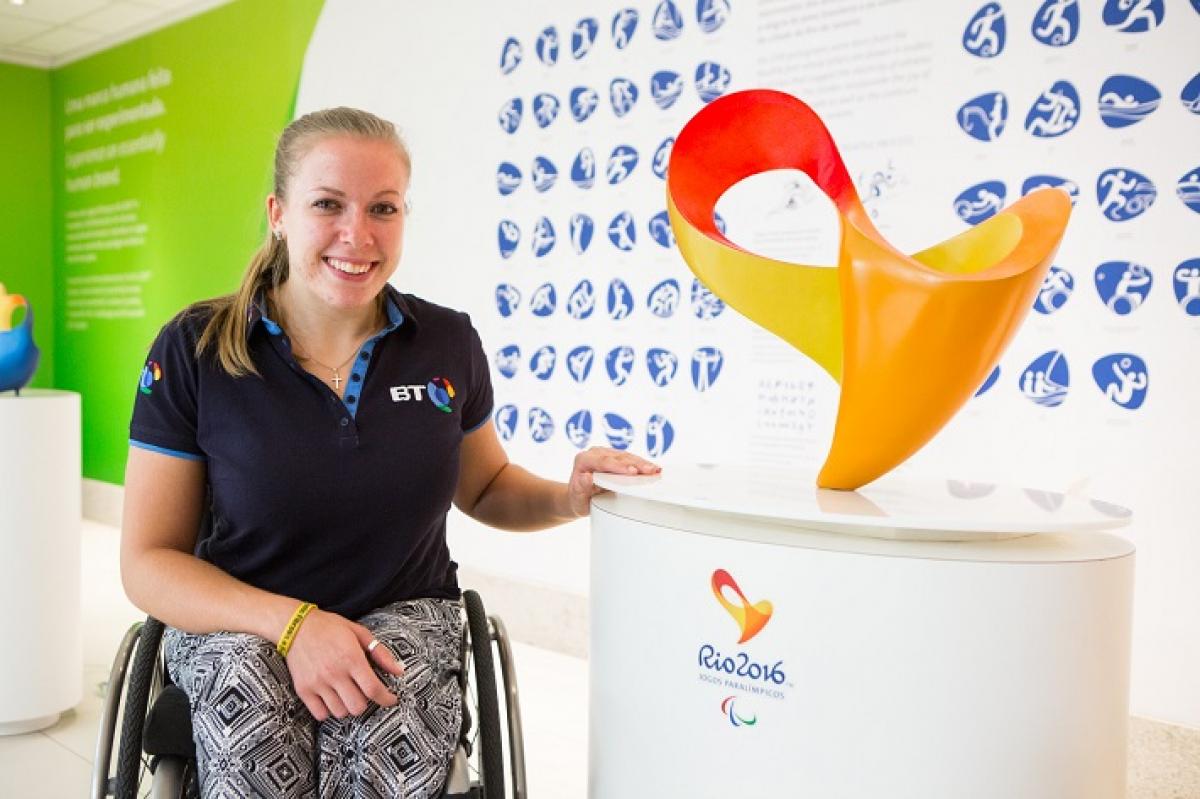 ⒸGabriel Nascimento
By Rio 2016
Hannah Cockroft has won so many gold medals and broken so many records that she must have nearly lost count. But if she adds to her haul at the Rio 2016 Paralympic Games, it will be extra sweet for the British wheelchair racer.
The 23-year-old Yorkshire woman, one of the stars of the London 2012 Paralympic Games, always gives her racing chairs names. She does it to create a sense of companionship during long, lonely hours training, or to help shield the intense glare of top-level competition. But her current vehicle, Tinker, has an especially emotional value.
"I lost one of my best friends last year so my chair is named after her and hopefully she can cross the line with me in Rio," explained Cockroft.
The friend, from university, was called Tahlia Banks and her nickname was Tinker Bell, after the fairy in Peter Pan. "She had cystic fibrosis and had a double lung transplant at Christmas 2014, but unfortunately her body rejected the lungs, so we lost her last April. She was such an inspiration to me, she did some fantastic things with her life."
Become an expert on Paralympic athletics with our interactive infographic.
Cockroft is likely to do her friend proud in Rio. Such has been her dominance in the T34 class since she broke nine world records as a teenager in 2010, that the seven-time world champion has earned the nickname 'Hurricane Hannah'. At London 2012, she sent the home crowd into raptures by winning the 100m and 200m titles and later became a Member of the British Empire (MBE) for her achievements.
When last year she lost for the first time in over 300 races, she reacted by winning gold in the 100m, 400m and 800m events at the IPC Athletics World Championships in Doha, Qatar. Now her focus is on one thing.
"Training is going really well so come September in Rio, I'm hoping for three gold medals," she said.
In Rio to familiarise herself with the host city and get any sightseeing out of the way before the Games, Cockroft admitted that, like virtually all visitors, she had been enchanted by the Cidade Maravilhosa.
"When I opened my curtains on the first morning the view took my breath away," she said. "I've been to Sugarloaf Mountain and Christ the Redeemer and it was out of this world, but what has really struck me, especially at Sugarloaf, is how accessible it was. It's always a worry as a wheelchair user that maybe you won't be able to visit some of the places you want to, but there were lifts everywhere and I could get around everywhere. And the people here are so helpful and friendly."
This last aspect is something Cockroft believes will help make the Games a success. "Rio will be a fantastic host city and I'm sure people here will really take to the Games once they start."
Cockroft hopes Rio can build on the success of London 2012, which was declared the best Paralympic Games ever by IPC President Sir Philip Craven. She believes this was largely because of the wider impact the event had. "It was the first time that Paralympic athletes have properly been seen as elite athletes, really seen for our ability on the track, rather than like 'oh, look at her, she's in a wheelchair and she's going really fast' or 'look at him, he's doing so well on one leg'. We were looked a like 'wow, they are so fast, I wish I could do that' and this was a real turning point for Paralympic sport across the world.
"We were no longer pitied, we were seen as normal members of society."
While Cockroft is now a devoted fan of Rio and carioca culture, there is one aspect she is less keen on. Without meaning to, she tried a caipirinha, the city's most famous cocktail, but was not impressed
"I thought it was fruit juice because the menu just said strawberry and lemon, which sounded pretty nice," she said. "But it was so strong, my face nearly melted. I didn't finish it." Sounds like she won't be trying the drink again… "Well, maybe if I win three gold medals in Rio I've give it another go," she laughed.