ICSEMIS set to begin ahead of Rio 2016
The sports science conference gathers sports medicine professionals from around the world, this time on the theme: 'Saying Yes to Diversity in Sport.'
31 Aug 2016
Imagen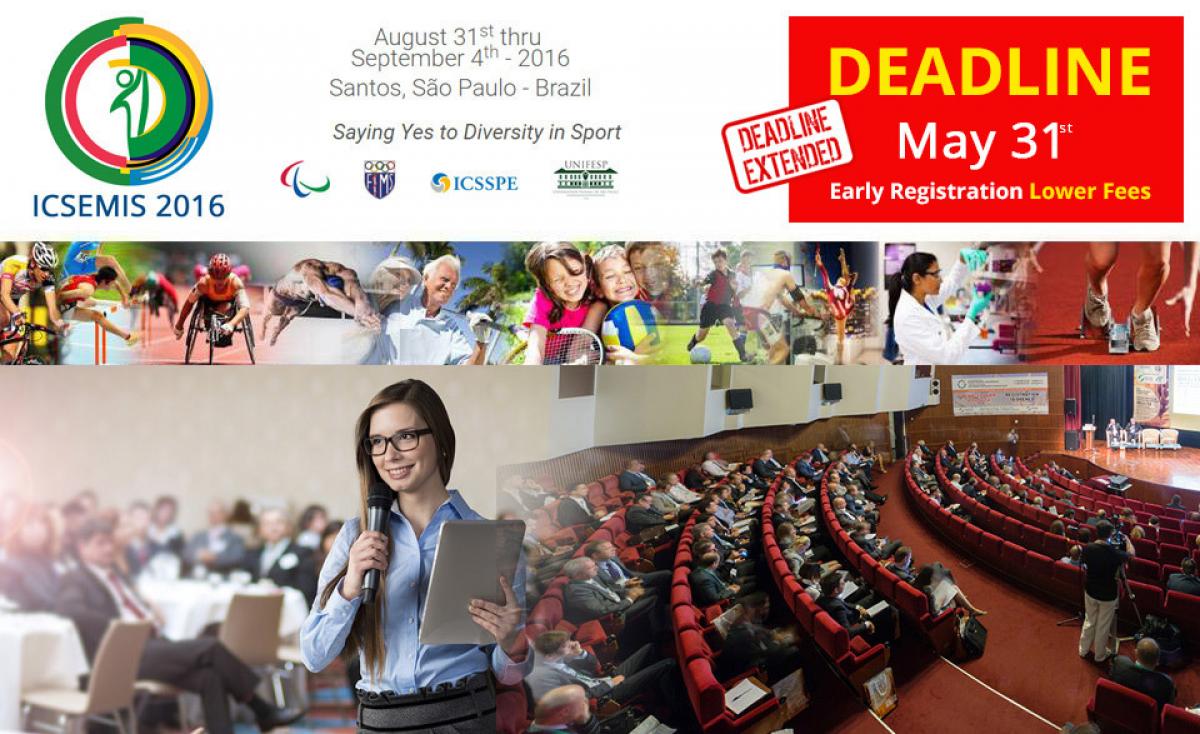 By IPC
Sport medicine professionals from around the world are in Santos, Brazil, ready to kick off the 2016 International Convention on Science, Education and Medicine in Sport (ICSEMIS) that begins Wednesday (31 August) until 4 September.
The timing and location are fitting, as the sports science conference will take place between the Rio 2016 Olympic and Paralympic Games, which opens on 7 September.
About 2,000 attendees from different professional backgrounds will be at the Federal University of Sao Paulo, discussing the conference's theme: "Saying Yes to Diversity in Sport."
The International Paralympic Committee (IPC) is one of three international partners for ICSEMIS and has been engaging in preparations for the conference through the IPC Sports Science Committee.
The IPC in particular will be hosting a "Sport Legacy Meeting" to build on further elaboration on the subject amongst academia. The meeting will be led by David Legg, currently part of the Department of Physical Education and Recreation Studies at Mount Royal University in Canada.
The IPC named two keynote topics: Rory Cooper (Paralysed Veterans of America, Chair at the University of Pittsburgh) and Mike McNamee (a professor of applied ethics in the College of Engineering at Swansea University in Great Britain) discussing "Technology in Paralympic sport – Optimising performance;" and IPC Sports Science Committee member Walter Thompson on "Exercise is Medicine: Implications for Population Behaviour Change."
Additionally, proposed IPC symposia will feature: Legg on "Olympic and Paralympic legacy;" Thompson on "Organising structured physical activity programmes for underrepresented children and youth;" Connie LeBrun on "Sports medicine considerations for the female Olympic and Paralympic athlete;" and Attilio Carraro on "Values-based education through sport and physical education: myths and reality."
The International Council of Sport Science and Physical Education (ICSSPE), the International Olympic Committee (IOC), the IPC and the International Federation of Sports Medicine (FIMS) signed a Memorandum of Understanding to join efforts to have one large multi-disciplinary, professional conference as successor of the Pre-Olympic, Pre-Paralympic and Sport Scientific Congresses. This will be the third edition of the conference.
More information on ICSEMIS can be found on the event website.