IPC Academy Inclusion Summit underway
Sir Philip Craven, IPC President, opened the two day summit in front of an audience of more than 200 people.
15 Sep 2016
Imagen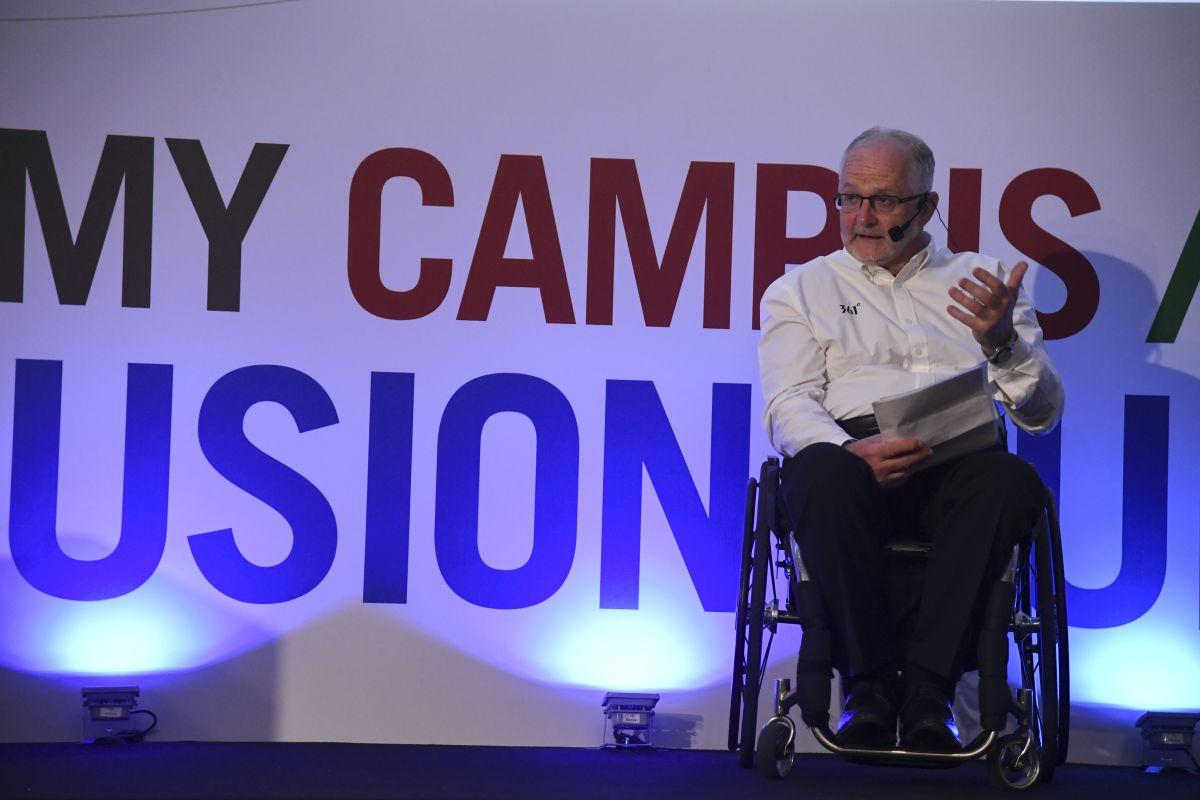 ⒸGetty Images for the IPC
The 2016 IPC Academy Inclusion Summit (15-16 September) has been officially opened by Sir Philip Craven, President of the International Paralympic Committee (IPC).
Speaking to an audience of over 200 people gathered in Rio de Janeiro from a wide variety of Organising Committees and Candidate Cities of Olympic and Paralympic Games, International Federations, government bodies, suppliers to the major events and educational institutions among others, Sir Philip said: "Whether you follow the Games as a spectator, TV viewer, radio listener or through social media, exposure to high performance Paralympic sport leads to seismic shifts in attitudes and perceptions towards people with an impairment. Quite simply, the Games can change how a city, country and continent think about impairment."
Sir Philip outlined how a new multimillion Euro purpose built Paralympic training centre had opened in Sao Paulo earlier this year for the Brazilian Paralympic team. The centre provides a high performance training environment in 14 sports and is available for use to other National Paralympic Committees in the Americas. A similar training centre has also opened for the Japanese team ahead of Tokyo 2020 thanks to the support of the Nippon Foundation. "In addition, last year the Brazilian government announced that it was significantly increasing its lottery funding for the Brazilian Paralympic Committee by roughly 20 million Euros a year," he added. "Just as with accessibility, would any of this have happened in Brazil had Rio not won the right to stage the Paralympic Games? It is very unlikely."
After outlining several examples of how the Paralympics have led to societal change in previous host countries over the last few decades, Sir Philip closed his opening address with a quote from a Chinese politician which highlights the impact the Beijing 2008 Paralympic Games had on Chinese society: "Thanks to the Paralympics, the image of people with a disability in China is no longer one of a garbage-collector, or of a beggar, but of a football player, a long jumper or a shooter."
Alongside Sir Philip, other speakers at the Inclusion Summit over the next two days include Andrew Parsons, Vice President of the IPC & President of the Brazilian National Paralympic Committee; Carlos Nuzman, Chairman, Rio 2016 Olympic and Paralympic Games; Madame Zhang Haidi, Executive President, Beijing 2022 and President, Chinese National Paralympic Committee; Charlotte McClain-Nhlapo, Disability Advisor of the World Bank; and Shanthi Flynn, Chief HR Officer, Adecco (Partner of the Inclusion Summit). The Inclusion Summit's presenters are former Paralympians Lord Chris Holmes MBE, Helene Raynsford and Katrina Webb.
The Summit will be divided into three segments:
• Understanding inclusion (policy setting)
• Inclusive leadership (strategy adopted in past and future host cities)
• Delivering inclusion (operations, how inclusion has been applied).
A must-attend IPC Academy Campus cocktail reception, hosted at British House and sponsored by the UK's Department for International Trade, will bring proceedings to a close on 16 September and allow attendees to network with all participants of the Campus, which also includes an IPC Observers' Programme and Games Experience Programme.
About IPC Academy Campus and the Inclusion Summit
Standing alongside but distinct from the IPC Academy Observers' Programme, the Inclusion Summit will provide the ultimate forum to bring together business leaders, governments and the Paralympic Movement. Together they will discuss inclusion and accessibility, their impact on society, and how the Paralympic Games have developed into the world's number one sporting event for driving social inclusion.
Delivered by the IPC Academy - the educational division created in 2009 as a partnership between the International Paralympic Committee (IPC) and the World Academy of Sport (WAoS) – the 2016 IPC Academy Campus (4-17 September) is a unique event-based learning initiative that gives stakeholders of major sports events the chance to learn from their peers during the Paralympic Games. The IPC Academy Campus features an Observers' Programme, Games Experience Programme (GEP), Inclusion Summit and a closing cocktail reception.
Its Event Partners include the Adecco Group and the UK's Department for International Trade. Its Media Partners are Sportcal (Intelligence Partner), Major Events International (Digest Partner), Around the Rings (Online Partner), Host City (Magazine Partner) and AXS Chat (Social Media Partner).
For further information about the the IPC Academy Campus, please visit www.ipcacademycampus.com or contact Claire Bennett, Project Coordinator, World Academy of Sport cbennett@worldacademysport.com.
Tweets can be shared using: #CampusRio2016 and/or #inclusionsummit.