Iran's Hajikolaei seeks return to Paralympic gold
After a silver medal from London 2012, the Iranian men's sitting volleyball team want to prove they are still the best.
14 Dec 2015
Imagen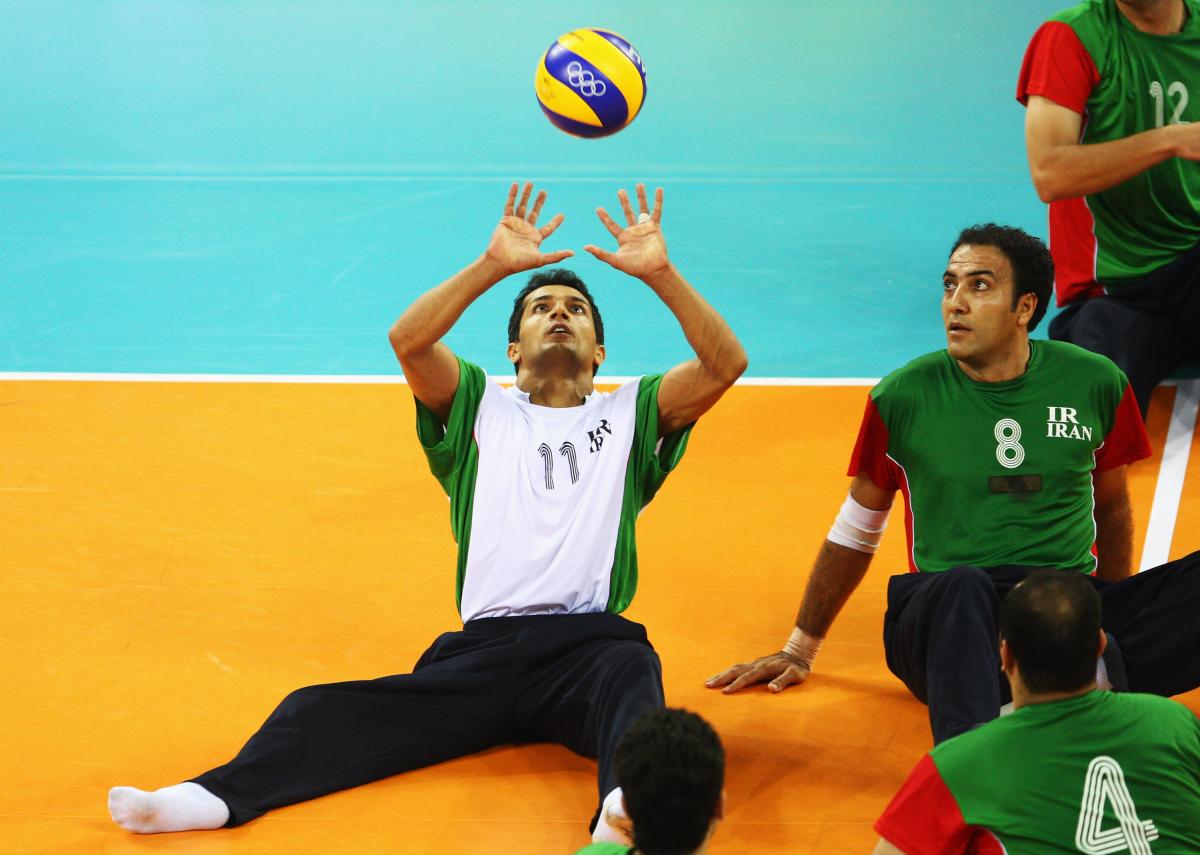 ⒸGetty Images
By Ruth Faulkner | For the IPC
"My first competition that cannot be forgotten was the Athens Games. The sensation I felt will never be forgotten."
Regarded as one of the world's best liberos, Iran's Ramezan Salehi Hajikolaei is focused on helping his team back to the gold medal spot he knows they deserve.
The volleyball player from the Mazandaran Province is one of the sports' most experienced athletes, competing in three Paralympics. He helped Iran win gold from Beijing 2008 and two silver medals from Athens 2004 and London 2012. No doubt, he wants to return to the top of the podium at Rio 2016.
"These days all I think about is to get gold in Paralympics and I will personally try to do my bests to beat the glorious London results," he said.
"I am proud of our team. We have kept our place as the top ranking team. Competing in three Paralympic editions proves our team's endeavour. In London 2012, our team was the ideal team."
Salehi Hajikolaei was named Best Receiver in London 2012 and Best Defender at the Intercontinental Cup 2012 in Cairo, Egypt.
He helped Iran secure an early qualification spot for the Rio 2016 Paralympic Games at the 2014 World Championships in Poland.
"Compared to before, we have technically have made enormous progress," Hajikolaei said. "I believe that with unity and harmony we can draw the desired results.
"Thanks to God, the relationships within team members and with our coach are both friendly and professional, and this can be considered one of the team's big successes."
The team is still aware they will have some healthy competition ahead of the Games in Rio. Iran has dominated the sitting volleyball scene over the years, winning Paralympic gold five times (Seoul 1988, Barcelona 1992, Atlanta 1996, Sydney 2000 and Beijing 2008). One of their main rivals – Bosnia and Herzegovina – have been strong competition at the Paralympics, beating them to gold at Athens 2004 and London 2012.
The Brazilian team have also been working hard to prepare for their home crowd and beat the Iranians at the 2014 World Championships, where Iran took bronze and gained the fourth Rio 2016 spot up for grabs.
"I believe our main competition would be Bosnia and Herzegovina," Hajikolaei said. "But, Brazil, Germany and China are all highly qualified teams; and all of them are getting ready and training for Rio 2016.
"Recently, we haven't met Bosnia and Herzegovina in a friendly match, but we have analysed our competitors well and know we can be a serious rival to them."
At 36 years old, Hajikolaei is one of the most experienced members of his team. He started his career in 1994, when he was encouraged by a high school teacher to try out, and was invited to the national team after only three months.
"From childhood, I had the propensity to play volleyball," Hajikolaei said. "All my dreams focused around first having a volleyball ball and then playing. When I first got asked if I wanted to try it, I thought I might not be able to play because of my disability.
"My first competition that cannot be forgotten was the Athens Games. The sensation I felt will never be forgotten. For every athlete, participation in Paralympics is a dream; it was unbelievable to me that I was there at only 23-years-old. I was so excited, but my coach guided me to keep my head and ultimately we were able to achieve silver.
"The biggest moment in my life however goes to gold medal in Beijing. I think that was my top achievement and I'm still proud of it. But, I try to never be too proud of that winning moment; although it is not forgettable. All these winnings create motivation to use towards your next competition and to learn from."
Although he has been offered the role as national team coach, Hajikolaei does not want to make any decisions about his future career until after the Rio 2016 Paralympic Games.
"Besides my family, my first goal is sport," he said. "I'm just trying to think about to getting the gold in the Paralympics."