Jetze Plat considering two sports at Rio 2016
The Dutch ace excels in both para-cycling and para-triathlon and is aiming to become the world's best in both at Rio 2016
24 Sep 2014
Imagen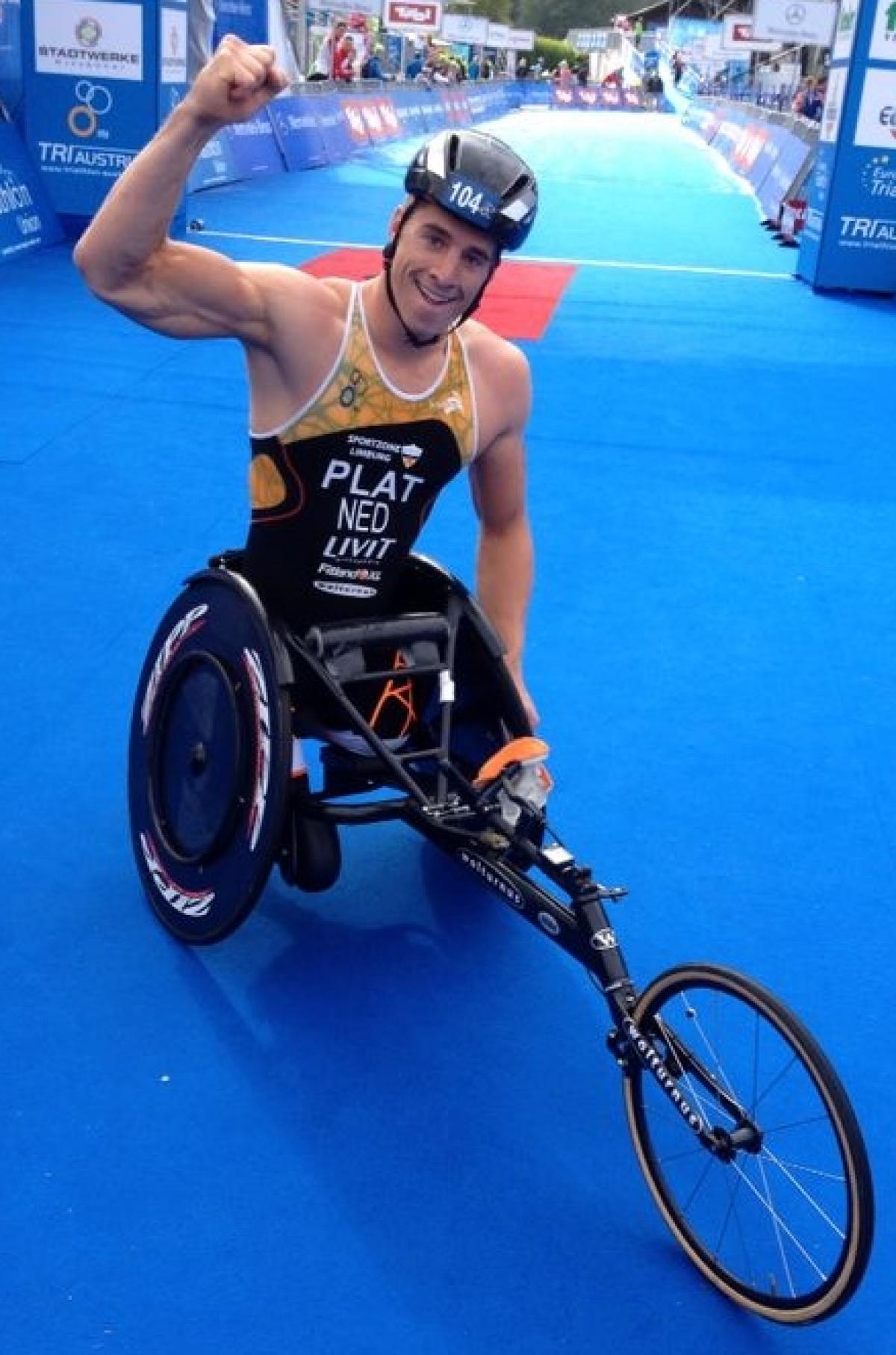 ⒸIPC
By Sean Cartell | for the IPC
"In both sports, I believe I play on the highest level"
The Netherlands' Jetze Plat could join a unique group of para-athletes at Rio 2016 by winning gold in two different sports at one Paralympic Games.
After seven successful years competing in para-cycling events around the world, the 23-year-old tried his hand at para-triathlon at last year's World Championships in London, Great Britain.
The Amsterdam native impressed, winning silver at his first major international event and has since pursued his talent for both sports with great success.
"It was not entirely planned," Plat said of his para-triathlon debut. "The coach of triathlon wanted to give me a chance and see where I would finish. I was a surprising second place. Now this year, I have combined hand-cycling with two triathlon races."
In 2014 Plat has enjoyed a busy and fairly productive year.
At May's UCI World Cup in Italy, he won silver in the road race H5 behind home favourite and Paralympic champion Alex Zanardi.
A month later he won the para-triathlon European title in Kitzbuhel, Austria, and in July took bronze at the UCI World Cup in Spain behind Zanardi and South Africa's Ernst van Dyk.
He was unhappy however with his performance at August's 2014 UCI Para-Cycling Road World Championships in Greenville, USA, where he finished in eighth position.
"The European gold in Kitzbuhel was, for me, a great and really fast race, and I'm so happy with the gold medal," Plat said. "But the hardest I worked was for the hand-cycling races and the silver medal in Italy, behind Zanardi and before van Dyk.
"Zanardi and van Dyk are really great athletes," Plat said of his para-cycling rivals. "They have a long history and are still the best in the world. For me as a young guy in the sport, it is a big challenge. It gives me a lot of motivation and I really need everything to reach my goal. These men are very hard to beat because they are very competitive. But that gives me the motivation to really train hard and, hopefully, one day I will beat them."
The Dutch star knows that in order to reach the elite status that his peers have attained in the sport of para-cycling, he must give that sport a single-minded focus. However, he feels that para-triathlon is helping make him a more complete athlete.
"For handcycling, I need a 100 per cent commitment to get on the highest level. But the different training methods make me a stronger athlete. We will see if competing in both sports is possible for Rio," said Plat who will decide later this year if he will commit to competing in both para-cycling and para-triathlon at Rio 2016.
"In both sports, I believe I play on the highest level," Plat said. "The important thing for me is that I don't want to be one of the best, I want to be the best in the sport. I am ambitious and I am motivated."