Johnson eyes Rio 2016 gold medal double
New Zealand's best shooter believes it is important to aim high as he heads into his fourth Paralympic Games.
05 Sep 2016
Imagen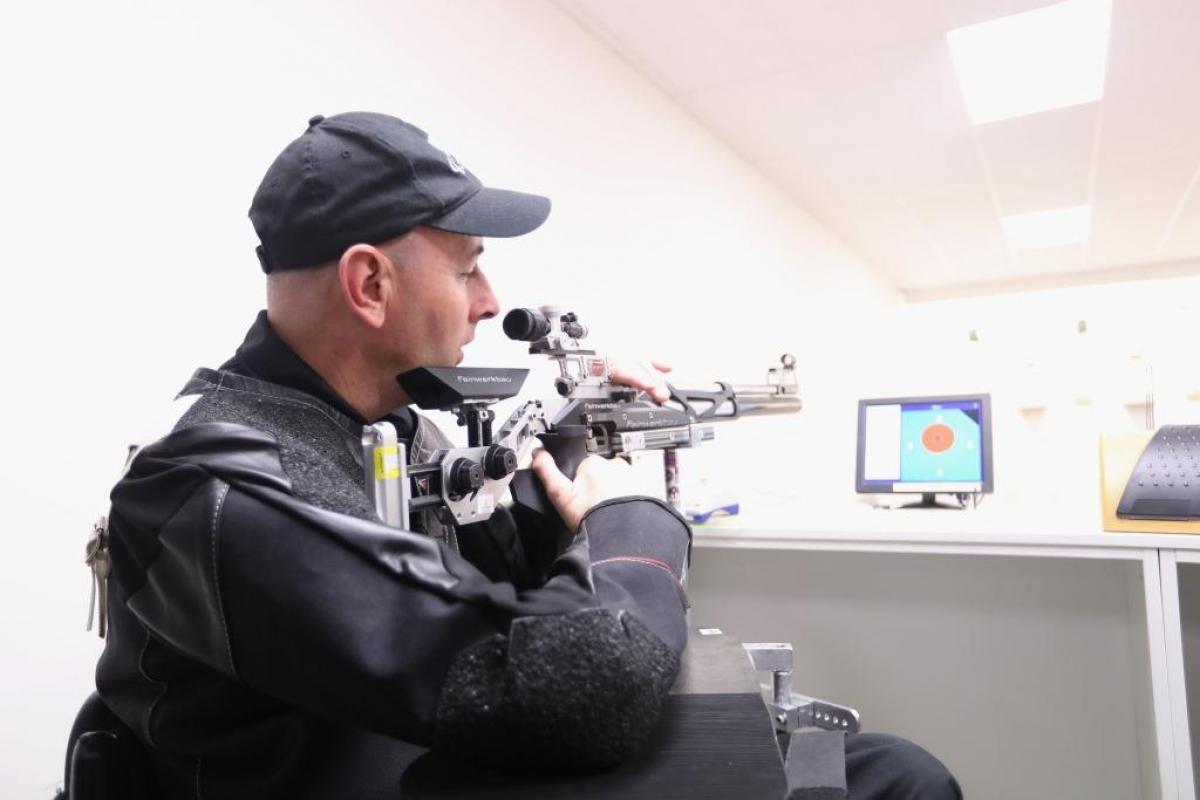 ⒸGetty Images
By Jake Smith | For the IPC
New Zealand's former World and Paralympic Champion Michael Johnson is eyeing not one but two gold medals from the Rio 2016 Paralympic Games.
Johnson had an impressive season in 2015, breaking a new world record, and has continued to show terrific form throughout 2016 medalling in every event that he entered.
If his recent performances are anything to go by, the 42-year-old is certainly on target to achieving dual gold.
"So far my build up for Rio has gone really well. Last year I went to Poland, Hannover, and Turkey and came away with some really good results. Setting a new final world record in R4 [mixed 10m air rifle standing SH2] was great, but I was really after the qualification world record. Having goals like that keep me going and excited in our sport.
"This year I went to Poland and Hannover again; my highlights were making all the finals and coming away with a medal from each" Johnson said.
He is chasing top honours in both R4 (mixed 10m air rifle standing SH2) and R5 (mixed 10m air rifle prone SH2) for which he is currently ranked first and fifth in the world respectively. He is no stranger to the Paralympic podium having won gold at his debut Games in Athens in 2004 as well as winning bronze at both Beijing 2008 and London 2012.
"I think for anybody competing at the Paralympics their goal needs to be trying to win the gold medals," Johnson said. "It doesn't necessarily mean they will, but they have to dream that big, because you never know, things just might work out and you do win the big prize."
The flag-bearer from London 2012 will spearhead a trio of shooters for New Zealand with fellow riflemen, Jason Eales and Greg Reid set to make their Paralympic debut. The three of them will form part of a 27-strong squad destined for Brazil where they hope to add to the 17 medals they won in London.
"Our chances have increased three times over now. I've been to the last two Paralympics without any other shooting team mates. New Zealand have been training really hard so I think we have a good chance. With shooting it's definitely about everything coming together at the right moment, so it's going to be pretty interesting to see how everybody goes" said Johnson.
Johnson is consistent in his approach to competitions and believes that a mix of fate, high scores and the ability to handle pressure will get the job done.
"My strategy is the same for all my competitions and that's to make the final because then anything can happen," he said. "Everybody gets a second chance and their scores go back to zero. After just 20 shots all is decided and then it's back to training for the next Paralympics.
"I think it's about trying to enjoy the whole experience, and not letting the occasion overwhelm you. It's a chance to finally put the past four years of hard training and competitions to work."
Johnson also gave an insight into his competition routine:
"The day before my competition I like to make sure my equipment is already setup and ready to assemble, and my ammunition is checked and ready to go. Competition day is planned out, even down to when or what I will eat, what time I will get up, get to the transport and arrive at the range.
"Getting to the competition venue at the right time is a big thing for me, not too early where you get uncomfortable from waiting around too long, and not too late where you are rushing around.
"I like to joke around a bit on competition days. I think laughing, smiling and being happy can calm the nerves. If you're too serious it takes the fun out of sport".
The 2016 Rio Paralympic Games will take place from September 7 – September 18.
__
Sport fans from around the world can now buy their Paralympic tickets for Rio 2016 from authorised ticket resellers (ATRs)
The IPC's Global ATR is Jet Set Sports, and Rio 2016 tickets and packages can be purchased on the CoSport website.
Residents of Brazil can buy 2016 Paralympics tickets directly from the Rio 2016 website.
Visa International is the exclusive payment card and the official payment system for the Paralympic Games.