Jonas Jacobsson claims 19th world title
Sweden's Jonas Jacobsson wins an incredible 19th World Championships gold, before hinting at retirement on Friday (25 July) in Suhl.
25 Jul 2014
Imagen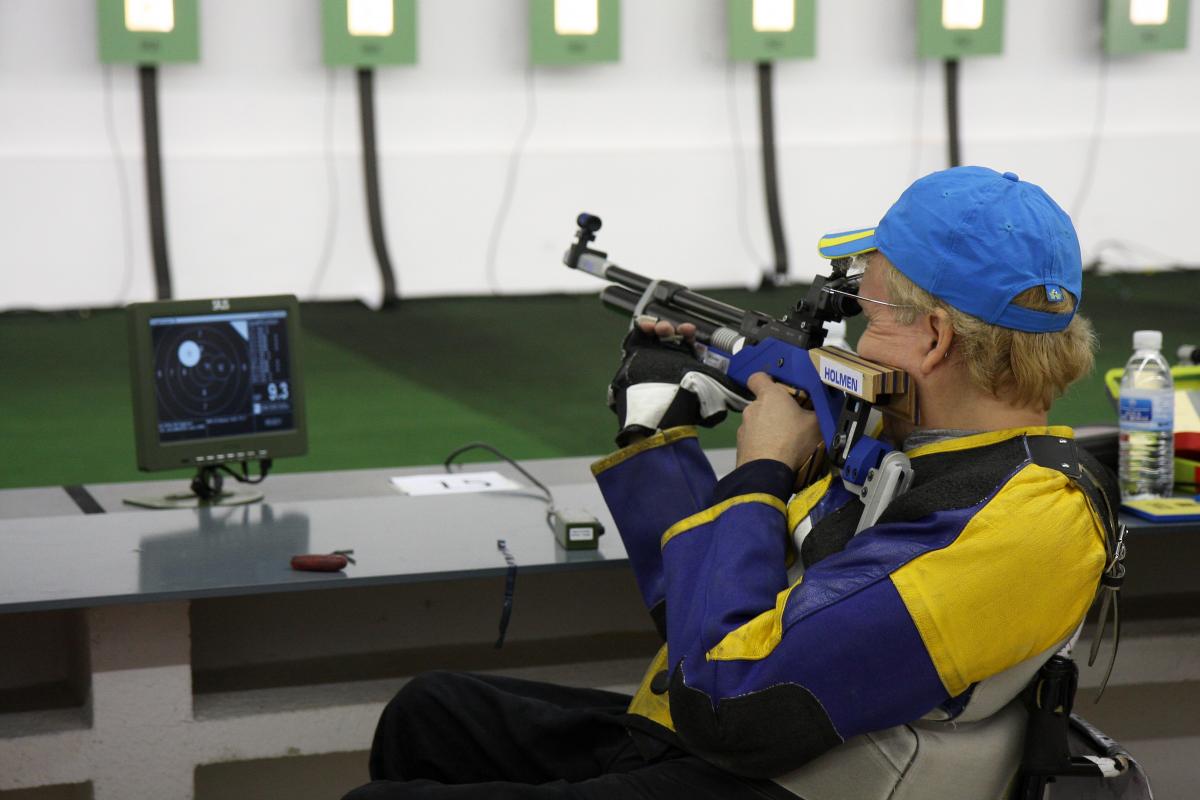 ⒸIPC
Sweden's Jonas Jacobsson won an incredible 19th World Championships title in the R7 (men's 50m rifle 3 positions SH1), as two world records fall on Friday (25 July) at the 2014 IPC Shooting World Championships in Suhl, Germany.
It was fitting for these World Championships that arguably the greatest Paralympic shooter of all time was to collect the very first, and last official gold medal of the competition, before hinting it may be the last of his career.
Jacobsson, 17-time Paralympic gold medallist, said: "It felt really good. I haven't decided yet, but this might be my last match, so it was really good to win it."
He won it in style, in a real master versus apprentice final that saw him edge past the United Arab Emirates' Abdulla Sultan Alaryani, somebody who Jacobsson has been training in recent times.
Alaryani entered the final after breaking a world record (1175-50x) in qualification, but 49-year-old Jacobsson led from the front, and looked comfortable as the final reached the elimination stage.
"This one was really good. I didn't shoot well this morning," he said.
"I couldn't really find the drive to do it this morning. But I found it for the final and I am really happy with that."
The R7, which incorporates three shooting positions, is one of the longest finals and concentration is key to achieving prolonged accuracy – something that Jacobsson excelled in, which included a number of 10.8's.
He said: "The thing is, you can't really afford to do any real mistakes.
"If you shoot a couple of nines, as long as they are good nines then that is okay, but you can't afford a big mistake because then you are gone. So you need to be focused all the time.
After 40 shots, Jacobsson was leading by 3.2, but Alaryani found some late form under pressure as the Swede began to wobble with a 9.2 and 9.3.
Jacobsson said: "I have been down in his own country helping him. I was there four times last year coaching him a bit and he is a great shooter, so I knew it was going to be really tough.
"I saw that I was 3.2 ahead of him, and I was thinking with five shots to go, I am going to have to shoot really bad if he is able to catch up three points in five shots.
"I shot a couple of bad shots, and saw that there was just 1.0 for the final one and thought that as long as I shoot a 10 it is done, and I managed to get a ten."
Jacobsson fired a 10.2, to finish with 454.6, whilst Alaryani finished with a 9.4 to score 452.8. The bronze medal went to the Republic of Korea's Jinho Park (440.6).
In qualification, there was also another world record for the Republic of Korea, as they scored 3460-129x.
For more information, or to check the results, visit www.suhl2014.com