LA 2028: 'Perfect match' for Paralympics
3-time Olympics host becomes Paralympics city for first time
13 Sep 2017
Imagen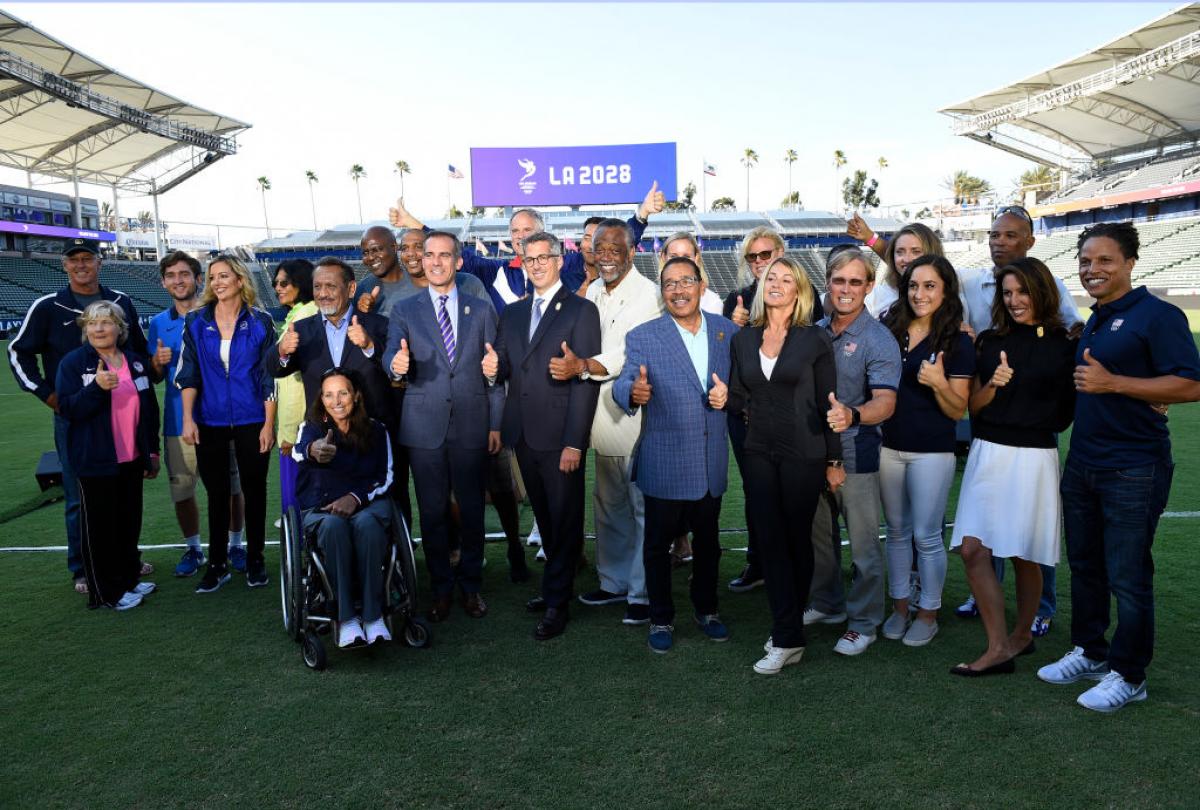 ⒸGetty Images
By IPC
"The Paralympic Movement has been growing steadily in the United States, but there is nothing else like the opportunity to host the Games here on US soil that will energise this Movement and increase awareness in popular culture in the US."
The Games are returning to Los Angeles, USA, for the third time. But it will be a first for the city to host a Paralympics, after the International Olympic Committee (IOC) ratified the tripartite agreement on Wednesday (13 September) during the IOC Session in Lima, Peru, which awards Los Angeles the 2028 Games.
The city hosted the 1932 and 1984 Olympics. For Rick Adams – Chief of Paralympic Sport and National Governing Body Organisational Development for the United States Olympic Committee (USOC) – the 2028 Games will be a "celebration of how much the Paralympic Movement has grown."
"The Paralympic Movement has been growing steadily in the United States, but there is nothing else like the opportunity to host the Games here on US soil that will energise this Movement and increase awareness in popular culture in the US," Adams said.
He described LA as a city of creativity, innovation and progress – all a "perfect match for the Paralympic Games."
"LA is the best city in the world for hosting a truly modern and technically advanced Games, and it will be the first time we've hosted the Games since we entered this digital era," Adams said. "When people in the US are able to witness the speed, skill and tenacity of the Paralympic athletes first-hand, it is going to transform this Movement for our country."
LA 2028 will particularly be special for US Para athletes.
Multi-world and Paralympic long jump medallist Lex Gillette has competed at four Games. Especially from Rio 2016 tabbed as the People's Games, where the Brazilian fans making their presence and support felt – and particularly heard – Gillette knows "competitive advantage" and pride Brazilian Para athletes felt with the home crowd behind them. He knows LA 2028 will inspire aspiring US Paralympians.
"I've never experienced being able to compete in my home country," said Gillette, who is on the LA 2028 Athletes' Commission. "And I think that for an athlete aspiring to go to the Games, that in and of itself [competing at home] would really motivate them because you're pushing for a particular goal and the idea that you may be able to achieve your goal in front of your home fans, that is huge."
The Games would be 11 years from now, which Gillette said is a good deal of time to strengthen the public's awareness of the Paralympic Movement.
This can be done not only with more media exposure and sponsorship support, but especially from Para athletes taking an active role in sharing their stories and promoting the Games.
Adams said 11 will go by in a "blink of an eye." While there will be a lot of work to do for the organising committee between now and then, the excitement and atmosphere that comes when LA 2028 arrives will be worth it all.
"I wouldn't want to put any limits on the Paralympic Games with my own expectations," Adams said. "But at the core of the Games, I think we can expect to see thrilling performances from athletes who will break limits that seem impossible now. We will see the Games embraced by the US and the people of LA with an excitement that we've never had in the US before. And I think we will see a Games that unite and inspire a generation around the world. And to have all of that with a backdrop of beautiful sunsets over the ocean doesn't hurt either."