Lasko-Celje 2018: Devos and Partyka among champions
Twenty-one Para table tennis gold medals decided
21 Oct 2018
Imagen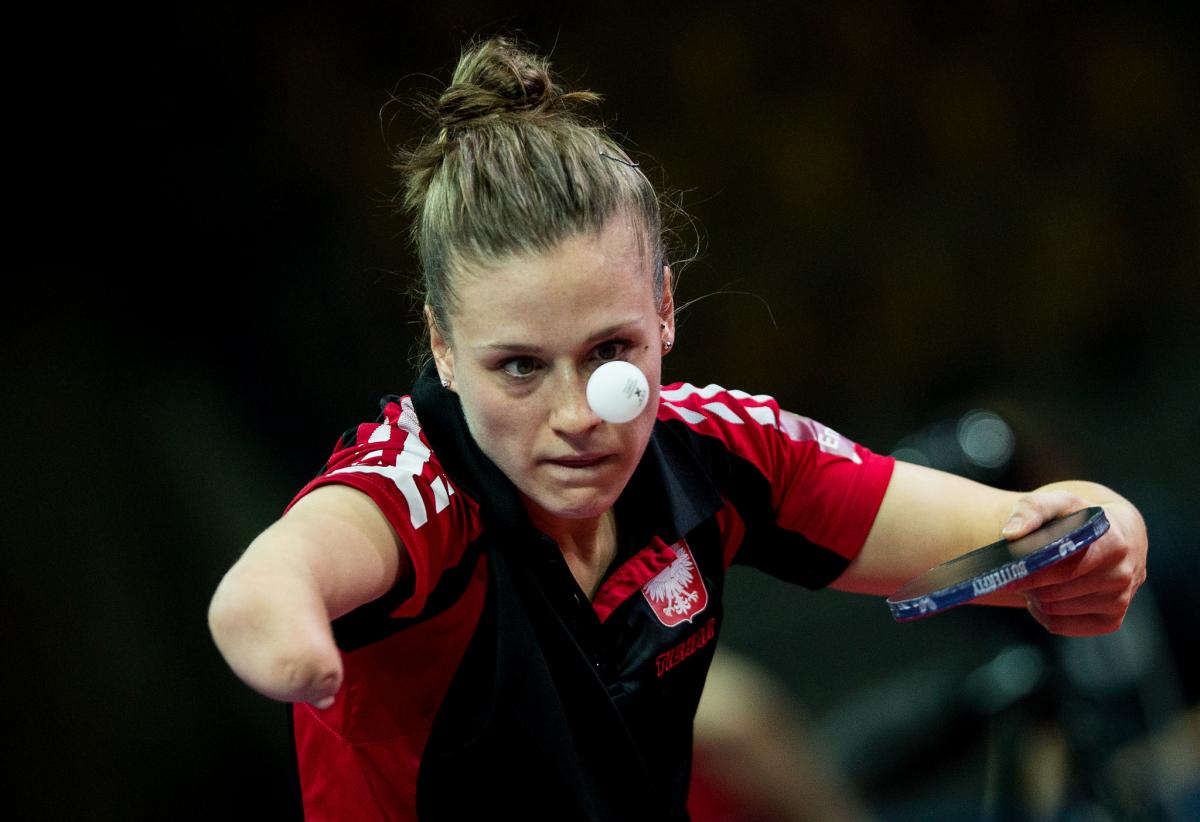 ⒸVid Ponikvar/Sportida
By ITTF and IPC
Poland's Natalia Partyka was among those to extend their dominance, while others such as Belgium's Laurens Devos can call themselves first-time world champions as the 2018 Para Table Tennis World Championships finished Saturday (20 October) in Lasko-Celje, Slovenia.
WOMEN'S ROUND-UP
Rio 2016 champions and top-seeded players Partyka, Netherlands' Kelly Van Zon, and China's Mao Jingdian retained their women's singles titles in the standing categories.
Partyka needed four games in both her semi-finals and final games to secure victory the class 10 victory. After beating Australia's Melissa Tapper, the Polish athlete took down Denmark's Sophie Walloe (12-10, 11-4, 9-11, 15-13) for the top step of the podium.
Van Zon got her revenge on Turkey's Kubra Korkut, the one who knocked her out of the 2017 European Championship gold medal contention, in the class 7 final (11-8, 11-5, 9-11, 11-5).
For Mao, she needed the full five games to end the hopes of France's Thu Kamkasomphou (9-11, 11-8, 11-7, 7-11, 11-4) for the class 8 gold.
Ukraine's No. 1 seed Maryna Lytovechenko secured the class 6, beating Russia's Raisa Chebanika* (11-7, 11-5, 11-9).
Likewise in class 11, the top seed prevailed in Russia's Elena Prokofeeva*. But class 9 saw a surprise winner; South Korea Kim Kunhea struck gold after overcoming China's No. 1 seed Xiong Guiyan in five sets to book her place in the final. Kim then recovered from a two games down against Poland's Karolina Pek to claim gold (8-11, 9-11, 13-11, 11-9, 11-5).
China's reigning Paralympic champion Xue Juan triumphed in the class 3 title at the expense of fellow teammate Li Qian (2-11, 11-4, 11-7, 11-9). It came after upsetting favourite and top seed Anna-Carin Ahlquist of Sweden in five sets in the penultimate round.
Serbia's Rio 2016 champion Borislava Peric-Rankovic was also in form in the women's class 4. After outing Zhang Miao, the player she beat in the Rio final, Peric-Rankovic claimed the title at the expense of China's Zhou Ying in three straight sets (11-6, 11-7, 11-8).
South Korea's Seo Suyeon emerged the winner of class 1-2, and her teammate Kang Oejeong secured the class 5 title.
MEN'S ROUND-UP
After success four years ago in Beijing, China, France's Fabien Lamirault (class 2), China's Feng Panfeng (class 3) and Turkey's Nesim Turan (class 4) retained their world titles.
In the final, Lamirault overcame Poland's Rafal Czuper (11-7, 13-11, 11-1).
For Feng, he beat Germany's No. 1 seed Thomas Schmidberger for the win (11-9, 6-11, 12-10, 11-3).
Turan commenced matters as the No. 4 seed, taking down compatriot Abdullah Ozturk (11-6, 13-11, 11-9) for the gold.
Ali Ozturk gave Turkey more joy by winning the class 5. Occupying the No. 4 seeded position, he upset China's top seed Cao Ningning to prevail (11-6, 11-2, 8-11, 5-11, 13-11).
South Korea's Kim Hyeonuk, competing in his first World Championships, defeated fellow Korean and favourite Joo Youngdae to celebrate class 1 joy (11-8, 11-9, 5-11, 11-5).
Poland's Patryk Chojnowski (class 10) completed a successful title defence but was the only one to do so in the men's standing categories; he beat Bulgaria's Denislav Kodjabashev (12-10, 11-4, 11-9) in the final.
Belgium's teenage sensation Laurens Devos can call himself a world champion, to go along with his Paralympic and European titles. In his Worlds debut, Devos beat Russia's Iurii Nozdrunov* (11-8, 11-6, 11-9) in the class 9 final.
Devo's compatriot Florian Van Acker, also a gold medallist from Rio 2016, beat Hungary's Peter Palos, a London Paralympic Games gold medallist (13-11, 11-8,6-11, 11-4), to take the class 11 prize.
In class 6, Denmark's Rio 2016 champion Peter Rosenmeier bested Spain's Alvaro Valera, the top seed and defending champion, to win (11-8, 13-11, 12-10).
Great Britain's Ross Wilson celebrated the class 8 title over China's Zhao Shuai in a dramatic five-setter (12-10, 7-11, 10-12, 14-12, 12-10).
The class 7 was won by Spain's unseeded Jordi Morales after bettering the Netherlands' Jean-Paul Montanus (11-4, 16-14, 11-4).
Complete reviews from Lasko-Celje are available on the International Table Tennis Federation's (ITTF) website, and more information can be found on the 2018 Worlds event page.
*Editor's note: The International Paralympic Committee suspended the Russian Paralympic Committee on 7 August 2016 for its inability to fulfil its IPC membership responsibilities and obligations, in particular its obligation to comply with the IPC Anti-Doping Code and the World Anti-Doping Code (to which it is also a signatory). As a result of the suspension, Russian athletes cannot enter IPC sanctioned events or competitions, including the Paralympic Games.