Lasko-Celje 2018: Top seeds succeed on day one
Para table tennis Worlds opens with group stages
18 Oct 2018
Imagen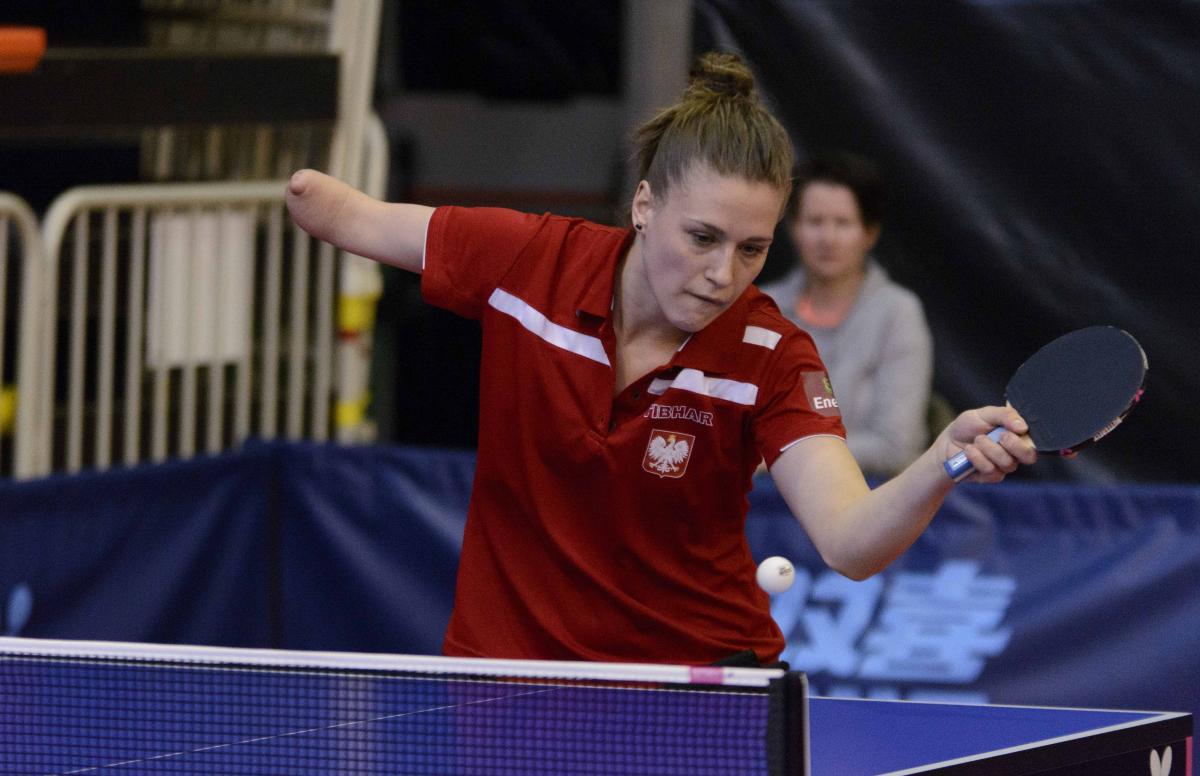 ⒸRemy Gros
By ITTF and IPC
"Of course I would like to win but I know it is not going to be easy because everyone wants to beat me."
The first day of 2018 Para Table Tennis World Championships wrapped up on Wednesday (17 October) in Lasko-Celje, Slovenia, with top seeds meeting expectations in their group stages.
Belgian teenager Laurens Devos emerged one of four No. 1 seeds to complete the group stage matches unbeaten and thus secured a main draw place
Meanwhile Rio 2016 Paralympic gold medallists Kelly Van Zon of the Netherlands, China's Mao Jingdian and Poland's Natalia Partyka all made their intentions crystal clear in the women's side.
MEN'S ROUND-UP
Competing in the men's class 9, Devos accounted for both Japan's Nobuyuki Suzuki (11-4, 11-6, 11-5) and Hong Kong's Wong Chi Yin (11-5, 11-6, 11-8), a performance that to some extent was matched by Russia's Iuri Nozdrunov*, the No. 2 seed. He beat Tonnie Heijen of the Netherlands and Ukraine's Lev Kats.
Similarly, top seeds Alvaro Valera of Spain (men's class 6), Ukraine's Viktor Didukh (men's class 8) and Poland's Patryk Chojnowski (men's class 10) all emulated Devos' efforts.
Men's class 6
Defending champion Valera overcame the USA's Ian Seidenfeld (8-11, 11-9, 11-5, 11-2), and China's Chen Chao (11-6, 11-9, 12-14, 11-6).
In a similar vein, Denmark's Peter Rosenmeier, gold medallist at Rio 2016, secured first place in his group. The No. 2 seed beat Israel's Danny Bobrov, followed by success in opposition to Spain's Alberto Seoane Alcazar.
"I have been here many years in a row, so it is like a second home for me but now it is a different venue that we are not very used to, so it is a bit different but I like this venue more," said Rosenmeier.
"I think that the size of the venue is bigger, it suits my play better. It's always difficult in the first match, a match you want to survive and you want to survive with a bit of good play. I felt good in the second part of the game today; that is good and something that I can build on," he added.
Men's class 8
Didukh accounted for both Slovakia's Richard Csejtey (11-5, 6-11, 11-5, 11-3) and Great Britain's Aaron McKibbin (12-10, 11-6, 11-7).
Likewise, not to be upstaged, China's No. 2 seed Zhao Shuai topped his group but he came very close to defeat. After overcoming Thailand's Phisit Wangphonphathanasiri in four games, he needed the full five to beat Frenchman Thomas Bouvais, only emerging successful by the minimal two-point margin in the decider.
Men's class 10
Chojnowski and Indonesia's David Jacobs also advanced.
Chojnowski beat China's Mao Shubo (11-5, 11-2, 11-6) and Spain's Jorge Cardona (11-2, 11-2, 11-2). Jacobs took down Poland's Igor Misztal, followed by success in opposition to Bas Hegerlink of the Netherlands.
Men's class 7 and 11
Meanwhile, in class 7 and in class 11, the latter the category for players with an intellectual impairment; the leading names were required to play just one match.
In class 7, China's Yan Shuo, the top seed, beat Thailand's Chalermpong Punpoo (6-11, 11-3, 11-8, 11-6); Great Britain's Will Bayley, the No. 2 seed and defending champion, accounted for the Czech Republic's Daniel Horhut.
In class 11, Belgium's Florian Van Acker overcame Hong Kong's Wan Wai Lok in four sets, Hungary's Peter Palos defeated Frenchman Antoine Zhao.
Play in the initial phase of the men's singles events concludes on Thursday (18 October).
WOMEN'S ROUND-UP
In the women's class 7, van Zon beat Anne Barneoud of France (8-11, 11-7, 11-8, 11-2). Mao overcame Japan's Megumi Hirokane (11-4, 11-6, 11-7) in the women's class 8.
Similarly, Partyka asserted her authority on proceedings; she recorded a straight games win in opposition to Turkey's Hila Turkkan (11-7, 11-4, 11-6) in the women's class 10.
"The biggest difficulty I had was this was the first match and it is just the beginning," said Partyka. "I prepared myself for this match as always, I knew I was better than her and I just had to play my game. I was a bit stressed but the first few points went well and it became much easier."
"Of course I would like to win but I know it is not going to be easy because everyone wants to beat me. I will focus on myself and not so much on my opponent but I am not thinking about the gold now, there are still many steps to go," she said.
Play in the first stage of the women's singles events concludes on Thursday.
Complete reviews from Lasko-Celje are available on the International Table Tennis Federation's (ITTF) website, and more information can be found on the event page.
*Editor's note: The International Paralympic Committee suspended the Russian Paralympic Committee on 7 August 2016 for its inability to fulfil its IPC membership responsibilities and obligations, in particular its obligation to comply with the IPC Anti-Doping Code and the World Anti-Doping Code (to which it is also a signatory). As a result of the suspension, Russian athletes cannot enter IPC sanctioned events or competitions, including the Paralympic Games.