Lima 2019: Official song composer announced
Peruvian singer Pedro Suarez-Vertiz selected by Organising Committee
10 Apr 2019
Imagen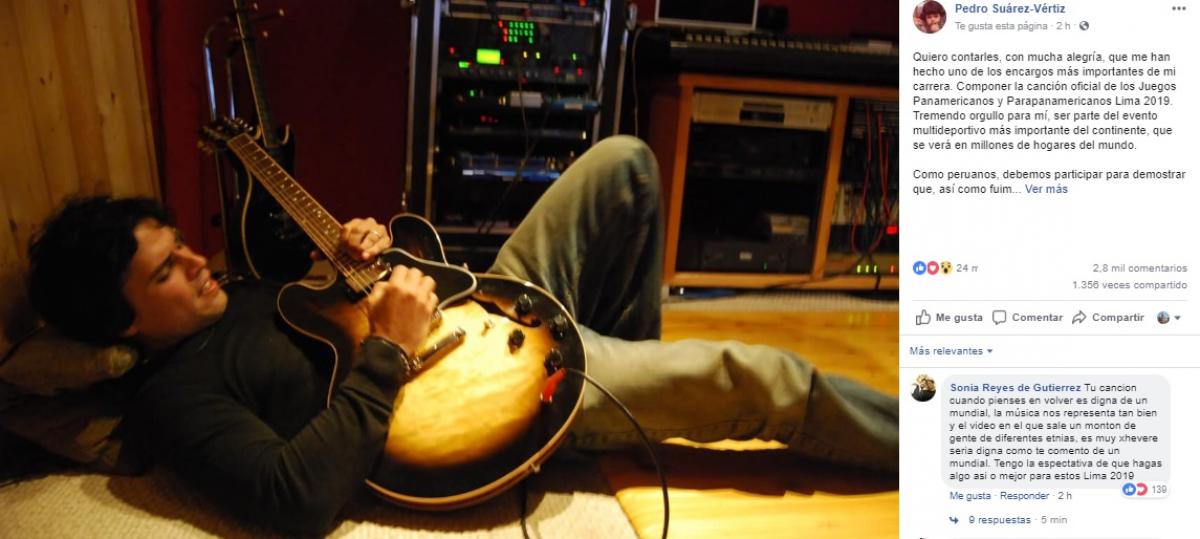 By Lima 2019
The Lima 2019 Organising Committee has selected popular Peruvian singer, song-writer and guitarist Pedro Suarez-Vertiz to compose the official song for this year's Pan Am and Parapan Am Games.
Excited after being chosen, Suarez-Vertiz posted a message to his many fans on Facebook: "I want to tell you with much happiness that I have been given one of the most important tasks in my career: to compose the official song for Lima 2019. It is a tremendous pride for me to be part of the continent's most important multi-sport event."
His daughter Maria Jose will be in charge of the vocal harmony. Moreover, Suarez-Vertiz encouraged all Peruvians to be the world's best hosts during the celebration of the region's biggest sporting event. "I hope we all sing acting as one voice to show we all play in Peru."
Four years ago, Canadian artist Serena Ryder recorded the official song "Together we are One" for the Pan Am and Parapan Am Games in Toronto. It was chosen from among 70 submissions and reflected the enthusiasm and camaraderie of the Games as well as the cultural pride of the participating countries.
The song was written by Murray Daigle (also the producer), Jasmine Denham and Bobby John, with a French adaptation by Diane Cadieux and a Spanish adaptation by Celia Palli. The French version was sung by Jasmine Denham, and the Spanish version by Eva Avila.
The Lima 2019 Parapan American Games will be held between 23 August-1 September and will feature a record 1,850 athletes who will compete in 17 sports, two more than Toronto 2015.