Lomianki 2018: Kinczel and Karpinski kick off Polish celebrations
Hosts´ duo take European title a day before country's 100th anniversary
11 Nov 2018
Imagen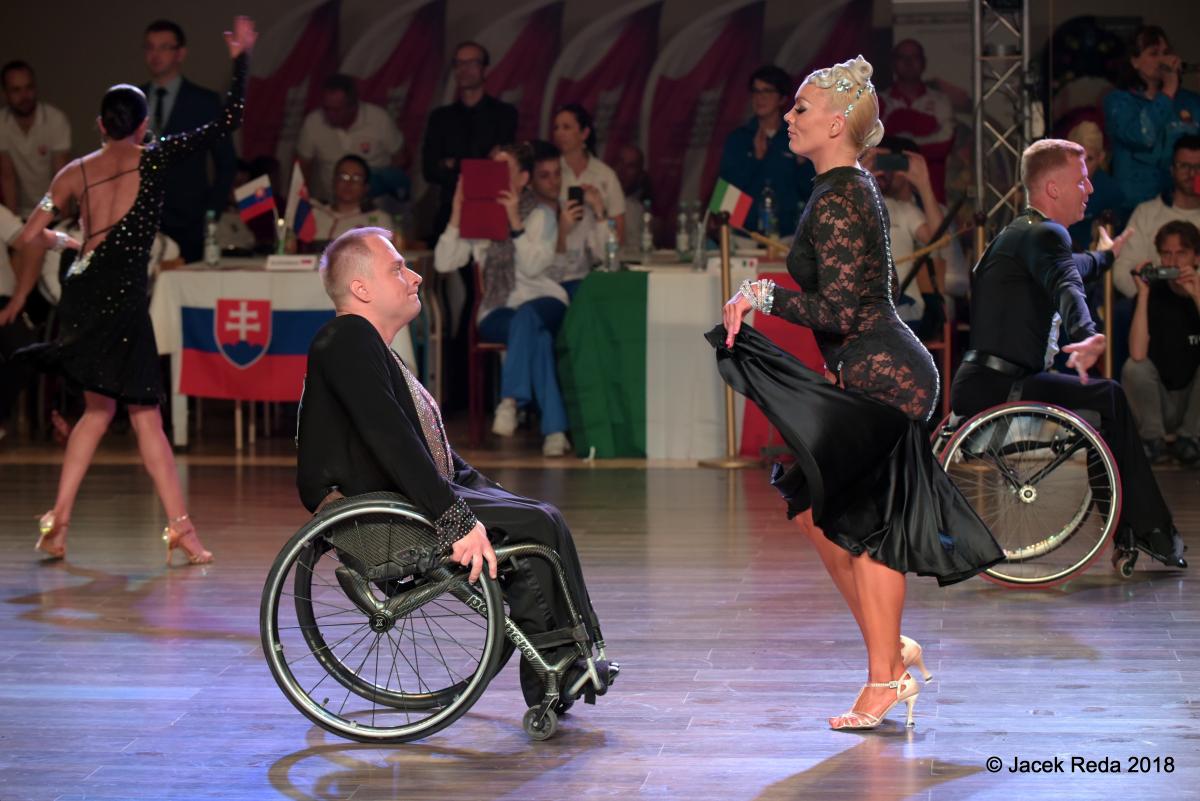 ⒸJacek Reda
By World Para Dance Sport
One day before Poland celebrated 100 years of independence, they enjoyed a historic moment for their top couple Nadine Kinczel and Pawel Karpinski at the 2018 World Para Dance Sport European Championships on Saturday (10 November) in Lomianki.
Kinczel and Pawel have danced together through three World and three European Championships. But they won their first major gold medal together by taking the combi Latin 2 on home soil.
It was a fitting way to rejoice in Polish pride ahead of a landmark day on Sunday.
"Everyone wanted to listen to the Polish anthem, and before the competition people were telling me, 'Nadine please this weekend is very special for Poland. So please win this gold so that we can listen to the national anthem," Kinczel said.
"This is one of the happiest days of my life.'"
Anxiety and silence filled the venue after Belarus' Darya Kulsh and Aliaksandr Liakhovich were announced the third-place finishers.
It followed with an eruption of cheers after Ukraine's Olena Dankevych and Ivan Zamiga were named the silver medallists, leaving only one couple waiting.
"It's the worst feeling," Kinczel said. "What I love is dancing and fighting for medals, not waiting. My heart was beating really, really fast."
Karpinski added: "For me it is absolutely amazing. I can't believe. I really wanted to be the winner, but no, I was not expecting it."
Back to Belarus
In the combi Latin 1, Hanna Siratsiuk and Ihar Kuliashou reclaimed their title from four years ago.
Silver at the 2017 World Championships, Siratsiuk and Kuliashou entered the second day of competition fired up. They displayed the best moves in all five Latin styles – samba, cha-cha, rhumba, paso doble and jive – to earn gold.
"Twenty-two years ago I didn't even imagine it was possible to live in a wheelchair," said Siratsiuk, who was the only one injured in a car accident with her family. "I knew nothing about dancing and I knew nothing about living with an impairment then. So it has really been a long way."
"It (our strong partnership) comes from our friendship, our mutual understanding and our personalities," she added. "Of course we are going to participate in the 2019 World Championships. It is the only prize we have not won yet."
Ukraine's Veronika Pedchenko and Valeriy Bevzyuk took silver ahead of Israel's Vital Zinger and Sean Zin.
Unbeatable Ukraine
It was an otherwise golden day for Ukraine, again.
Olena Chynka won two more to become a quadruple champion in Lomianki. She and Oleksandr Onishchenko won their second gold medal together in Lomianki, taking the duo Latin 2. But the decision was tough for the judges, who also enjoyed the dancing of Poland's Joanna Reda and Karpinski. Samba and rhumba gave the Ukrainians the advantage over Poland's runners-up. Israel's Maytal Wax and Shlomo Dahan were third.
Chynka outshined the rest of the field in the women's singles standard 2. Belgium's Sofie Cox had stronger performances in the tango, rhumba and jive to win the silver ahead of Austria's Sanja Vukasinovic in bronze.
Snejana Kernichnaya and Vladimir Kernichny added to Ukraine's golden haul in the duo Latin 1. Slovenia's Nastija Fijolic and Amir Alibabic were second. Finland's sister-brother duo of Karin and Gustav Antell completed the podium.
Newcomers alert
Ukraine's reigning world champion Illona Slugovyna was the undisputed top dancer in the women's singles standard 1.
But the category has shown talents on the rise. Israel's Tomer Margalit won her second medal of these Championships with silver, continuing an outstanding first season. Swimmer-turned-dancer Julia Sadkowska did likewise by winning her first major career medal with the bronze, thus giving more reason to wave the Polish flag with pride.
Competition concludes on Sunday (11 November) with men's singles 1 and 2; combi standard 1 and 2; and duo standard 1 and 2.
Lomianki 2018 is being live streamed on World Para Dance Sport's website and Facebook page. You can also follow the results on Instagram and Twitter.